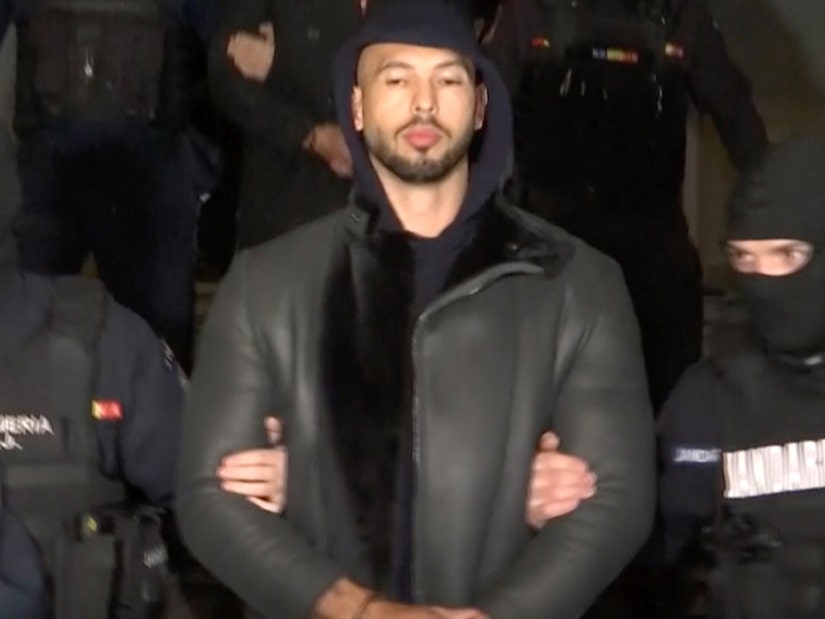 AP
Tate Tweeted "The Matrix has attacked me. But they misunderstand, you cannot kill an idea. Hard to Kill" with a link to an article claiming he'd been hospitalized after his arrest
Andrew Tate apparently went to the hospital after his arrest, if a series of conflicting reports are to be believed.
Tate was arrested by Romanian authorities at the tail end of 2022 for human trafficking after an online (and unrelated) exchange with climate activist Greta Thunberg, in which the then 19-year-old swiftly dispatched the kickboxer with a brutal takedown.
Romanian authorities believe Tate was involved in coercing women to engage in pornography -- one of the suspects in the case has also been accused of rape, however prosecutors have not identified the suspected perpetrator.
Questions about Tate's health arose after his Twitter account posted a link to an article on Romanian SpyNews.
The tweet included a screenshot which claimed he "ended up in hospital" after his arrest, apparently taken from the article itself. The message also included a caption ostensibly from Tate reading, "The Matrix has attacked me. But they misunderstand, you cannot kill an idea. Hard to Kill."
What followed was a series of often conflicting reports about Tate's health -- with many claiming the influencer was sent to the hospital after the prison doctor learned of an underlying health issue during a medical examination.
However, no definitive answer has come out of the speculation and Tate remains in the detention center of Capitol Police after the possible medical visit.
Prior to his arrest, Tate had just reentered Twitter under Elon Musk's ownership after he was permanently banned from the platform.
Soon after he attempted to troll Thunberg by bragging about his collection of super cars and "their respective enormous emissions." He asked her to review the expensive collection and if he could obtain her e-mail address.
"Yes, please do enlighten me," the climate activist replied. "Email me at smalldickenergy@getalife.com."