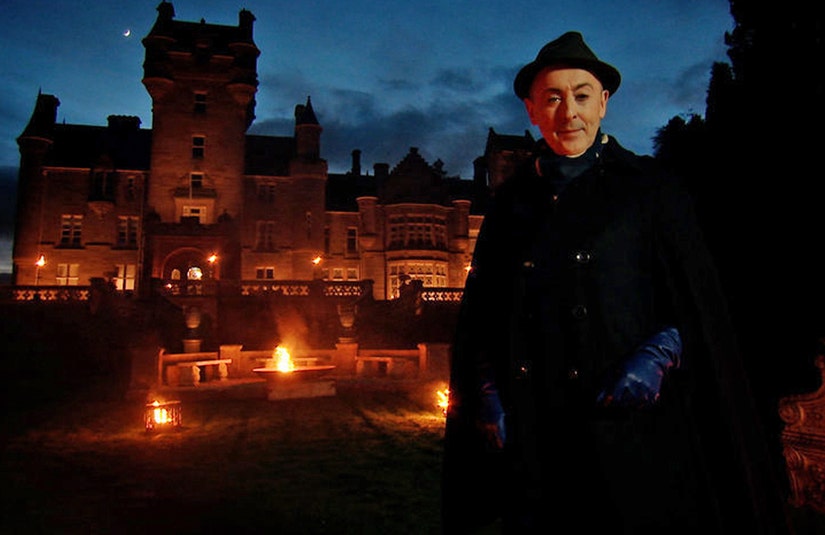 Peacock
Though he wasn't much of a reality TV fan before hosting the show, he now understands "why people get addicted to crack cocaine."
Alan Cumming may have played a bad guy in "GoldenEye," but he goes full, mustache-twirling Bond villain on the new Peacock reality series, "The Traitor." And he wouldn't have it any other way.
The Emmy-nominated, Tony-winning actor would probably be the first to admit he's an odd fit to host a competition show -- which pits reality stars like Brandi Glanville, Reza Farahan and Kate Chastain against normal people in a murder mystery with physical challenges for a cash prize -- and told TooFab he did need "a little bit of convincing" before signing on.
Cumming, 57, explained he wasn't much of a reality TV fan himself before agreeing to host the series as a heightened version of himself -- and while he has experience hosting things like The Tony Awards, this felt a little out of his wheelhouse.
"I didn't quite know what it was. Sort of how these things work is over the months there's murmurs, 'They might offer you this thing,' 'What? A reality show in a castle? What?' and I didn't quite understand," he told us.
"But what I liked about it when I understood what was going on and when I spoke to the producers, I was basically sort of saying, 'You want me to be a character,' almost a James Bond villain hosting this show," he continued. "I was going to bring my dog, actually, and be patting my dog but her papers didn't get in in time. Maybe if we get a second season she'll come."
"It's great to play someone heightened and different from you. I'm me, but I obviously don't live in that castle. It's not my castle. Spoiler alert," he continued. "Baddies have better lines. They're really fun to play, dastardly people. And I wasn't really killing anyone in this, it was always tongue in cheek."
Outside of an appearance on "The Weakest Link" way back in 2001, Cumming didn't have first-hand experience in or knowledge of the reality TV world before he decided to camp it up as an exaggerated version of himself in a Scottish castle on "The Traitors." Outside of throwing on Bravo "on planes or in hotels" and recognizing the aforementioned Glanville and Chastain from RHOBH and "Below Deck," respectively, the only show he's really seen is "The Bachelor."
"I've never seen 'Survivor' or anything. But one time during lockdown I watched an entire season of 'The Bachelor' because someone I knew was on it and I watched it to see them and I understand why people get addicted to crack cocaine now," he joked. "I was watching it on streaming and waiting for the minutes to tick by to when they would drop it on the streaming platform, it was terrible!"
He added that while hosting "The Traitors" he also "became obsessed" with how everything worked behind the scenes -- and would wait up each night to find out from producers which cast member was eliminated -- or "killed off" -- after he left the contestants to their own devices.
"I would always ask Sam the producer to text me who was dead. I couldn't wait. I loved having inside information. I loved that I knew," he said, adding that it did get "awful" for him by the end of the series, however, when he interviewed the cast and knew "certain things were not going to happen" for some of them.
While laying out the game for the contestants, Cumming appears in a wide array of incredible capes, perfectly tailored tartan suits and a collection of berets, bringing some truly impeccable fashion to the show. His commentary and his looks are both some of the best things about the series.
"I also think clothes are really helpful to get you into the right sphere," said Cumming, who credited his amazing ensembles to stylist Sam Spector. "A lot of those suits are mine, actually. He came to my house and I have a lot of tartan suits, but then he zhuzhed them up with various things. My favorite thing was I love wearing a cape."
"We've got to bring the capes back into modern parlance and I got the capes. I've not worn them yet, but I have some plans to wear capes in public," he exclaimed.
Waiting for your permission to load the Instagram Media.
Though viewers can find out who wins when the show drops in full this week, how does Cumming himself think he'd fare on a show like "The Traitors"?
"I'm quite a good actor, so I think I would be able to fake things well. I'm not very good at alliances," he admitted. "Years and years and years ago I was on 'Celebrity Weakest Link.' I made an alliance in the makeup room and I was so excited and doing really well and realized my alliance was turning on me. I was like, 'What?!'"
"I'm a little naive I suppose in some ways," he concluded. "I would be quite good about the lying."
All 10 episodes of "The Traitors" drops January 12 on Peacock.