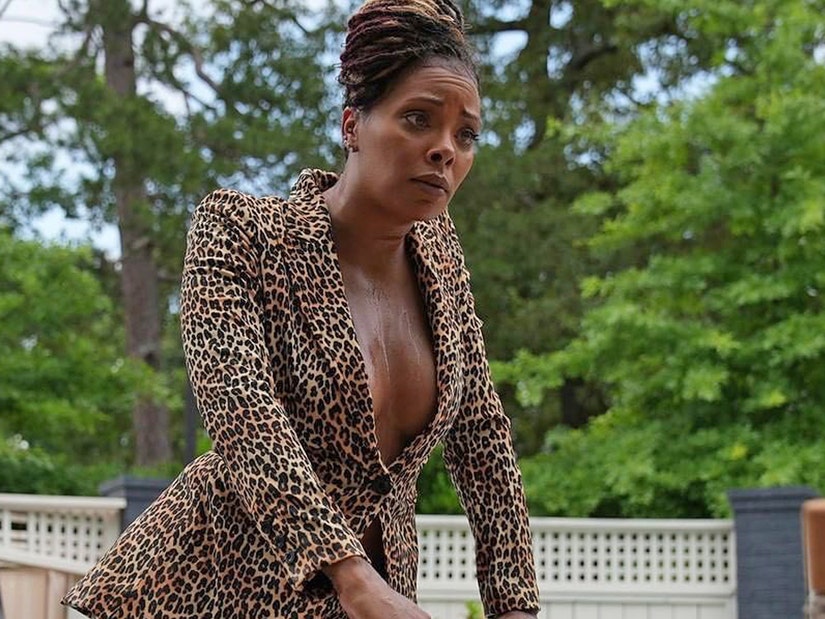 BET+
The RHOA alum opens up about being #1 on the call sheet, praises series creator Tyler Perry and reveals how her husband helps her behind the scenes.
The reality star/actress runs the show on the BET+ series "All the Queen's Men," on which she plays the owner of a male strip club who goes by the name Madam. And while Eva is no stranger to being on set -- she first worked with Tyler Perry on "House of Payne" and was a regular on "The Young and the Restless," in addition to a number of TV movies -- she is the star of the show here.
"Being #1 on the call sheet means that you're the first person at work and you're the last person that leaves, you have the most lines and it's all about leading by example," she told TooFab, keeping it humble following the premiere of Part 2 of the show's second season.
"#1 is no more important than #15, #33, #78, every single number on the call sheet matters. Everyone matters. I cannot do anything by myself," she said. "Being #1 is only as important as there being a #2, 3, 4, 5 and 6. I've been every number a call sheet before and having this responsibility to be prepared and to lead in a way that inspires my costars to pull up every day, it feels good. It's a great feeling."
"The world is what it is and the industry is what it is, but what you choose to be in it, that's your choice," she added. "For me, I choose to be standup, I choose to represent women, I choose to represent diversity, I choose to represent the underdog and I enjoy it. I really, really do."
She explained that her training on soaps and "House of Payne" helped her with the fast-paced environment on "All the Queen's Men," which utilizes what she calls "The Tyler Perry Method." Perry is a director and executive producer on the show.
"It is a method that will go down like Uta Hagen and Stanislavski, figuring how to not only own all your content and be amazing and bankable in that aspect, but how to be efficient with time and with your creativity," she said.
"I met Tyler Perry when he first got his TBS deal, years ago, his first television show -- which is still on air right now, called 'House of Payne,' the show's been on air for 14-15 years -- I came on that show as a bright-eyed, bushy-tailed firecracker, ready to take over the world. I learned so much so fast because he moves so quickly and he comes from a theater background and he comes from a space where he pays for everything, he owns everything, so this time that we're wasting is literally his money."
"It's different than like a network where you get a budget and, 'Oh, we can just get overtime.' No you can't. Everybody, let's work!" she continued, before praising Perry for helping her "hone my craft, trust my instrument, to find my own validation and my own joy in my work."
Eva has done some pretty wild things on the series so far, where, in addition to bossing around a bunch of half-naked men, she's thrown axes, shot an assault rifle and even had her own "Dynasty" moment by fighting another costar in a pool. But none of those stunt-filled moments have pushed her outside of her comfort zone as much as a more intimate scene.
"The stunts are like literally my favorite. The most outside my normal comfort zone was the sex scene," Marcille explained. "She's Madam and Madam is not just a woman, Madam is a force. So if we're going to show Madam in an intimate, vulnerable space, Madam still has to be in control, but we want it to be spicy, we want it to be sexy. If we're gonna go there, let's go there."
"So I think that was one of the most difficult because we do shoot super fast, you don't get a zillion takes. We did it early in the morning, in the winter," she continued. "So it was literally, we were in this private jet -- Tyler has everything in the studio -- we are on this jet, it's freezing cold, so you know, sensitive areas do different things in the cold. So we have to deal with that. I think the intimate scene was one of the bigger challenges."
Waiting for your permission to load the Instagram Media.
Eva clearly likes tapping into a different persona for the show and her husband, Michael Sterling, is a fan as well. According to Marcille, he's not only her cheerleader but someone who also helps her get her lines just right. Explaining that he "studies" right alongside her when she gets the scripts, Eva said the two run lines together.
"He helps me understand things and certain phrases. I'm like, 'What's the plug and the load, what's that mean?' He's like, 'It's a slang term, babe,'" she added. "He breaks things down, but I have no clue. So when I put on Madam, I walk in there like I know gangster life, but really, I made baked ziti last night. I'm really just a mom."
"I actually have never killed anyone. Actually, not a criminal," she added with a laugh.
In addition to her character's incredible wardrobe -- "Madam's budget is crazy!" says Eva -- Marcille said she's excited for fans to see "a huge plot twist" that's coming up on the show.
"I'm sure you feel like there's one every episode, but there is one that's about to shake the table and rattle Madam's world," she teased. "And with someone as controlled and calculated as Madam, surprises are not friendly. I don't like surprises and I don't like things I cannot quickly handle. So it's going down."
New episodes of "All the Queen's Men" drop Thursdays on BET+.