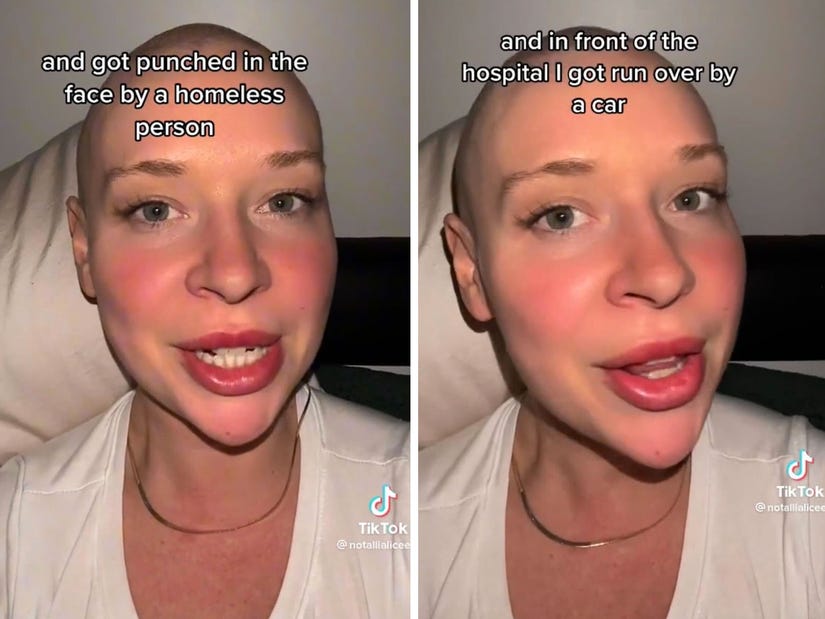 TikTok
The series of unfortunate events includes being punched by an unhoused person, brain tumor and a car crash.
An Australian actress living in Los Angeles has gone viral after posting a video in which she detailed her string of bad luck -- which allegedly started with an assault in October 2021 and ended with a car accident last month.
In January, Alli McLaren uploaded a video to her TikTok page describing the unfortunate series of events, all while barely taking a breath. The video has since been seen by more than 1.6 million times.
"I'm that friend that like lives that 'Can't catch a break dramatic lifestyle,'" McLaren began. "Like I was randomly walking in downtown LA back to work and got punched in the face by a homeless person and um that broke my jaw and then I had to get jaw surgery to fix it."
Without pausing, she continued on.
"And my immune system was super weak and I ended up getting an infection and getting pneumonia and then when I had pneumonia I was super light headed and I fell and I hit my head and that led to a brain injury which then we found a tumor in my brain," she said. "And then I had to get brain surgery to get the tumor out and then it didn't get all the tumor out so then I had to start radiation and then I was walking to my radiation treatment the other day at the hospital and in front of the hospital I got run over by a car."
Finally breathing, she then added, "They ran a stop sign."
In the caption for her video, she also said that throughout all of this, she also "randomly got stuck in Canada for 9 months during COVID."
Many in her comments expressed their shock over her claims -- with one saying, "greys anatomy should pay you to use this for a plot girl"
"wrap yourself with bubblewrap!!" wrote another follower, as one commenter added, "What in the final destination? Praying for you and sending positive vibes."
Many also said the video made them realize maybe things aren't so bad in their own lives.
In a followup post a week later, McLaren responded to one follower who wrote, "Okay but the homeless guy kinda saved your life??"
McLaren explained that the tumor in her head is noncancerous in her response, but added that, "the way that they grow can explode in your head and you die, so they need to be treated very quickly."
"So you have surgery to get them out ... you get radiation to get them out. That's what I'm getting right now," she continued. "I've had complications with it, I had to get my head drained of fluid twice and extra radiation sessions."
Then, addressing the question, she said "traumatic brain injuries or getting hit in the f---ing head" could be responsible for the tumor growing. She added that after she was initially injured, an X-ray showed nothing, while tests after her fall also initially showed no mass. "Maybe he helped me find or or maybe he helped cause it," she said.
Adding to her plight, she said that after she was hit by the car in front of the hospital, she "was in such shock" and didn't think about suing because "I'm Australian," that she didn't get the driver's information. "So I just have broken feet to deal with myself," she added.
In an interview (via New York Daily News), McLaren said the string of events has had an effect on her mental health.
"I have really struggled to be honest. I've had both really bad depression and anxiety," she said. "I used to be super social and now I just have a hard time leaving my house."
"I think I stay strong by knowing it can't be like this forever and also knowing that one day I'm going to wake up and I won't be in pain anymore," she concluded. "I do believe that everything happens for a reason."