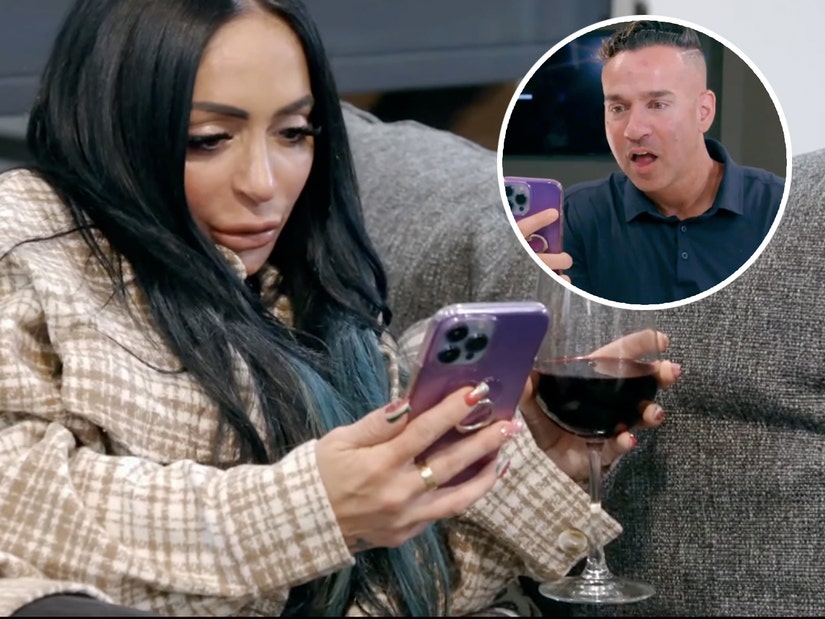 MTV
A club goer also tried confronting Angelina for allegedly hitting on her boyfriend while she was still with Chris.
At the top of the new hour, she was partying with the rest of her costars at an event hosted by DJ Pauly D. At the celebration, someone in the crowd started giving Pivarnick the finger, making it clear she had some major issues with the reality star.
Ever the supportive friend, Jenni "JWoww" Farley confronted the woman -- asking her why she was "f---ing flipping off" Pivarnick.
"She tried getting on my boyfriend when she was with Chris," the woman told her, referring to Angelina's ex-husband Chris Larangeira. "Sorry, I don't like her. Tell Angelina, 'You wanna stay, get your f---ing ass beat,'" the woman then said, using a famous JWoww quote in the process. She then added she had "proof," claiming to know Angelina's phone number.
Angelina herself didn't talk to the woman in question, but Jenni filled her in after speaking with her. "What?! Hell no!" Pivarnick exclaimed after hearing the woman's claims, defending herself by saying "so many people have my number." She brushed the whole thing off, adding, "My energy is not going to be touched or tarnished by like people that are under my shoe."
Both Angelina and Nicole "Snooki" Polizzi decided to support Mike at a corn hole competition he was doing on ESPN in North Carolina. As part of a ploy to "distract" Mike's opponents, Angelina decided to DM Jay Cutler -- one of Sitch's competitors -- and get in his head. Though she didn't think Cutler would respond, he did just that, trash talking Sorrentino by saying Mike would have a "quick exit" from the competition.
But Angelina didn't stop at Cutler ... she also DMed every other man in the competition, who then followed her back in return. "So I started private messaging them ... just trying to help Mike," she claimed.
"My full on intention is to help Mike in every which way I can," she added in a confessional. "DMing these guys and getting in their heads, strategy wise, it makes perfect sense. You always want to distract your opponent. I will be the distractor, that's my strategy."
Snooki, however, was concerned. She not only thought Angelina was maybe just trying to "bang all these guys," but worried Mike would be ticked when he found out what she was up to. When the two women met up with the boys, they quickly discovered Nicole was right.
First they read Mike the shady message they got from Cutler, as Sitch exclaimed "What the hell?!"
In a confessional, a very serious Situation said, "I don't appreciate Angeliners DMing Jay Cutler. This is throwing me off my game a little bit, knowing that one of the other competitors are talking trash."
"Now I know this person is talking s--- to you, it gets in your head a little bit," he told Angelina, before she dropped a bomb and revealed she followed all other men in the competition too.
"Angelina, what are you doing?!" he exclaimed again. "Talking trash with the enemy, it's a distraction. This is messy, Ange!"
"The way Angelina is doing things is messy as usual," he said to camera. "It's very on brand and I don't appreciate it. This is the opposite of support."
Both Vinny Guadagnino and Pauly D thought the whole thing was hilarious, however, and started to read some of the messages Angelina was getting from some of the other men. One of the guys invited her to a party with about 25 other people.
"I'm here for the gangbang," joked Pauly, as Vin asked, "Who is going to score more in this tournament, Mike or Angelina?"
A preview for next week shows the sparring between them will continue, as Mike is seen calling Angelina "toxic." Both of them also recently told TooFab that things would continue to escalate between them this season -- check out their interviews below!
"Jersey Shore Family Vacation" airs Thursdays on MTV.