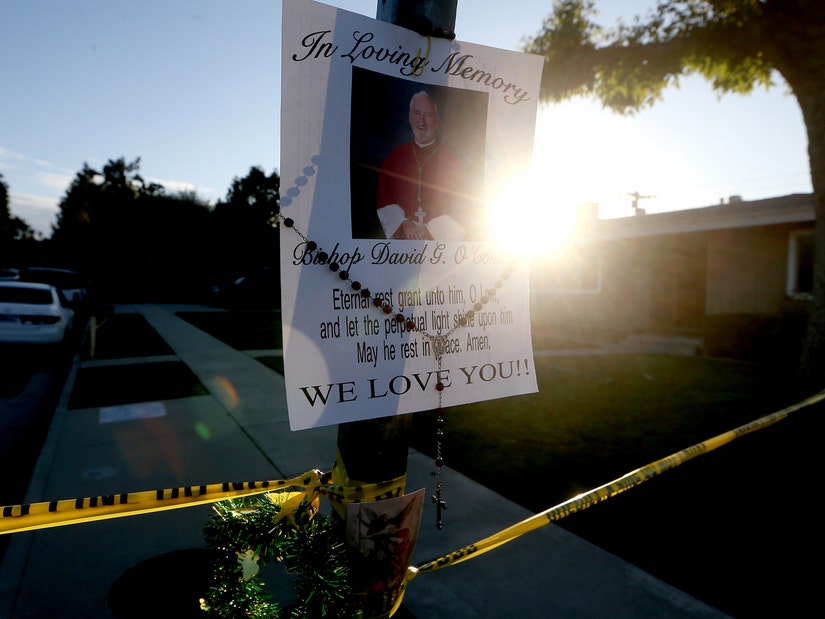 Getty
Carlos Medina is the husband of the bishop's housekeeper and was allegedly "acting strange, irrational and made comments about the Bishop owing him money."
A suspect has been identified in the shocking murder of Los Angeles Auxiliary Bishop David O'Connell, who was fatally shot over the weekend inside his own home.
On Monday, the LAPD arrested 65-year-old handyman Carlos Medina in connection with the murder, LA County Sheriff Robert Luna announced in a press conference.
According to Luna, police first responded to O'Connell's home on Sunday, where the clergyman was pronounced deceased. His death initially "appeared suspicious in nature," as he had sustained "at least one gunshot wound to the upper body" while in his bedroom. No firearm was found at the scene and there was no forced entry to the residence.
As homicide investigators and the coroner's office both got to work, it was later determined his death was a murder.
Throughout the investigation Sunday, authorities found security footage showing a dark-colored compact SUV pulling into the bishop's driveway for a short period of time ... before cops received a tip about Medina. Per Luna, the tipster "was "concerned because Medina was acting strange, irrational and made comments about the bishop owing him money."
Medina, said Luna, is the husband of O'Connell's housekeeper. He added that Medina previously did work at the bishop's home himself and drove an SUV similar to the one seen at the scene.
Following a standoff with police, in which he refused to leave his home, Medina eventually came out and was taken into custody "without further incident." Police then found two firearms and other evidence "possibly linking Medina to the crime" -- though Luna said the guns still need to be tested in the lab "to determine if either of those firearms were used in the murder."
"My heart grieves. Although I personally did not know the bishop, I cannot tell you how many phone calls I received over the past 48 hours," Luna said during the presser. "This man, this bishop, made a huge difference in our community. He was loved."
O'Connell, an Ireland native, was a priest and later a bishop in Los Angeles for 45 years. In a statement, Archbishop José Gomez referred to him as "a peacemaker with a heart for the poor and the immigrant, and a passion for building a community where the sanctity and dignity of every human life were honored and protected."