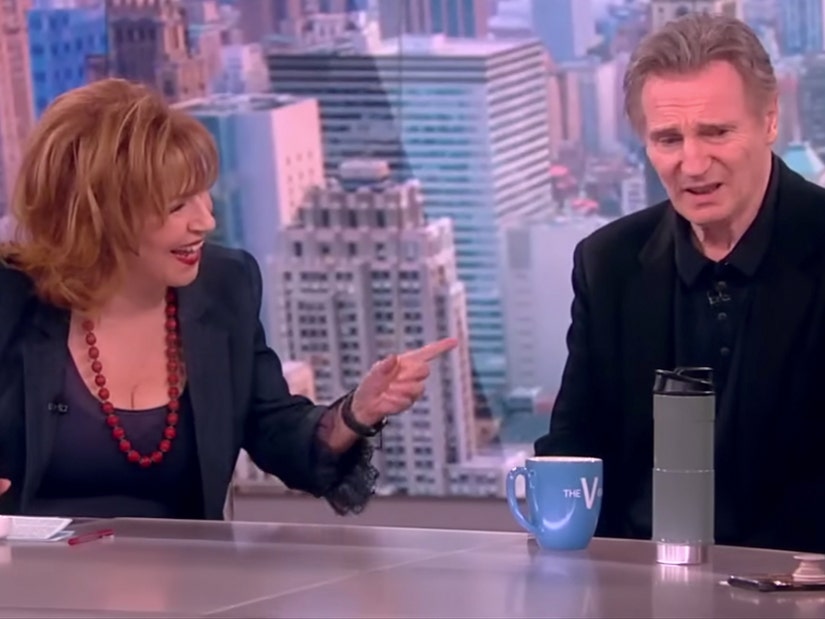 ABC
The "Taken" actor was not thrilled about a video highlighting Joy Behar's crush on him, which aired during his appearance.
Speaking with Rolling Stone, the actor recounted his appearance on the ABC morning show last week, during which a highlight reel of all the times cohost Joy Behar has swooned over him on-air was shown.
Watch the cringeworthy segment below:
During his appearance, Sunny Hostin said "it's no secret Joy thinks you're the hottest and the greatest ever," before the clip package showed Behar repeatedly saying she'd like her "ashes sprinkled over Liam Neeson" and exclaiming his "Taken" films make her "aroused."
"Am I blushing? I'm speechless at this point," said Behar after the video played for the group. "How embarrassing when they put them all together like that. That was evil, [executive producer Brian Teta]. Embarrassing me and Liam!"
Neeson was a good sport about it on-camera, quipping, "Joy, you received the checks?" -- but revealed how he really felt about the ordeal speaking with Rolling Stone.
"I was in the dressing room drinking a cup of tea, turned the TV up, and I thought, oh, this will be great. They're talking about gun violence in America, and I agree that it's an American problem. I go onstage and join the ladies during the break, and I was congratulating them on this discussion," he said.
"And then our segment starts and it's just all this BS with Joy and Liam Neeson and having a crush, and I've known Whoopi for years and Joy a little bit, but I just wasn't impressed," he continued. "I'm uncomfortable in those situations, you know?"
He added that he had a "good, intelligent conversation" with Sunny after the interview, but was disappointed in the direction of the group sit-down.
"The segment's all about this — oof —thirteen, fourteen-year-old crush. It's just a bit embarrassing," he concluded.
"The View" airs daily on ABC.