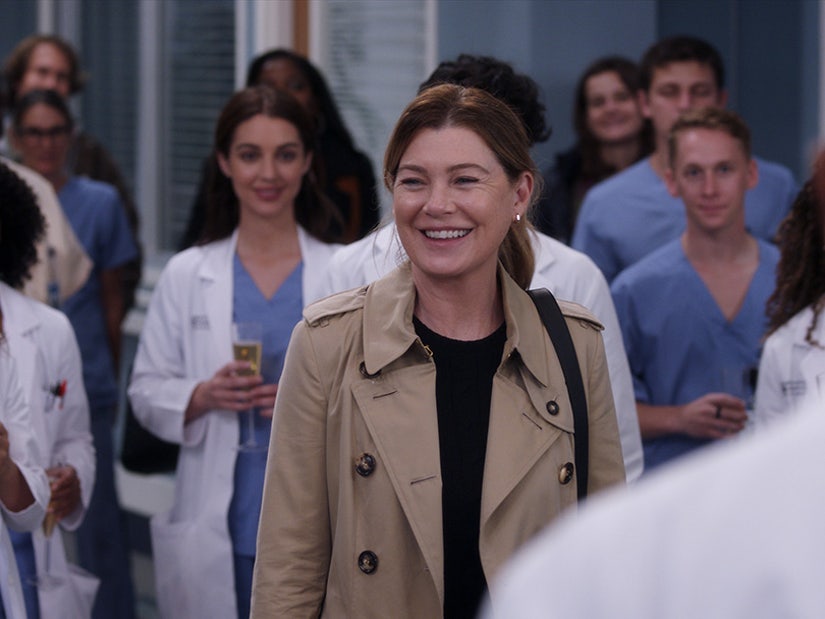 ABC
Ellen Pompeo is set to make one final appearance in "Grey's Anatomy's" season finale as the show shifts focus to its newest batch of interns.
The big question looming over "Grey's Anatomy" is finally here, and the answer will start to reveal itself with the every next episode. Can "Grey's" survive without Grey?
Ellen Pompeo has been the title character, heart and soul of "Grey's Anatomy" since its premiere in March 2005. Now, halfway through the ABC hit's 19th season, Meredith Grey is saying goodbye.
The actress had always signed up for just a partial run this season, fulfilling her obligations with these episodes leading up to Thursday night's mid-season return -- with one more set to come in the Season 19 finale on May 26.
Will there be more after that? Certainly, the door is probably open, but the show has to get renewed before that. It's looking likely for that to happen right now, but that could depend on if ratings immediately tank following Pompeo's departure.
The show has done a good job of setting up the next phase of its run, and the next generation of surgical interns who can hopefully lead the medical drama into the future. Other long-running shows have had no trouble with shifting ensembles. The difference is Meredith Grey herself.
"Grey's Anatomy" was always her show, even as she shared the spotlight with her own group of interns. This week, she split that spotlight with the new interns in hopes they can carry on in her absence.
Showrunner Krista Vernoff, who is also exiting the series, penned Pompeo's swan song, which was directed by executive producer Debbie Allen. They did not go easy on her, though fans did get a sweet farewell moment with her colleagues.
Bailey told her, "Once upon a time, you were the bane of my existence, but you grew up to be one of my points of pride."
"What Dr. Bailey is trying to say is that this place won't be the same without you," Webber added.
That joy was tempered by two incidents that took a far more somber turn. First, she was given the opportunity to perform one final surgery before packing it in, packing up and heading to Boston. Patricia Richardson's Tessa Hobbes was back after just one episode.
Suffering from internal bleeding, Meredith and Nick partnered on the surgery, but it did not go well. They lost their patient. It wasn't too long after that that Meredith lost her patience, as well, with her erstwhile lover.
We almost got a classic rom-com trope after the couple fought over his commitment issues and her deciding to move to Boston without even consulting him. He was all ready to let her go before his buddies did the whole, "you're a knucklehead" thing and he literally ran off to declare his love before her plane took off.
How many times have we seen this play out on screens big and small? Well, we didn't see it play out on this small screen!
Nick missed her flight due to traffic and so tried to have his rom-com moment on the phone. He declared his love for her with all the melodrama of the best films, but didn't get the reaction he was hoping for.
"I love you. I fell in love with you the first day I met you, I fell in love with you the second day I met you, and I've loved you every minute of every day that I've known you," Nick poured his heart out.
Instead of melting and despite us clearly hearing that Meredith could hear him clear as day, she pretended they had a bad connection, replying, "I can't quite hear you. We are about to take off. I'll call you when we get settled."
The old brush off, the old cold shoulder! But also, the old opportunity to take this narrative in any direction.
Could they get their rom-com happy ending this May when Meredith returns to "Grey's" for one final appearance this season?
This episode ended with a montage of the new interns. Mika, Lucas and Simone are now roommates in Meredith's old house (which is still a bit of a mess after the fire -- but hey, cleanup should be a great bonding experience!). Benson and Jules got hot and heavy at the hospital, which is like an obligation of being part of this show.
It certainly looks like the kids are going to be alright, and continue the unique DNA mixture of medical and romantic tension that's made "Grey's Anatomy" a smash hit for nearly 18 years now.
Our final shot of Meredith was her reading Tessa's final book to her kids on the plane. It was her final wish that this unpublished book get to her publisher in Boston.
This story became the episode's final words, in place of the usual voiceover monologue. Pompeo is still an executive producer and expected to continue her usual voiceovers, but as a series regular, these were her final words (followed by cast reactions to her departure):
"I've flown rockets and slayed dragons, I've saved lives and I've had my life saved. I've been through broken bones and a broken home and the death of people I love but I'm still here. I've had adventures that most people only dream about and I've had losses that I still dream about, and if there is one thing I've learned in all my adventures, is that there is no such thing as a life lived happily ever after, unless the happily means simply that we are still alive, that the sun is rising on another day because with every sunrise comes the possibility of happiness and also the possibility of heartache. And sometimes, it's all rolled up together. As long as the sun rises on your life, there will be new dragons to slay. So the end of my story is not any kind of ever after, because I'm still alive, I'm still here, and the sun still rises on my life."
Waiting for your permission to load the Instagram Media.
Waiting for your permission to load the Instagram Media.
Waiting for your permission to load the Instagram Media.
Waiting for your permission to load the Instagram Media.
Waiting for your permission to load the Instagram Media.
Waiting for your permission to load the Instagram Media.
Waiting for your permission to load the Instagram Media.
Waiting for your permission to load the Instagram Media.