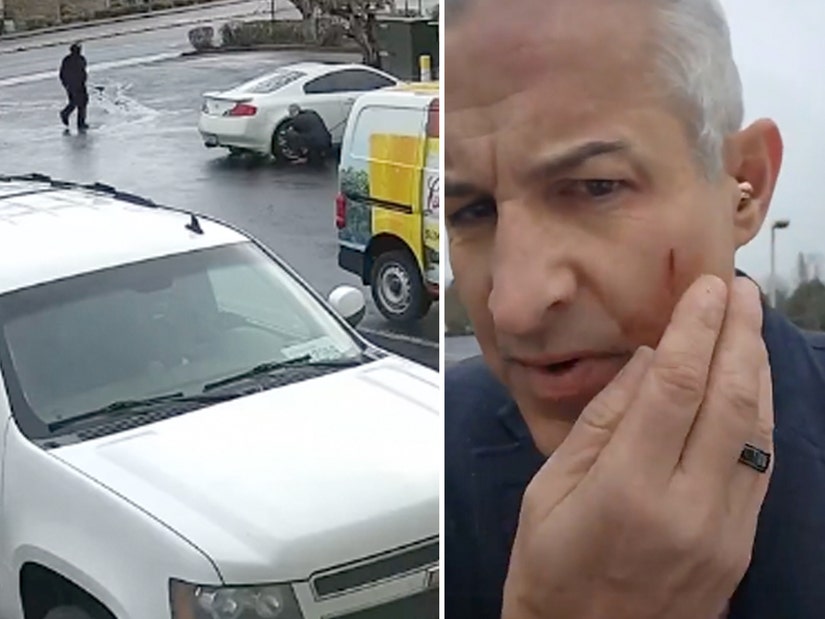 Clark County Sheriff's Office/Bill Black
A local man left his car running while putting air in his tires, when someone got into the passenger seat and started driving off.
A man in Vancouver, Washington jumped into action ... and back into his own car ... after another person tried driving off with his vehicle this week.
Security footage released by the Clark County Sheriff's Office shows the incident go down, after Bill Black pulls over into a local ampm gas station parking lot to put some air in his tires. According to Black, he left the car running -- saying in Facebook video that it was a "foolish mistake to think I could put air in my tires without someone stealing it."
Waiting for your permission to load the Facebook Video.
In the surveillance video, the suspect can be seen lingering around the sidewalk of the gas station, before making a beeline for Black's car once the owner was on the opposite side of the vehicle, putting air into the rear, passenger-side tire.
The suspect then put the car into reverse and started to drive off -- but not before Black opened up the passenger-side door and jumped inside.
According to police, "a short struggle ensued, where both men struck each other in the face," before the suspect stopped the car and ran off. Though Black was able to grab the man's hat from his head, it didn't do much to help track down the suspect, even with the assistance of a K9 unit.
Black sustained a cut to his face and a bruised forehead as a result of the incident.
Police describe the suspect as a white male, who fled on foot and "ditched some of his clothing behind a local pizza shop before leaving the area.
Waiting for your permission to load the Facebook Post.
Black went live on Facebook while waiting for police to arrive on the scene, warning viewers that "f---ing hoodlums are waiting to jump in and steal your car."
"F---ing piece of s--- jumped into my car and tried to steal it. Fortunately, I jumped in and grabbed him," he said. "He almost hit the pumps driving in reverse. I strangled the f---er, told him I was going to shoot him. He took off running."
"I didn't have my gun with me, but if I did, I definitely would have probably did something I shouldn't have did," he added. "Dude had a black mask on, I scratched that off, punched him about three of four times in the face while I was choking him."
Black said that he was "alright" and glad to have his car -- but added, "If he'd had a gun, it could have been worse."