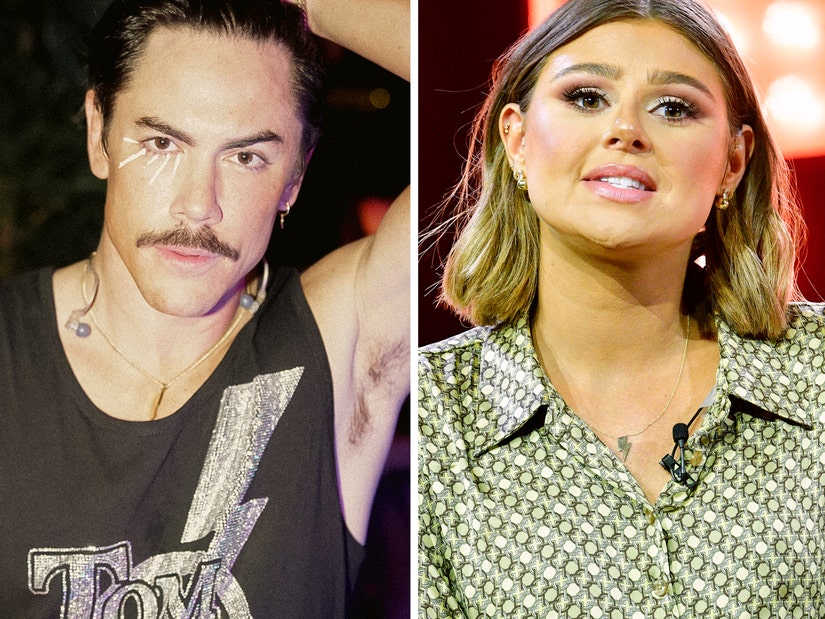 Getty
Sandoval actually dressed up as his alleged mistress this past Halloween, months after the pair reportedly began their affair.
After the alleged affair between "Vanderpump Rules" stars Tom Sandoval and Raquel Leviss was exposed, eagle-eyed internet sleuths have uncovered some shady behavior between them that previously went under the radar.
According to TMZ, Ariana Madix dumped the restauranteur after discovering the alleged affair, which reportedly began last summer. That revelation has caused some to take a closer look at Tom and Raquel's past interactions -- uncovering a few shockers.
One of the more surprising revelations is Sandoval actually dressed up for Halloween as his alleged mistress in October 2022. This would have been after he allegedly started hooking up with Leviss and long before his split from Ariana.
At the time, Tom dressed up as Raquel in a TomTom sweatshirt with a blond wig and sunglasses.
"Guys, look who I ran into," Levis quipped at the time. "It's Raquel from BravoCon day 3! Oh, my God. Wow, Raquel, I can't believe you would frickin' wear that sweatshirt."
Tom later reposted the same Story to his own account with the caption, "Raquel has got to stop showing up to TomTom it's embarrassing."
The Halloween costume was a reference to Leviss' social media battle with Katie Maloney, who called her a "fan girl'' after she was spotted wearing a TomTom hoodie. TomTom was founded by Sandoval and the 35-year-old's ex-husband, Tom Schwartz.
Tom Sandoval & Raquel Leviss Wore Matching Necklaces Months Ago: Tom Sandoval and Raquel Leviss may have been sending clues all along about their secret romance -- and the proof may have been in the pudding ... or rather, the jewelry. Social media sleuths were hard at work this… pic.twitter.com/l3MENSvvDQ

— - (@COUPSLEADER) March 6, 2023 @COUPSLEADER
Another detail that's raised some eyebrows: the pair's jewelry.
Followers of the reality show believe the two have been hiding their affair in plain sight after noticing the two have been rocking matching lightning bolt necklaces since October 2022.
Based on their respective social media pages, Sandoval seems to wear his necklace daily, while Leviss alternates her jewelry based on her outfit of the day.
Photos of the necklaces date back to BravoCon in October, where Raquel was seen rocking the pendant while Madix was also in attendance.
So far, almost everybody in the show's cast has spoken out about the situation -- and they've all made it clear they're #TeamAriana. See their reactions in the gallery below.