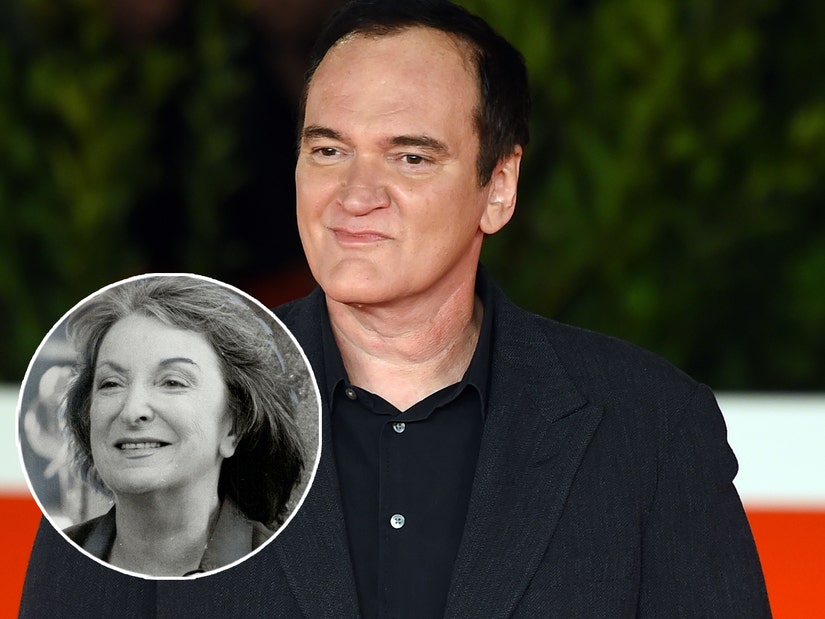 Getty
According to The Hollywood Reporter, the script for the filmmaker's 10th and possibly last movie is titled "The Movie Critic."
In three decades and just nine films, Quentin Tarantino has just about done it all. From crime thrillers to spaghetti westerns, blaxploitation to history revisionism, the director has a lot under his belt. And he reportedly has finished the script for what is said to be his final film.
According to The Hollywood Reporter on Tuesday, Tarantino is working on his 10th -- and possibly final -- film. Per THR sources, the script is titled "The Movie Critic," with Tarantino planning to start shooting the movie in the fall.
While not much is known about the film at this time, sources told the outlet that the film takes place in 1970s Los Angeles and centers around a female lead.
Industry insiders, including those at THR, are speculating the film could focus on Pauline Kael, who Tarantino has previously made his admiration known for. The late movie critic inspired his book of essays titled "Cinematic Speculation," per Indiewire.
Kael -- an influential film critic -- wrote groundbreaking reviews of films like "The Godfather" and "Bonnie and Clyde," and was known for her strong opinions and tenacity. Kael worked at Paramount Pictures as a consultant for a few months in the late 1970s, a job offered to her by industry icon Warren Beatty. She earned the respect of Beatty for being an early champion of "Bonnie and Clyde," which had otherwise been widely condemned for its depiction of violence.
Tarantino's past praise of Kael and the fact that she worked at Paramount in the '70s suggests that "The Movie Critic" could center on Kael, who passed away in 2001.
There's no studio attached to the film yet, but it's possible that Tarantino will partner with Sony again, which produced his latest movie "Once Upon a Time…in Hollywood."
Tarantino, 59, has previously expressed that he wants to retire after directing 10 movies or before he turns 60. (The filmmaker will celebrate his 60th birthday later this month.)
In an interview with Playboy back in 2012, per THR, Tarantino said, "I want to stop at a certain point. Directors don't get better as they get older. Usually the worst films in their filmography are those last four at the end."
"I am all about my filmography, and one bad film f---s up three good ones," he added. "I don't want that bad, out-of-touch comedy in my filmography, the movie that makes people think, 'Oh man, he still thinks it's 20 years ago.' When directors get out-of-date, it's not pretty."
Tarantino has directed ten films in total but considers his Kill Bill duo to be one movie, totaling to nine. The rare "Whole Bloody Affair", which is the two films edited into one, can sometimes be seen at his theater, The New Beverly Cinema.
Some fans and critics are skeptical if he will stick to his plans to retire from filmmaking, or if he will keep creating movies under a stipulation. Tarantino also has pursued other creative paths. He currently has a podcast called "The Video Archives" and two books, "Cinema Speculation" and a novelization of "Once Upon a Time in Hollywood." It's also possible that other screenwriting projects (something like his abandoned "Star Trek" movie) or television could be in his future.