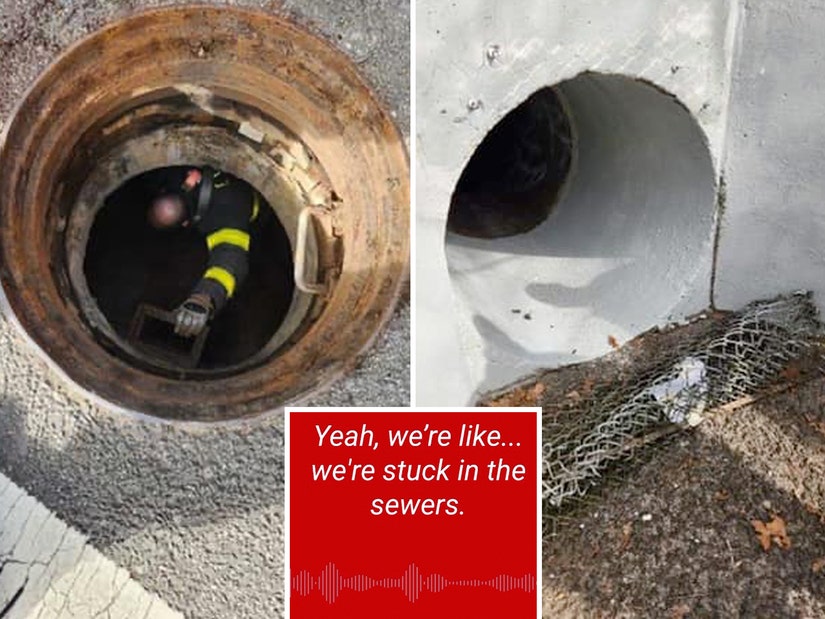 FDNY
Five children were rescued after getting "lost in this sewer system."
A dispatcher for the New York City Fire Department received a call from an unlikely location this week: the sewers.
Around 6pm on Tuesday, Fire Alarm Dispatcher Moises Arias answered a cry for help from Staten Island. When Arias asked for the address of their emergency, a child on the line responded, "We don't know. We're, like, we're stuck in the sewers."
"You're stuck where?!" asked the clearly surprised dispatcher, as the kid reiterated, "In the sewers." When asked to give more detail, one of the five boys added, "It's like a tunnel where all the pipes are."
The kids explained that they wound up underground after going through a tunnel near a cemetery, the zoo and Clove Lakes. They added that they "walked a lot" to wind up at their current location, before they could start hearing police sirens nearby. It was then the dispatcher told the kids to start screaming and yelling for help, while reassuring the children that help was en route and didn't pass them by. Moments later, first responders got a visual and pulled the kids to safety.
In a press conference, authorities revealed the full call with dispatcher lasted for about a half hour, adding that they believe the kids had been in the tunnel "for about an hour." They said they believe the kids became "disoriented" after entering the system -- and said it was "amazing" that their cell phone had service.
"We got a call for kids in a manhole. The water level was low, so they were able to go right in. They got lost in this sewer system," FDNY Deputy Chief Joe Harris said in a release.
"The dispatchers were able to get critical information from the children about where they had entered. We found their belongings at the entrance and this is where Rescue 5 began their search."
Saying it was a "tight space" that required responding officers to "crouch down and then crawl," Harris said other manholes along the same street were then opened for additional access points. "A member from Ladder 79 opened a manhole and found four of the children. Another child was further down the line with an injured leg," he added, saying the kids had "traveled about a quarter mile before we found them."
Arias thanked coworker Marlind Haxhialiu for hopping onto the call, as he was more familiar with the area and was able to name landmarks that helped find their location.
"We told them to start shouting for help. I kept trying to reassure them and keep them calm," said Haxhialiu. "When I spoke to the kids, they were very frantic. I was asking them questions that would narrow down a specific location where they had entered the sewer system, based on my knowledge of that area. I was able to determine where they had entered."
"I'm glad everyone was able to work together to rescue these five children," he concluded.