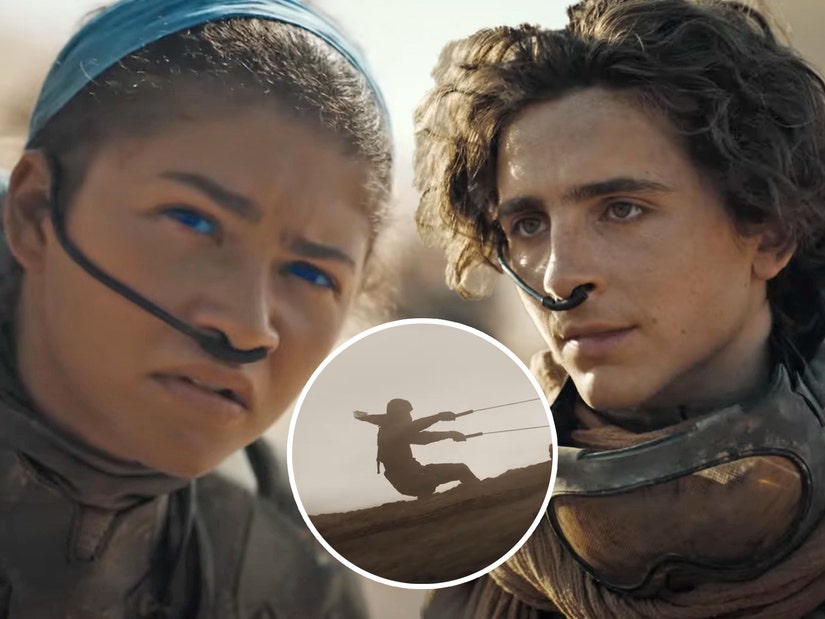 Warner Bros.
The first trailer for the highly-anticipated sequel also teases a showdown between Chalamet's Paul Atreides and Feyd-Rautha, played by a bald and barely-recognizable Austin Butler.
It's time to return to Arrakis -- because the first trailer for "Dune: Part Two" is finally here.
On Wednesday, Warner Bros. Pictures dropped the action-packed trailer for the highly-anticipated sequel starring Timothée Chalamet.
The new footage features Paul Atreides (Chalamet) teaming up with Chani (Zendaya) and the Fremen as Paul seeks revenge and prepares for war. The trailer also includes an absolutely epic sequence of Chalamet's riding a giant sandworm.
As shown in the clip, like the first installment, which took home six Oscars last year, "Dune: Part 2" features jaw-dropping visuals and mind-blowing cinematography.
The trailer also reveals the first footage of the new cast members, including Austin Butler and Florence Pugh, who star as Feyd-Rautha and Princess Irulan, respectively. The former is barely recognizable as he's completely bald, pale-skinned, and has black teeth. The footage teases a showdown between Butler's Feyd-Rautha and Chalamet's Paul, who now has bright-blue eyes from Arrakis' spice.
Per Warner Bros. and Legendary, "Dune: Part Two," directed by Denis Villeneuve, will "explore the mythic journey of Paul Atreides as he unites with Chani and the Fremen while on a warpath of revenge against the conspirators who destroyed his family. Facing a choice between the love of his life and the fate of the known universe, he endeavors to prevent a terrible future only he can foresee."
Stars returning from the first film include Rebecca Ferguson, Javier Bardem, Josh Brolin, Dave Bautista, Stephen McKinley Henderson and Charlotte Rampling. In addition to Butler, and Pugh, Christopher Walken and Léa Seydoux also join the franchise.
Like "Dune," the upcoming installment is an adaptation of Frank Herbert's bestselling sci-fi novel of the same name.
"Dune: Part Two" is written by Villeneuve and Jon Spaihts, and produced by Mary Parent, Cale Boyter, Villeneuve, Tanya Lapointe and Patrick McCormick. Josh Grode, Herbert W. Gains, Spaihts, Thomas Tull, Brian Herbert, Byron Merritt and Kim Herbert serve as executive producers, while Kevin J. Anderson was a creative consultant on the film.
The creative team from the first film, several of whom took home 2022 Oscars, also return for "Dune: Part 2," including Oscar-winning director of photography Greig Fraser and Oscar-winning composer Hans Zimmer.
"Dune: Part Two" hits theaters November 3.