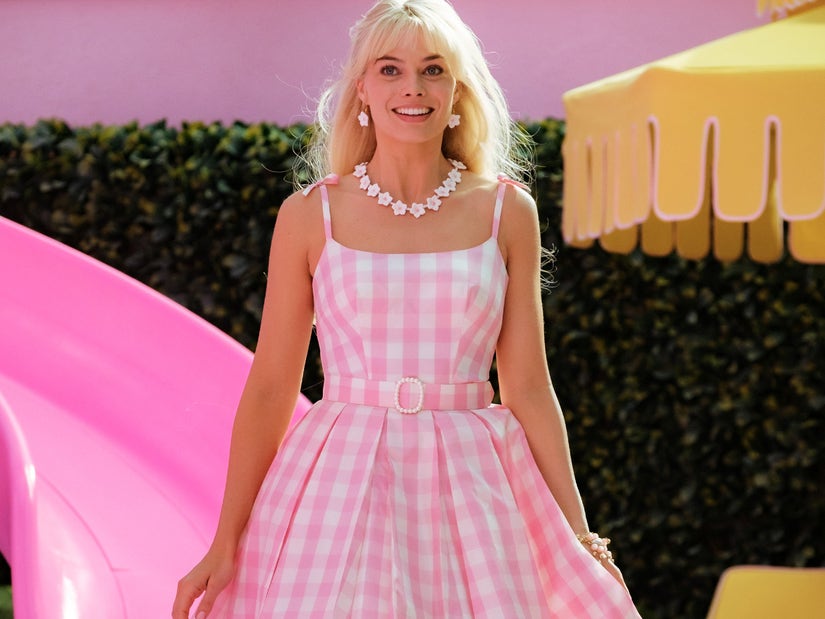 Warner Bros.
"Maybe I was overselling, but we had a movie to make, okay?!" said the actress, who portrays the iconic doll in the Greta Gerwig film, and also served as a producer.
Barbie is expected to take over the box office -- and is predicted to bring in $90 million to $125 million on its opening weekend alone -- but star Margot Robbie has revealed that she set her sights much, much higher when she first pitched the film.
While speaking with Collider, the actress -- who portrays the iconic doll in the Greta Gerwig film, and also served as a producer -- recalled how she pitched the comedy to studios, sharing that she sold the film as a billion-dollar project, and compared it to Jurassic Park.
"I think my pitch in the green-light meeting was the studios have prospered so much when they're brave enough to pair a big idea with a visionary director," Robbie, 33, said.
"And then I gave a series of examples like, 'dinosaurs and [Steven] Spielberg,' that and that, that and that -- pretty much naming anything that's been incredible and made a ton of money for the studios over the years," she added. "And I was like, 'And now you've got Barbie and Greta Gerwig.' And I think I told them that it'd make a billion dollars, which maybe I was overselling, but we had a movie to make, okay?!'"
The Oscar nominee also shared that while she pushed for the film to get the green light, she didn't put much stress on her casting as Barbie.
"I didn't want whoever our director was going to be -- Greta being the first choice, but if she had said no -- I didn't want our director to feel pressured to put me in the role," she told Collider.
"So I was just really upfront about like, 'I won't be offended in the slightest. We could go to anyone. Whatever story you want to tell and whoever you want that to be, I support that. I've got skin in the game as a producer, I don't have skin in the game as an actor, so be free with that choice,'" Robbie recalled. "And she was like, 'Shut up, I want to write this for you.' And I was like, 'You might feel pressured to say that, but …' and we did that dance for a while. And then eventually I just accepted that she did want me to play the role, and then she wrote it. She wrote me in and she wrote Ryan [Gosling] in, and it was our names printed in the script from the get-go: 'Barbie -- Margot, Ken -- Ryan Gosling.'"
Barbie will go up against Christopher Nolan's Oppenheimer at the box office this weekend, with the phenomenon dubbed by the internet as "Barbenheimer."
However, thousands of moviegoers aren't even making a choice between the two very different films, and have committed to seeing a double feature.
Robbie may believe that she was possibly "overselling" Barbie when she said it would make billions, but we won't be surprised if the film brings in billions -- and then some.
Barbie and Oppenheimer hit theaters on Friday.