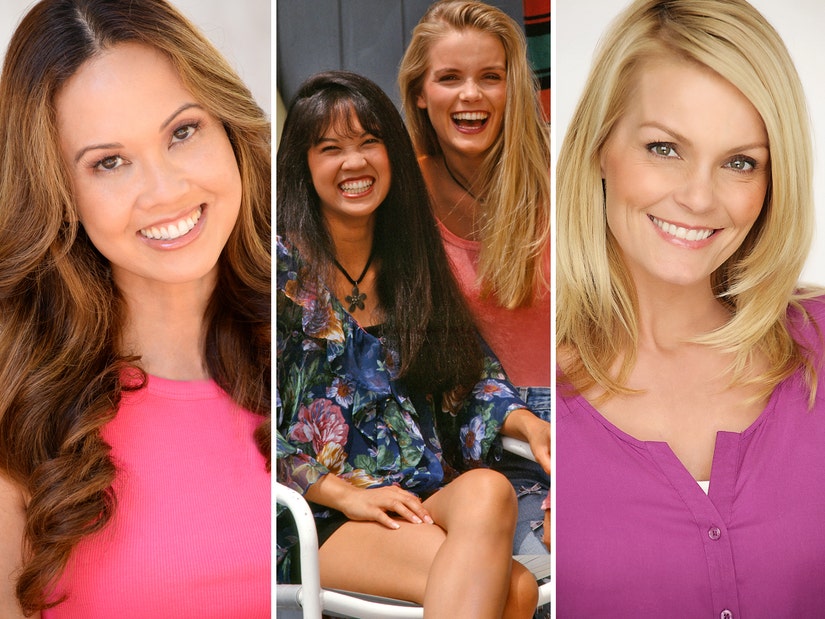 Handout/Getty
Former teen stars Kelly Packard and Jennie Kwan look back at '90s fame and rivalries with other sitcom actors, before opening up about their California Dreams reunion concert with the entire cast in NYC next month.
Next month, the entire cast of '90s teen series California Dreams will reunite in NYC for a concert -- and, if stars Jennie Kwan and Kelly Packard have their way, it won't be a "one night only" event.
California Dreams ran from 1992 until 1996 as part of NBC's Saturday morning lineup, alongside sitcoms like Saved By the Bell, Hang Time and City Guys. Unlike those other shows revolving around the pitfalls of being a teenager, however, the kids on this one also played together in a band.
While select members of the cast previously performed on The Tonight Show Starring Jimmy Fallon in 2010 and a 2019 pop-up in LA, the October 13 event at Stitch Bar and Blues in Times Square will be the first time ever all the show's revolving cast members will rock out together.
Kwan and Packard will be joined by Michael Cade, Jay Anthony Franke, Brentley Gore, Aaron Jackson, William James Jones, Heidi Saban and Diana Uribe at the event.
Speaking with TooFab about the upcoming gig, Kelly said the genesis for the reunion shows started around 10 years ago, when she and Jennie "went to a concert of a popular girl band" together and thought, "You know what, we could do this." That led to their 2019 pop-up, which Packard said was "a huge success" and got them thinking about doing even more "down the road."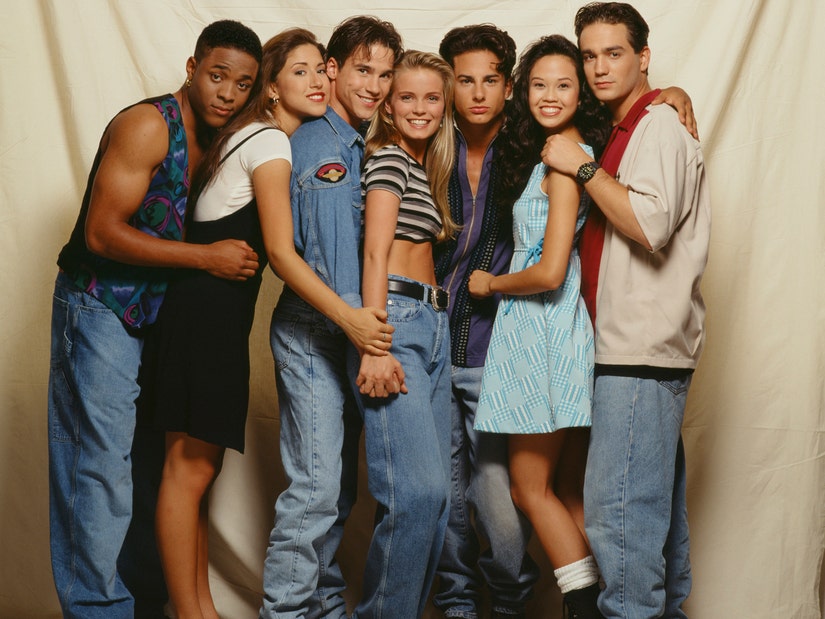 Getty
According to Kwan, they were actually "supposed to do a mini tour" after the Los Angeles gig, but "it just wasn't the right timing" -- citing Covid as one of the factors that put those plans to a halt. Eventually, they decided it was time to try again and planned an event in NYC, coinciding with New York Comic-Con.
"The fact we have every single cast member coming still astounds me. I haven't seen Diana since we wrapped, so I am just as excited for this moment as the fans are," said Packard, while Jennie said she was "getting chills" just thinking about the event. "The fact that the entire cast is here, it's kind of insane," added Kwan, who believes the concert will be the perfect event for Comic-Con attendees looking for something to do at night.
"It's gonna be a really fun, crazy time and we're down for it," she continued.
When asked if more shows or that mini-tour could be in their future, Kwan exclaimed, "Who wants to bring us out? We're ready for sponsorship. Let's do it! We'll see, you never know!" Added Kelly: "I think we're all on board because it's so much fun and we enjoy being together."
While the two couldn't address specifics about their '90s TV show during our conversation in light of the ongoing SAG-AFTRA strike in Hollywood, the pair also reflected on what it was like for them to be in the spotlight as young adults during that time.
"I didn't really land anything big until Dreams, I was 17, 16 and it was a slow go as far as the rise to fame. The fans were young and fun, so it wasn't anything crazy," recalled Packard. "We were never not able to go outside or that kind of thing. I never had that experience and still do this day haven't."
"When we were on the show, there was that element of going to malls in New Jersey and being chased out of the mall, that was fun. That doesn't happen now," she added. "I do love talking to the fans now because they are so kind and just so, it takes me down memory lane too, just like it does them. I enjoy those conversations now more than I did then."
Both stars were surprised how much nostalgia their '90s projects still generate to this day and were humbled by what that love actually means about their careers. Kwan, who voiced Suki in the animated Avatar: The Last Airbender series, went on to share a poignant takeaway from a recent convention.
"I'll go right now primarily for my animation work and it's funny because sometimes the kids will come up and go, 'I love Avatar! My mom loves California Dreams!' I'm like, 'Oh my gosh this is crazy,'" she explained. "At first I thought, 'Oh my god, I'm really old,' and then they're like, 'You've been in this business a long time, you're really lucky.'"
Packard said that her own kids "love watching the show" now and "know the episodes better than I do." She added, "They think their friends should know what it is," saying it's "so fun to watch it with them."
Waiting for your permission to load the Instagram Media.
As for why they believe there is such a nostalgia factor for their series in particular, Kwan said she believes it's because "there weren't a slew of young teenage shows" when they were on the air.
"There was Saved by the Bell, there was California Dreams, soon you had In the Heights and Beverly Hills 90210 ... the fan base back then had something to really, really connect to, something they could really find a bond to and I think that's what makes it memorable," she theorized. "Because there weren't so many ... people just really connected with that."
And when it comes to any rivalries with the casts of those other shows back in the day, Kwan said if there were any, they were all in good fun.
"I think inside, there's always that healthy rivalry. But I remember, actually it was fun sometimes, we'd have to do different promotions to NBC and we would get to cross over and do that. There were a couple times where we -- and I'm really not that athletic -- we had to do a couple game shows," she recalled. "Kelly, she was really good. Again, that healthy rivalry comes out. It was all fun, we were all young and it's really interesting to revisit that."
For now, the only thing Packard, Kwan and the rest of the cast are revisiting now is their sheet music, as they prepare for their upcoming concert. When asked whether they were "rusty" when picking up their instruments again -- Kwan on guitar, Packard on keyboard -- Jennie first exclaimed, "Not Kelly and I ... we're good, we can bounce back into it!"
"I can't say [the same] for other cast members," she continued, saying she was only "kind of kidding."
Added a slightly more honest Packard: "I need to rehearse."
Waiting for your permission to load the Instagram Media.