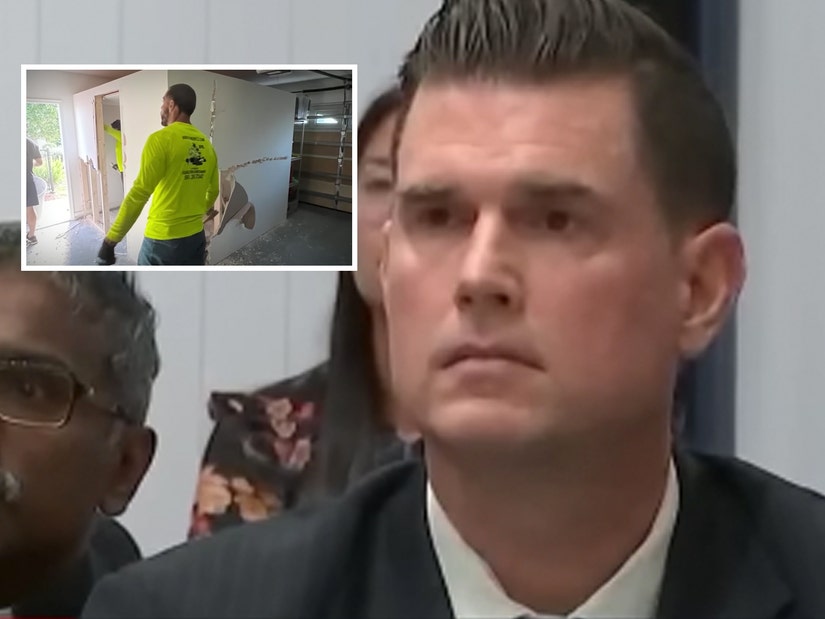 CourtTV
The teen said it was "almost as bad as genocide," claiming he had a "bucket for my urine and feces" -- but also felt his parents "made a mistake" and "weren't trying to do any harm."
The adopted teenage son of Tim and Tracy Ferriter -- who are accused of aggravated child abuse, false imprisonment and an added count of child neglect -- testified in court this week about the conditions inside the 8x8 structure they allegedly locked him in for hours at a time.
The boy, who has not been named and was 14 at the time of his parents' arrests in 2022, took the stand in the case against his father on Wednesday. While he described the alleged mistreatment as "dehumanizing," he also said he believed his parents made a "mistake" and others should "forgive them and move on."
The box inside the garage of Ferriter's Florida home was discovered after the teen ran away in January 2022. Police had already been alerted about the room by contractors who built it; once authorities found the boy, he allegedly told cops it was where he was confined for anywhere up to 16-18 hours. A similar structure was allegedly built in the family's previous Arizona home as well; the boy allegedly had no other bedroom in either home.
In court on Wednesday, the Ferriters' son testified the windowless 8x8 room was built inside the garage. The structure had a twin mattress on a concrete floor, no windows and both an air conditioner and lights he couldn't control, he said. The boy claimed he was sometimes kept in total darkness, with locks on the outside preventing him from leaving on his own.
"It had a bucket for my urine and feces and that was it," he added, saying the room would sometimes smell "putrid." He also claimed he "received water occasionally but not on a regular basis."
When asked by prosecutors how being in the room made him feel, he said, "To me, being locked in a room, it's dehumanizing. It's almost as bad as genocide. It's saddening, to abuse a child that was just acting like a child." He also said he would be "put into the room by physical force" if he resisted ... and claimed his father once "smacked" him in the face and would "spank" him with a jumprope or belt, while yelling.
During cross-examination by Tim Ferriter's defense team, he was asked whether it was hard for him to think of any "good memories" he had with his parents.
"I can easily recall the good times. I don't have a bad image of Tim and Tracy, they just made a mistake," he testified. "They were just acting out of frantic surprise of my actions. I believe they weren't trying to do any harm. I believe people should recognize that was a mistake, forgive them and move on."
When asked about his "actions," the boy admitted to doing some "not so legal stuff" at school, said he would throw and kick things when angry and intentionally broke the "rules" of the home at least five times a week. "Usually more," he said under oath.
According to WPBF, footage from a Ring camera positioned inside the structure showed Tim cursing at the boy and throwing things around the room. He also reportedly threatened to keep the boy in the box much more in the future if he continued to act out in school.
During opening statements, the defense reportedly said the Ferriters' behavior was simply a case of "bad parenting," but didn't rise to the level of criminal. Tim Ferriter's lawyer said the room was used for "monitoring" the child.
"Bad parenting does not mean that a person should be charged with a crime," said defense attorney Prya Murad. "It makes them human. It makes them a parent who is trying to figure out when faced with a child who has consistent and escalating behavioral issues, how to handle them."
The two parents are being tried separately, with Tim's trial happening first; Tracy has been present in court, sitting behind him during his trial. The father previously rejected a plea deal.