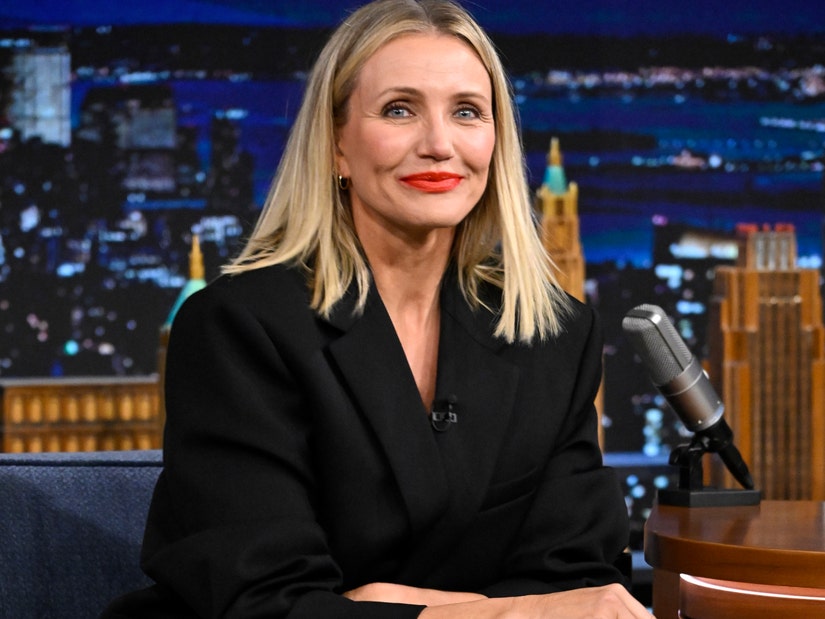 Getty / NBC
"He has some bangers," the actress told Jimmy Fallon of the songs Madden makes up for their 3-year-old daughter, Raddix.
It's been nearly three years since Good Charlotte's Benji Madden released new music, but the musician's wife, Cameron Diaz, believes her husband's next step in music lies outside of the rock genre.
During an appearance on Wednesday's episode of The Tonight Show Starring Jimmy Fallon, the 51-year-old actress -- who shares daughter, Raddix, 3, with Madden -- revealed that her rockstar husband writes and performs original songs for her daughter, noting that she's told him he should record a children's album.
Diaz recalled watching Good Charlotte perform at the When We Were Young festival in Las Vegas over the weekend, which she said was the band's first performance in five years, joking that she forgot her husband isn't just a dad and businessman, but also a musician.
"He's like, Benj at home, being the best dad ever and running all of his businesses, and then he just gets up there, and he's like, 'Yeah, all right, pyro! Pfft!'" she told Fallon, who asked, "When he's at home, does he do songs for your daughter?"
"Yeah, he makes up -- he has, honestly, I'm like, 'Why don't we just...you need to do a kids' album,' because he has the best songs," Diaz replied. "They play in my head all the time because he sings them to her, and she knows the words. And it's the sweetest thing ever. It really is. It's so...it kills me."
"He has some bangers," she added. "I'm telling you."
Speaking of music, the Avaline founder opened up about attending Taylor Swift's Eras Tour concert with Zoe Saldana, Tiffany Haddish, and her friend Elsa Collins.
"It was amazing," Diaz said, before Fallon showed a photo of Diaz, Saldana, Haddish, and Collins. "So Zoe Salanda is one of my besties, and we were talking the night before, and she was like, 'Should we go see Taylor Swift?' And I was like, 'Yeah I think we should, but how are we ever going to get tickets.'"
"And Elsa Collins calls Zoe the next morning, and says, 'Let's go,' and we show up, and Tiffany is there, who is, like, the biggest Swiftie ever,'" Diaz added.
Meanwhile, the Charlie's Angels star played a hilarious game during her appearance on The Tonight Show with Jimmy Fallon called "Jump Scare VR Challenge," in which she, Fallon, and Questlove watched jump scare videos on virtual reality headsets while wearing white jumpsuits and holding a full glass of red white, and were tasked with not spilling their drink.
Watch it go down in the clip, above!