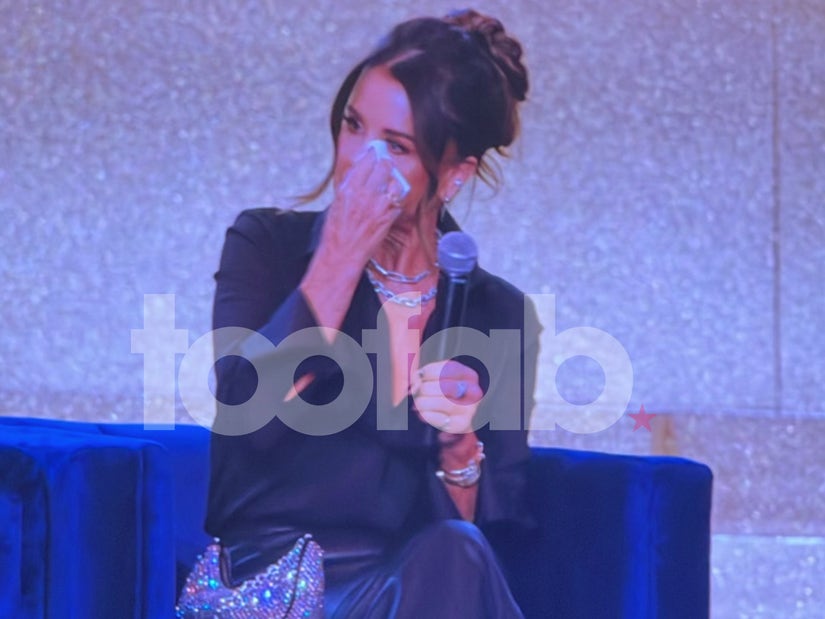 TooFab
Richards got choked up while speaking about the current state of her relationship with Mauricio, before a tense moment with her costars about discussing her separation on camera during the season.
Richards got choked up and broke down in tears during the panel, after being asked where she and Mauricio currently stand following their separation.
"We love each other very much and we are family no matter what happens. We have a very strong family unit. My three girls still live at home, only Farrah has her own place. It's still like, 'Who's gonna be home for dinner tonight?' in the family chat. [Mauricio] was busy doing 'Dancing with the Stars,' so he wasn't around as much. We're trying to figure it out. We know we love each other," she said, before she was overcome with emotion.
As the crowed cheered her name in support of Richards, she added.
"I just want to say, a lot of people think, 'What are you doing? Fix everything.' Obviously, that's what I would want. This is not my idea of my fairy tale, clearly. Anyway, I do appreciate all your support."
A clip from an upcoming episode of the show was then shown for the crown, in which Kyle expressed serious frustration with her costars for asking her questions about her situation with Mo during a cast dinner. After the footage was shown, Richards explained her issues with the women.
"If I was called on the phone and asked one on one, I would have been much more open. Being in front of the cameras, I felt like I was on the defense. I just felt like everyone was coming at me," she said.
"But we're on a reality show," Garcelle Beauvais shot back, as things got a little tense in the room. "Erika put everything out there. You've been doing it 13 years, that's part of our job to ask things of each other. The reality is, we're on a reality show. I don't want to feel like we're the bad guy for asking questions."
Richards explained her frustrations were less with Garcelle than with Sutton Stracke, saying she didn't feel the questions were asked "in a compassionate manner ... at least ask with some compassion, that's all I ask."
Earlier in the panel, Richards also said she didn't expect anyone to bring up her situation with Mauricio before she herself was ready to talk about it on camera. "It really was difficult for me ... that's what threw me off in the beginning," she continued.
On her difficulty with Mauricio, she said, "It was sort of new for me, what we were going through."
"Even today, we still live under the same roof. I just didn't know how to manage that and I also am somebody who can't pretend. I dont have a good poker face. You can see I'm clearly not thrilled or happy or upset about something," she added. "I wasn't there to stir up problems. I didn't want to fight with him. The producers were like, something different is here. I told the girls from the beginning, I was having a hard time."
In addition to her "painful" reunion with sister Kathy Hilton and losing a friend to suicide, Richards said, in general, she was "just trying to keep it together."