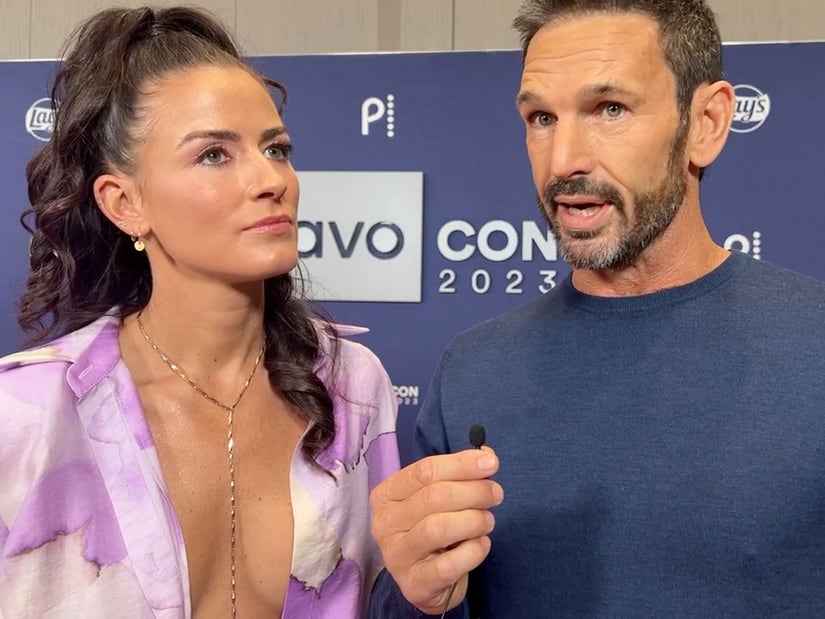 TooFab
At BravoCon, the two spoke about watching back the episode in which Luke and Laura were fired over an incident involving consent -- with Scott saying, "I felt like in someway, I still failed [Margot] a little bit."
TooFab spoke with the pair at BravoCon over the weekend, where they shared how difficult the episode was to watch.
"It was difficult to watch for me because I'd only based my situation off what Aesha had told me," Chambers explained. "Usually in that situation, I would've addressed it the next morning and had a big debrief, but we had the ability to review it and make an action that morning and get rid of it swiftly."
He continued, "Looking at everyone's reaction after that, and how they all came together. I'm quite proud of the unity that we ended up with."
Chief Stew Aesha found the moment equally difficult to watch, telling TooFab, "I found it quite hard to watch, personally, because they didn't show how long I laid in Margot's bed for."
She continued, "And I feel like like for how long I spent lying there, I felt like in someway, I still failed her a little bit. So, I found it a little bit hard to watch, but I think so many good messages came from it."
Two cast members, Luke and Laura, were fired from the charter after a series of uncomfortable situations where the lines of consent were crossed following a night of heavy alcohol consumption from the crew.
The first incident occurred when bosun Luke was hitting on third stew Margot; it was immediately obvious that she was extremely impaired. Luke persisted with his advances, despite Margot shutting him down, forcing production to get involved.
Second stew Laura, meanwhile, made another cast member uncomfortable, following deckhand Adam back to his room and even climbing onto his bunk to give him a back massage he never asked for.
Adam did not appear as impaired as Margot, but it was clear Laura's advances were just as unwanted. He said later he wasn't as assertive in saying no -- though he did say it repeatedly -- because he didn't want to embarrass her.
After speaking to all the parties involved and watching the footage back, both Aesha and Jason intervened along with production, and made the decision to axe both Luke and Laura from the charter.
After the episode aired, Margot posted a series of images to her Instagram Stories thanking all those who defended and protected her, and who helped her to understand she was not to blame.
She wrapped with a message "to all the women who have been affected by sexual assault in any way, shape, or form," telling them, "Please know that you are not alone, and the blame does not belong on your shoulders."
"I understand that this episode was deeply triggering and incredibly difficult for many to watch," she continued. "However, I believe it was vital to show because this issue is all too real and far too frequent."
"Perpetrators often escape accountability, and this is not ok," she added. "I was lucky to have Aesha and the producers intervene, but I'm all too aware that many women have not and will not be so fortunate and it makes me feel sick to my stomach."
She continued in a follow-up slide, saying that victims should never "face ridicule, shame, or have your experience minimized." She also emphasized, "Your emotions are valid, nobody is allowed to blame you, and you can't blame yourself."
If you or someone you know is a victim of sexual assault, get help. The National Sexual Assault Hotline (1-800-656-HOPE [4673]) provides 24/7, free, confidential support for people in need.