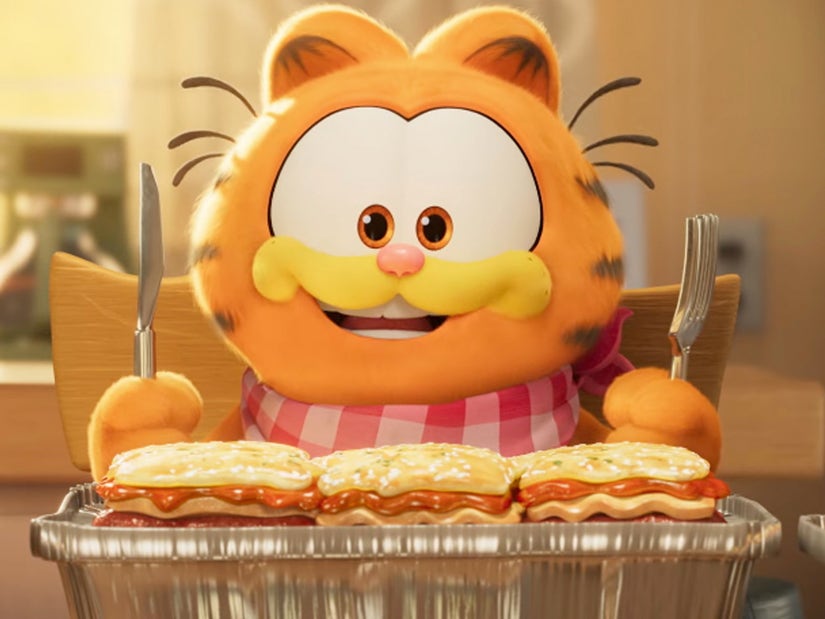 Sony Pictures
Garfield may hate Mondays ... but Sony picked one to debut the first trailer for the animated cat's new movie.
Chris Pratt is back voicing another beloved cartoon character, jumping from The Super Mario Bros. to Garfield.
On Monday -- a day Garfield famously hates -- Sony Pictures dropped the first trailer for The Garfield Movie, starring Pratt as the titular feline. The voice cast for the film also includes Ted Lasso's Hannah Waddingham and Brett Goldstein, Ving Rhames, Nicholas Hoult, Cecily Strong, Harvey Guillén and Bowen Yang.
The trailer starts with the titular cat, then a kitten, living on the streets -- before Jon decides to feed the adorable stray some pizza and take him home. Cut to the present, where it's clear the feline's love of lasagne has taken over -- as the cat quips, "And that's how I adopted Jon."
It seems Garfield, pooch friend Odie and their owner live a pretty comfortable life, one filled with good eats and lots of cheese. That is until the cat's long-lost father Vic (voiced by Samuel L. Jackson) re-enters the picture.
"Garfield and his canine friend Odie are forced from their perfectly pampered life into joining Vic in a hilarious, high-stakes heist," teases the official synopsis.
After the trailer dropped, X blew up with reactions to Pratt's voice -- after he was previously criticized for not really changing it up much to play an Italian plumber in Mario. It seems fans were expecting something more this time around too, only to find Pratt sounding, well, a lot like himself. Check out some of the split reaction to his voice reveal below!
The movie hits theaters May 24, 2024.
I'm all for change but if Garfield ain't sounding like Lorenzo Music, I don't want it. Now he just sounds like a 20-something with a cheese addiction/ME. This Chris Pratt conquest needs to STOP. And he needs to stop bringing his BFF daddy issues with him.pic.twitter.com/EW9qLLb228

— Rendy (@rendy_jones) November 13, 2023 @rendy_jones
The whole "Chris Pratt sounds like Chris Pratt" thing is fairly silly. Robin Williams sounds like Robin Williams in Aladdin. Bill Murray sounds like Bill Murray in the other Garfield. Y'all just don't like Chris Pratt and that's fine, but don't make up reasons. https://t.co/ZQM38vSU1y

— Zach Halper (@Zanath10) November 13, 2023 @Zanath10