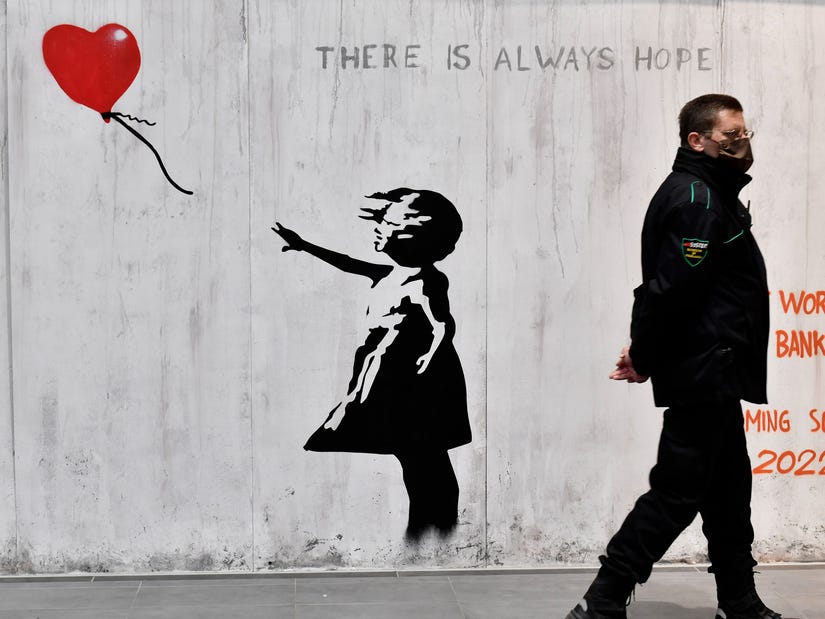 Getty
In the 2003 interview, unearthed by BBC, the street artist appears to reveal what his first name is.
A resurfaced interview from the BBC may have just unveiled Banksy's first name.
The mysterious street artist, who has remained illusive over the years, seemingly shared his first name in a 2003 interview with the outlet.
In the recording, uncovered by BBC just this month, reporter Nigel Wrench asks him if his name is "Robert Banks", and the artist replies: "It's Robbie."
The artist's first name has long been speculated about online, with some suggesting the names, Robin, Robert and Robbie over the years.
The full interview can be heard on BBC Sounds Radio 4's The Banksy Story, with a bonus episode of the podcast added Tuesday after the recording was discovered.
Banksy's real identity has never been revealed, but the interview gives his fans a rare chance to hear his voice.
The artist, who was in his 20s at the time of the recording, was interviewed by Wrench in the summer of 2003, to mark the opening of Banksy's Turf War show in east London.
An edited version was aired that July on the BBC's PM program, but not all of the material was used -- namely the part where Banksy reveals his first name.
It wasn't until years later, when Wrench was listening to The Banksy Story podcast, which premiered earlier this year, that he felt compelled to recover the original uncut audio recording from the interview and give it another listen.
Banksy rose to prominence through a series of graffiti pieces that appeared on buildings across the country, like his Girl With Balloon painting, which was originally stenciled on a wall in east London, and has been endlessly reproduced, becoming one of Banksy's best-known images.
Like his Girl With Balloon painting, which "self-destructed" in London, immediately after it had been sold at auction, much of Banksy's work takes a satirical and controversial tone, making his works a favorite among street art lovers and celebrities alike.