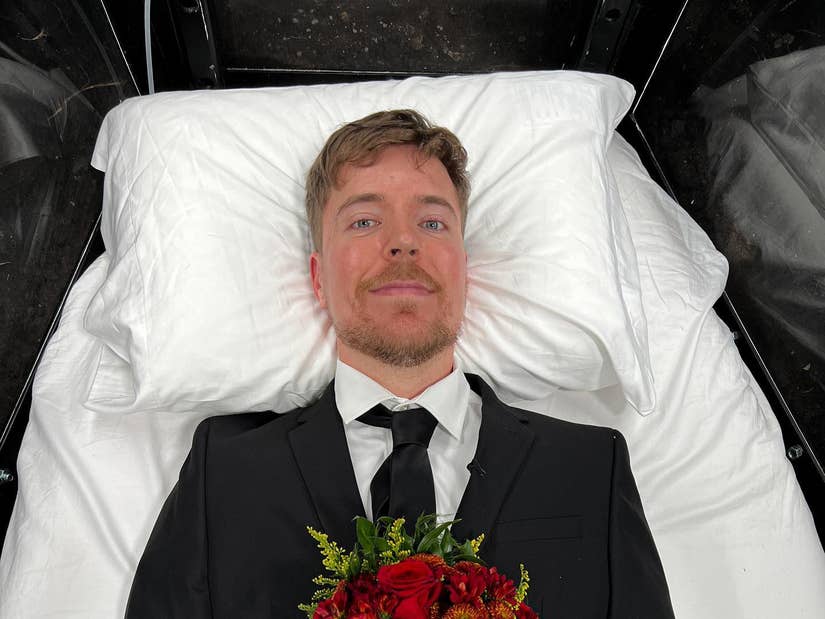 Instagram
"Please don't try this at home," the YouTuber warned in the caption for the video, which already has over 66 million views.
Is there anything MrBeast won't try?
In his latest stunt, the 25-year-old YouTuber decided to get buried alive -- for a week!
The video, which has over 66 million views (as of publishing this article), did come with a warning, however, with the social media personality urging fans not to try the stunt at home.
MrBeast, whose real name is Jimmy Donaldson, documented his journey underground, which included donning a suit fit for his funeral, as he was lowered into the ground in a cutting-edge transparent coffin outfitted with food and water.
The coffin also came complete with cameras to both record the video and make sure nothing went awry.
Finally, MrBeast had his crew use an excavator to dump 20,000 pounds of dirt on top of the coffin, sealing the YouTuber beneath the surface.
"I'm entrusting my life to this coffin for the next seven days," he declared in the bizarre video.
There were some concerns with MrBeast being underground for an extended period of time, like the risk of the 25-year-old developing blood clots, among other things.
The stunt luckily went off without a hitch, but it did result in some "mental agony" for MrBeast, who broke down in tears several times throughout the process, including when he was being released from the casket.
"I started crying, once again," he said after seeing the sun on day seven of the experiment. "I'm not sure why. I just couldn't help it."
While the stunt came with both agony and anguish for the YouTuber, it earned him the record for the longest time a person has been buried alive, with MrBeast beating the record he previously set in 2021 after being buried alive for 50 hours.
Other viral stunts from the YouTuber include counting to 100,000, having contestants navigate a Resident Evil-style laser maze and more.
The most-followed YouTube creator, MrBeast has 213 million followers on his main channel, and an additional 24 million on his Spanish-language channel.