Lady Gaga surprised everyone when she scored a Golden Globe nomination last week for her work on "American Horror Story: Hotel" -- and her fiance Taylor Kinney couldn't be happier for her!
"I was in a van on my way to work and I heard about it and I almost jumped out of my seat," the "Chicago Fire" star tells toofab about the honor. "I'm really proud of her and really excited. I think it's amazing. She's been killing it, she's done a great job on that show!"
The duo, who got engaged on Valentine's Day, were spotted out together in NYC over the weekend -- with their adorable French Bulldogs dressed up in Santa costumes.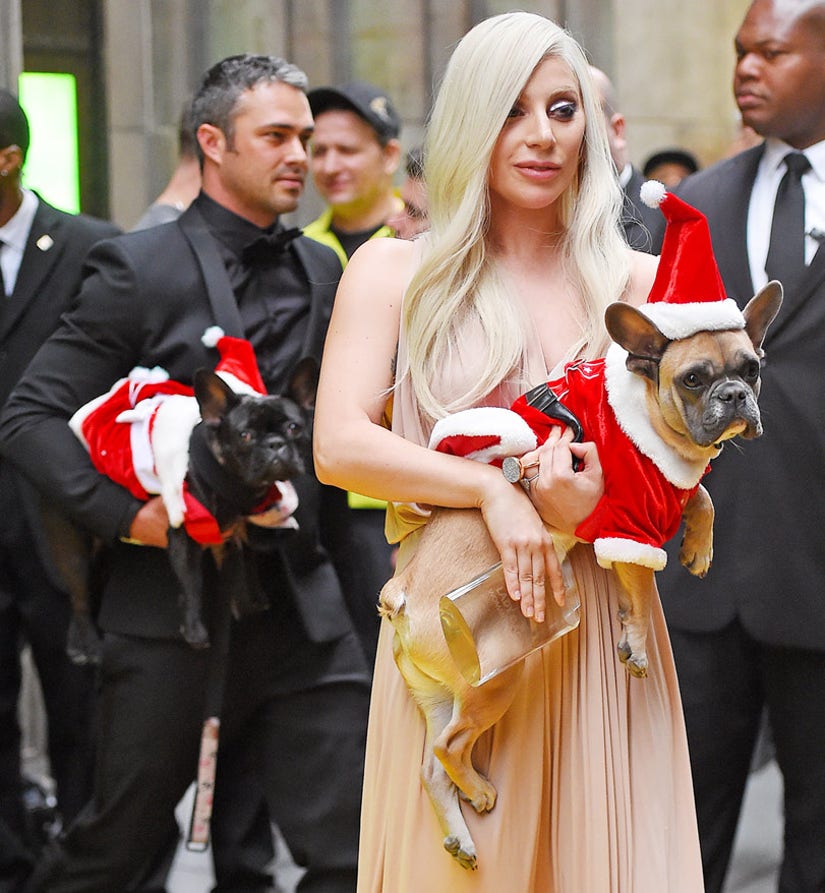 Getty
"They're little troopers," Kinney says of the getups, before revealing how the two are planning to spend the holidays.
"Just with family, I think everyone's schedule has been so hectic over the past year, it'll be nice to have a little bit of downtime over Christmas, so just spending time with family," he explains.
It has been a very busy year for the two of them. In addition to Gaga's work as The Countess, she's also been touring like crazy with Tony Bennett. As for Kinney, he's been working non-stop on "Chicago Fire" and filming the upcoming horror film "The Forest" earlier this year in Serbia.
"It was great [having Gaga visit him abroad]," he continues. "There were great restaurants, great people and a lot to do. It was fun, it's a great city."
The freaky flick revolves around Aokigahara, the real life Japanese park known as "The Suicide Forest," a beautiful but unfortunately common destination for those wishing to end their lives. In the movie, Natalie Dormer's character enters the woods with Kinney by her side, as they try and find out what happened to her missing twin sister.
While Dormer got to go the actual park, Kinney wasn't as lucky. Despite the creep factor associated with Aokigahara, he says he would have loved to visit.
"I met up with everyone in Serbia, but I would have liked to," he says. "Maybe for the novelty, but certainly not with a tent. I'm not staying overnight there!"
The film shot the majority of its scenes in a small town near Belgrade.
"It was a great shoot and we were in this little town called Tara, in the middle of nowhere, it was pretty beautiful," explains Kinney. "There was just one little restaurant and pub in this town, there was a little tourist area about an hour away from where we staying, so we'd go there on the weekend, putz around there and try different restaurants, ride four-wheelers and just goof off."
Describing the movie as a "psychological thriller," Taylor hopes people come away from the film with plenty to chat about.
"I want people, when they're watching it, try and figure out an ending. Try if you can figure out a character. Afterward, I hope people walk away from this film and talk about it," he says. "Maybe it freaks them out a little but, but talk it over with whoever they saw it with. I hope people enjoy it!"
Check out "The Forest" when it hits theaters January 8!