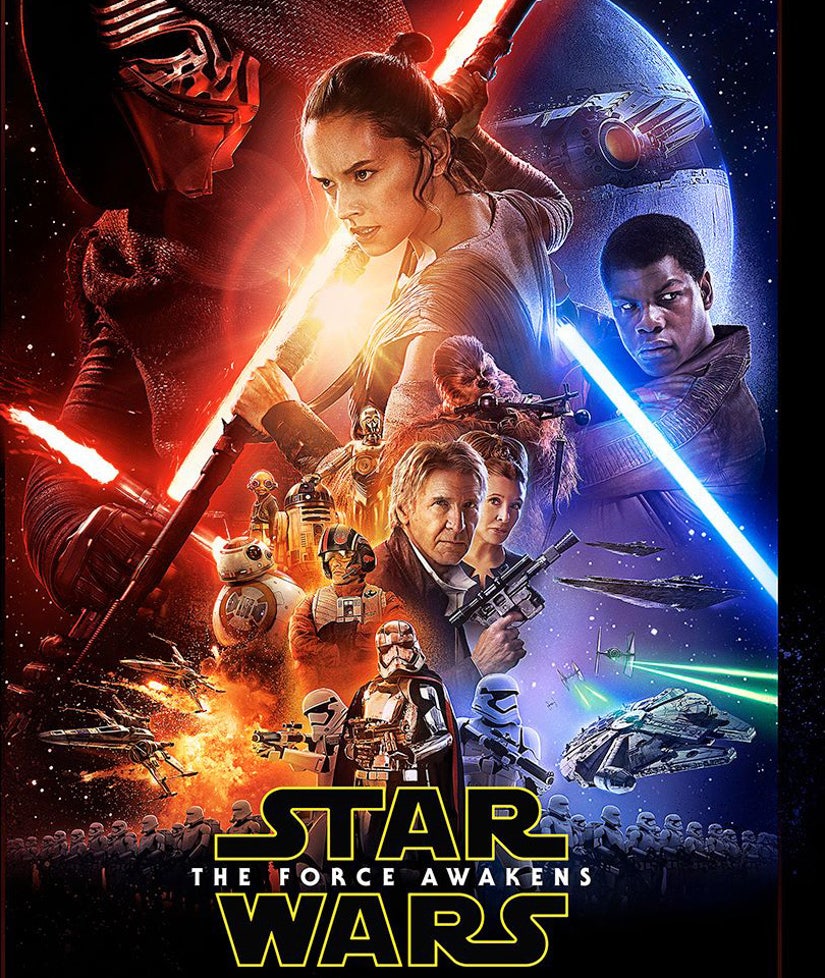 Lucasfilm
This article contains MAJOR spoilers about the latest "Star Wars" flick. If you haven't seen or don't want to know anything that happens, stop reading NOW. You've been warned.
If you saw "Star Wars: The Force Awakens" already -- and, judging the early box office records it's setting, a lot of you have -- you likely laughed, cried and begged for more at the movie theaters.
The new chapter of the space saga lived up to expectations, putting the memory of George Lucas' unfortunate prequels out of mind while leaving us counting down the days until Episode VIII drops in 2017. There were big revelations, giant teases for things to come and one major death that it' going to take us quite some time to process.
So, what threads were left dangling as the closing credits came up? Keep reading to see what we REALLY want to know after watching "The Force Awakens."
This will definitely be the big moment this film is remembered for, as our favorite space scoundrel is killed while trying to bring his son with estranged love Princess Leia, Kylo Ren, away from the dark side. It's an incredibly moving scene, as Solo begs for the film's main villain to put the darkness behind him. Just when it seems like Ren -- whose real name is Ben, as in Old Ben Kenobi -- is going to hand over his lightsaber, he instead thrusts it through Han's chest before pushing him into oblivion.
It's the OMG moment of the movie ... but is that really the end for Han?
While we'll have to wait for director J.J. Abrams or Harrison Ford himself to confirm it 100%, it certainly seems like we just said goodbye to one of the series' most popular characters. Not only did Leia sense a disturbance in the Force once it happened, but the entire planet he was on exploded only a short time later. No way he got out of that, right?
The death also means Ford won't have to field questions about Han's life anymore, after 30+ years of fans asking him what he thinks happened next. The film allows Harrison to do something he couldn't do in the original trilogy -- get an ending.
With Lucasfilm President Kathleen Kennedy saying everyone who attended the UK premiere would be back for the next film though, we're left wondering if she was bluffing or if we'll see Han again in some capacity, whether it's through flashbacks or something else. Either way, paparazzi will certainly be on the lookout for Harrison when "Episode VIII" starts filming next month -- do you think he's gone for good?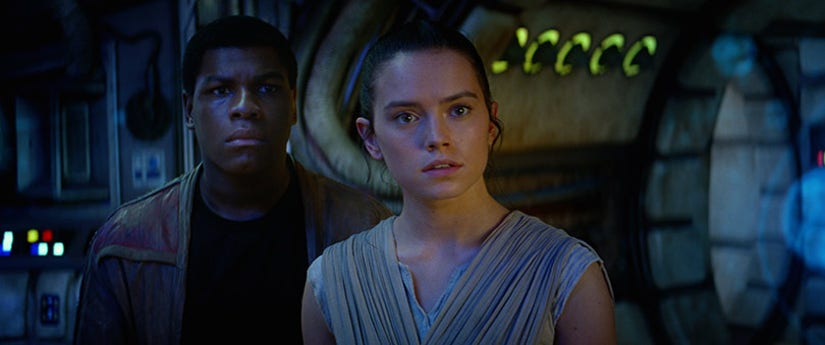 Lucasfilm
Rey is such an enigma. While we're clearly supposed to believe Daisy Ridley's character is Luke Skywalker's daughter, it's never explicitly stated. She can harness the Force like a badass, she's drawn to Luke's lightsaber and, at the end of the flick, comes face to face with long missing Skywalker. But is he her daddy?!
At this point, we have no idea who her parents are or why they abandoned her on Jakku. If Luke is her father, who's her mom? And did Han and Leia know she existed? They didn't show any sort of recognition during the film, leading us to believe that maybe she isn't related to them. Of course, if she is, that makes her Kylo's cousin -- and any upcoming family reunions probably won't be pretty.
Do you think she's part of the family? It that just too obvious?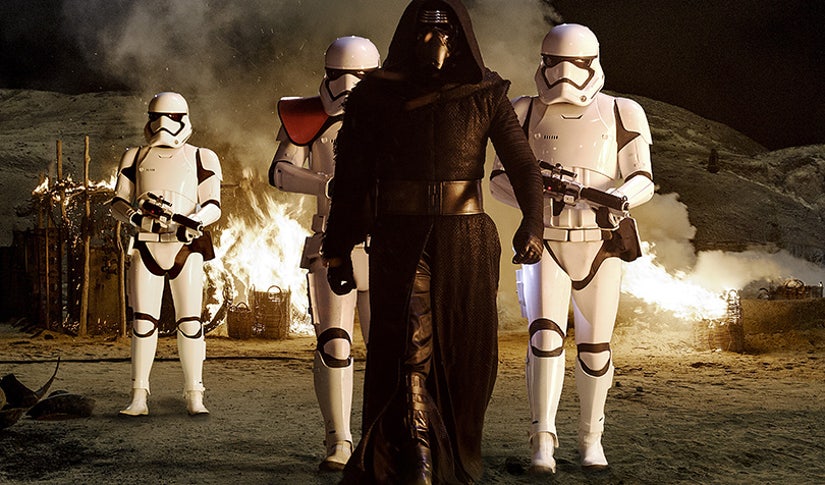 Lucasfilm
3.) How did Kylo Ren turn to the dark side?
We're told Han and Leia's son was in Jedi training with Luke when he was seduced to go dark by Supreme Leader Snoke. So far, we don't know much about Andy Serkis' character, except he appears to be the HBIC of the First Order. How he and Luke crossed paths remains unclear, but with Mark Hamill hopefully having a larger role in Episode VIII, we should get a better idea in 2017.
We're really curious how Kylo got a hold of Darth Vader's helmet, after we last saw it burning in a funeral pyre on Endor over 30 years ago. Ren focuses on his grandfather's headpiece to stay connected to the dark side, especially when he feels the light starting to influence him.
For us, Ren is one of the more intriguing new characters -- do you think he'll stay dark, or will we see him switch sides and team up with Rey to fight Snoke? And will he come face to face with Leia at some point? We're very interested to see how she reacts to seeing her son again, especially after killing Han.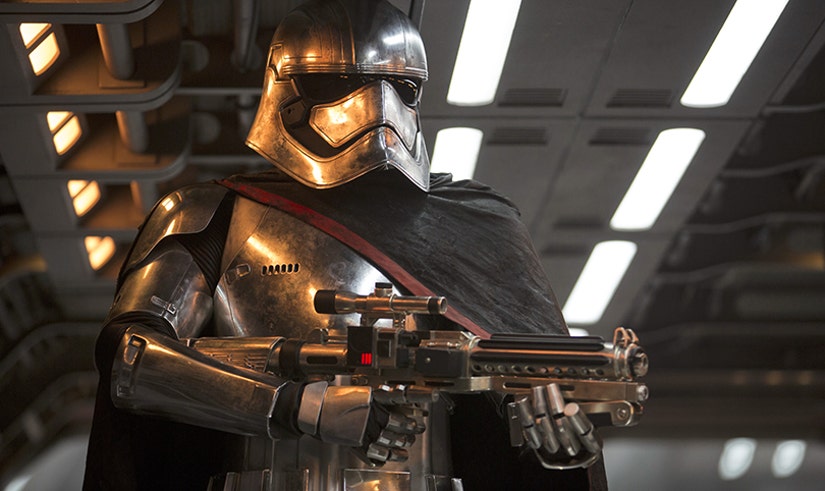 Lucasfilm
4.) What happened to Captain Phasma?
If we're being entirely honest, we were a little let down by Captain Phasma this time around. Thanks to Gwendoline Christie's imposing physique, she made for one visually interesting villain. Unfortunately, she really wasn't in the movie that much. After Han and Finn forced her to turn off the force fields, they were ready to dump her in a trash compactor. We never saw her again.
An LA Times piece confirmed that Lucasfilm president Kathleen Kennedy has "big plans" for the character and said "the captain will carry on into the next movie." "She's an important character, a baddie in the best sense of the word," she told the publication.
It'll be interesting to see if she's punished for giving into Finn and Han so easily ... and how she'll be out for revenge. Also, we'd love to actually see Christie's face, if Phasma's ever allowed to remove her helmet.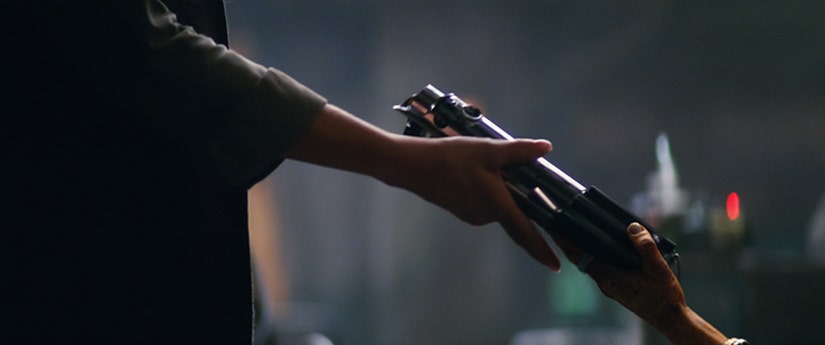 Lucasfilm
5.) How did Maz Kanata get Luke's lightsaber?
Hidden among Max's treasures at her own version of the Mos Eisley cantina was a box containing Luke's lightsaber, last seen when Luke's hand was cut off in "The Empire Strikes Back." Rey comes across it only after Han brings them there for intel -- did he mean for her to find it? Rey is immediately drawn to the weapon, feeling the Force and getting a terrifying vision once she touches it.
Maz says it's a long story of how she got it -- but that's one story we want to know now!
Looks like we'll likely see more of Lupita Nyongo's CGI creature next time around too, right?
Bonus Question: Who did Daniel Craig play in a cameo?!
While James Bond shot down rumors he made a cameo on the film earlier this year, EW has confirmed that he did, in fact, appear in the finished flick. So ... who was he? He appeared as a Stormtrooper, so he was completely unrecognizable.
In the scene where Rey is held captive, he's the one she first tries using the Jedi mind trick on. She asks him to remove her restraints - and, while resistant at first, he gives in when she tries again.
It's a brief moment, but a fun one. We'll have to listen to his voice the next time we see it!
While we're hoping for more backstory on Finn's Stormtrooper days and more from Oscar Isaac's Poe Dameron in general, those are the biggest Qs we're left pondering -- sound off with your theories below.