Netflix released the first photos from their "Full House" reboot, "Fuller House," and we're getting major nostalgia.
In the photos, Candace Cameron Bure, Jodie Sweetin and Andrea Barber look grown-up and gorgeous as they're pictured reprising their roles as D.J. Tanner, Stephanie Tanner and nosy neighbor Kimmy Gibbler.
And in a group shot, Bob Saget (Danny Tanner), David Coulier (Joey Gladstone), John Stamos (Jesse Katsopolis) and Lori Loughlin (Rebecca Katsopolis) each appear in character alongside the ladies.
Obviously absent are Mary-Kate and Ashley Olsen, who played the adorable Michelle Tanner on the original series.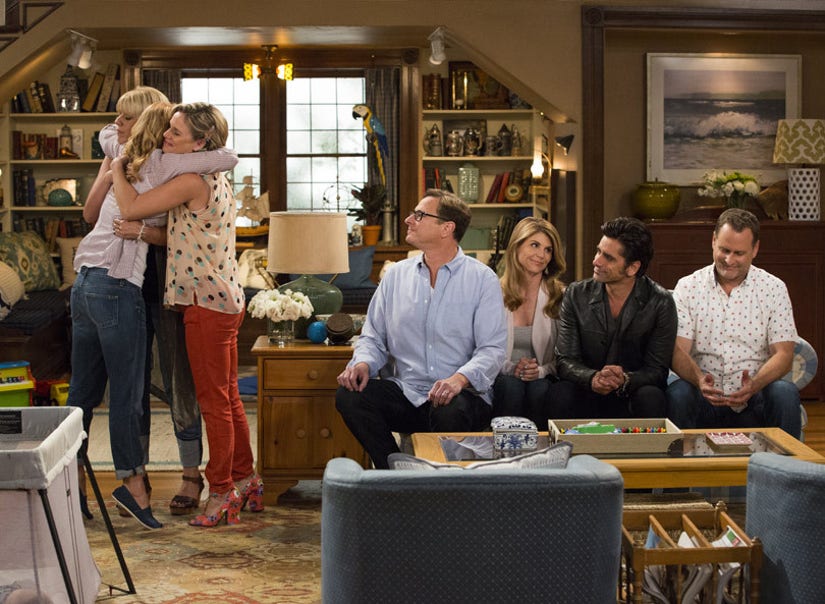 Netflix
In the new issue of People magazine, executive producer Bob Boyett reveals why the twins were unable to reprise their iconic roles for the reboot.
"Ashley said, 'I have not been in front of a camera since I was 17 and I don't feel comfortable acting,'" Boyett tells the mag. "Mary-Kate said, 'It would have to be me because Ash doesn't want to do it. But the timing is so bad for us.'"
And while it seems like Mary-Kate could have possibly participated in the project, ultimately the twins' fashion lines, The Row and Elizabeth and James, took priority over the production.
We can't wait to see the entire cast (minus the Olsen twins, of course) together again when the show premieres February 26th on Netflix. "Fuller House" will be focusing on D.J., Stephanie and Kimmy in their adult lives as they try to help D.J. raise her children after the death of her husband. Though, we may see Saget, Stamos and other show favorites sprinkled in throughout the season.
What do you think about the "Fuller House" first look photos? Sound off below and check out the gallery above to see more sneak peeks of the series!