Almost 15 years ago, seven strangers were picked to live together in one amazingly decked-out suite at the Palms Casino Resort. With a hot tub, free-flowing booze and a crop of cast members hand selected for drama, the first Las Vegas season of "The Real World" is, by far, one of the franchise's most memorable.
Before "Real World: Go Big or Go Home" premieres tonight at 10PM ET/PT on MTV, once again bringing the show to Sin City, we're checking back in with the original, 2002 crew.
Brynn Smith, Trishelle Cannatella, Alton Williams, Steven Hill, Frank Roessler, Arissa Hill and Irulan Wilson all agreed to have their lives taped as they hooked up, partied the night away at Rain nightclub and had some explosive blowouts just off the strip.
We already told you Brynn's side of the story when it comes to the show's legendary hot tub threesome -- check that out right here -- now see what fellow menage-a-trois participant Trishelle says in our chat with her below. Plus, see why she regrets her showmance with costar Steven and what really happened in regards to her infamous pregnancy scare.
And wait until you see what she's up to now ... she's definitely come a long way!
toofab: We gotta say, "Real World: Las Vegas" was one of my favorite seasons ...
Trishelle: It was the best! Before girl on girl kissing was the norm.
toofab: It's almost been 15 years since it first aired, does it feel that long to you?
Trishelle: No, I feel exactly the same. Is that good or bad?
toofab: Are you surprised the show is still on?
Trishelle: I'm not, because it's such a cool format. They pick really cool places, they put a bunch of good looking, crazy people in a house and it works. You don't have to do much. It organically happens that there will be drama!
toofab: The show's returning to Las Vegas for the third time. What is it about that city that brings them back?
Trishelle: It just brings out something different in people. It makes you do things you wouldn't normally do. It's crazy because, obviously, I knew that it was a reality show I was filming, but I didn't think about that while I was there. You forget the cameras are there, it's very easy to do.
toofab: How closely have you kept in touch with your former housemates?
Trishelle: I talk to Arissa every once and a while via social media or text. Frank every once in a while too. We became really close on the show. Steven, not so much. Brynn had wrote me on Facebook not too long ago, but she's so busy, she has a bunch of kids. I don't know what that's like!
Trishelle: It's hard to say accurately portrayed. Clearly, there was editing. I can't deny my actions, because they were on camera. Did I make out with two people in a hot tub, yeah. Could they have made it seem a little less shocking than it was? Yeah. Was there really a pregnancy scare? No, there wasn't! But because other people talked about it in their interviews, for all intents and purposes, there was. There were things that were played up a lot, but it was real. All of it was real.
toofab: Now, you brought up the hot tub threesome. When we spoke to Brynn, she said she left the room right after she got in there. That this huge threesome never happened.
Trishelle: A hundred percent never happened, ever! Like, look, I would say it. I'm thirty-six now. I would tell you guys, "Hey, I had a great time when I was twenty-something years old." I would tell you! Like, there was nothing that happened. It was just a three-way kiss. It was not a big deal.
toofab: Why do you think it became such a big deal?
Trishelle: The way that it was shown on television was that she goes into a room, you know, us three go into a room together, and they sort of let people draw their own conclusions. And, of course, people are gonna think that, because that's what they wanna think. I would do the same thing. I always told myself, "I would never judge people on TV, 'cause I know what's it like." No! That's the fun of it! I do that all the time. I'm always judging all those girls on "The Bachelor."
toofab: The other thing you mentioned was the pregnancy scare. Was it weird to see something play out, when it really wasn't a thing that happened?
Trishelle: It wasn't [a thing]! We were drinking all the time, we weren't really eating. I don't want to get into the whole hormonal, medical side of things, but that could throw your body off a bit. One of the girls had just mentioned it and I was like, "Oh god, that would be awful." From there, it was a running joke more than anything. We didn't know they would take it. They find stories everywhere. I learned my lesson after that show: you can't joke with other people about anything.
toofab: Kristin Cavallari recently said producers set her up for conflict on "Laguna Beach." Was that something that you guys had to deal with?
Trishelle: Well, I think that by casting these different personalities that come from different cultural backgrounds and places, that itself is setting people up for explosion. But I met Kristin Cavallari, by the way, whenever she was, like, nineteen. She was crazy back then! She can say what she wants to, sure, she's a mom now. Whatever. It's easy to forget these things. So, we all had a little crazy side to us when we were younger. Let's not forget.
toofab: Is it weird to be "known" for being on "The Real World"?
Trishelle: Well, it is a little bit disappointing when I'm like, "Man, I've done so many cooler things than that!" Like, I won "Fear Factor." That's awesome. I busted my butt for that, you know? And - or I've played poker. Like, I wish people knew me for that. Or, you know, my, you know, Oscar-worthy performance on "The Scorned." Just kidding! But, you know, I just wish that people kind of knew me from other things, but whatever. It was my platform, something that was definitely a springboard into other things.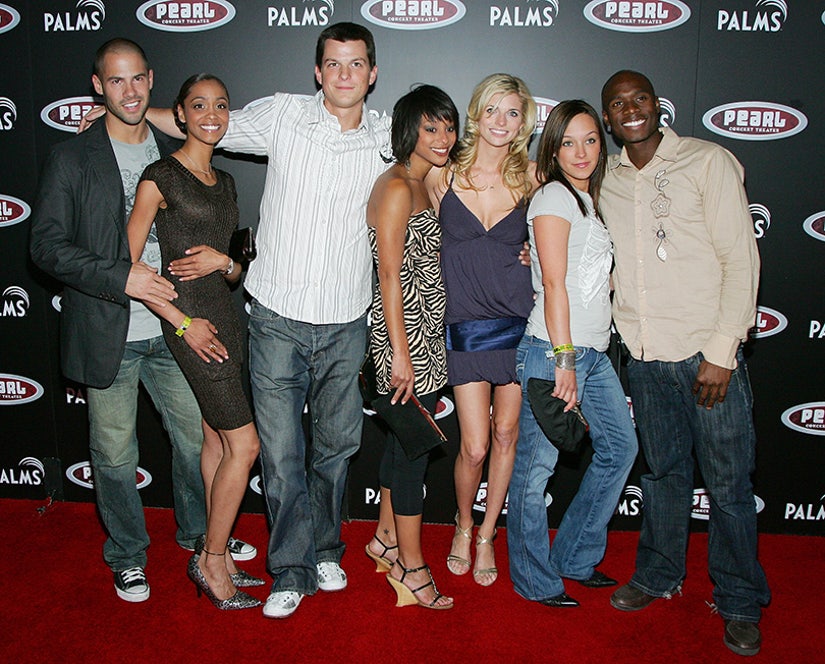 Getty
toofab: If you could go back to 2002, what would you tell your twenty-something self?
Trishelle: I would say, "Don't be so open and genuine." I really was the perfect person for that show, because I told everything. There was not one thing that they couldn't get out of me in an interview. If you ask me a question, I will tell you an honest answer - how I'm feeling that second - and I don't hold anything back. And so, I would say, "Keep things to yourself just a little bit."
toofab: And now, do you have any regrets, especially when it comes to having a showmance on the show?
Trishelle: Yeah, I regret being that girl that cried so much about a stupid guy. I can't believe that. Because I'm a strong person, and, like, it is embarrassing. I was like, "Oh my God, I'm crying again over this guy with like, freakin' highlights on - highlighted tips in his hair." I can't even believe it.
Trishelle: Yeah, exactly. I was just so crazy about him. I just kind of wish that I didn't have that showmance and I spent more time with the girls instead of obsessing like a crazy person over a guy.
toofab: What do you think is the most surprising thing you've been up to since being in the show?
Trishelle: Well, I started to go back to school to take prerequisites, 'cause I'm gonna - I already have a degree in marketing. But I'm going to go back to school - hopefully soon; I'm applying for next year, to be a PA, physician's assistant. So, you know, if you go to the doctor over here, you might even see me. I might be giving you medication!
toofab: Last question. How much do you think reality TV has changed since you first started?
Trishelle: I think that people are a lot more aware of what they're doing, and the potential for celebrity after. And so it causes them to not act in a genuine way. I hate that part of it. I know it seems like we weren't normal. It's because we were in Vegas. But we were normal. And I feel like now, everybody wants to, you know, be a Kardashian, or everybody wants to have, like, their own purse line or nail polish or whatever. And it's like, just be you.