Tori Spelling and Dean McDermott made their love even more permanent.
While the two already have each other's wedding vows etched onto their skin, the couple got more matching ink during their trip to France earlier this month.
In a series of photos from inside the famous Tin-Tin Tatouages parlor in Paris, the two are seen getting their biceps tatted up with the French phrase, "Tout mon cœur, Tout ma vie," which translates to, "My whole heart, my whole life."
The couple proudly showed off the new body art while flexing after the tattoo artists were done.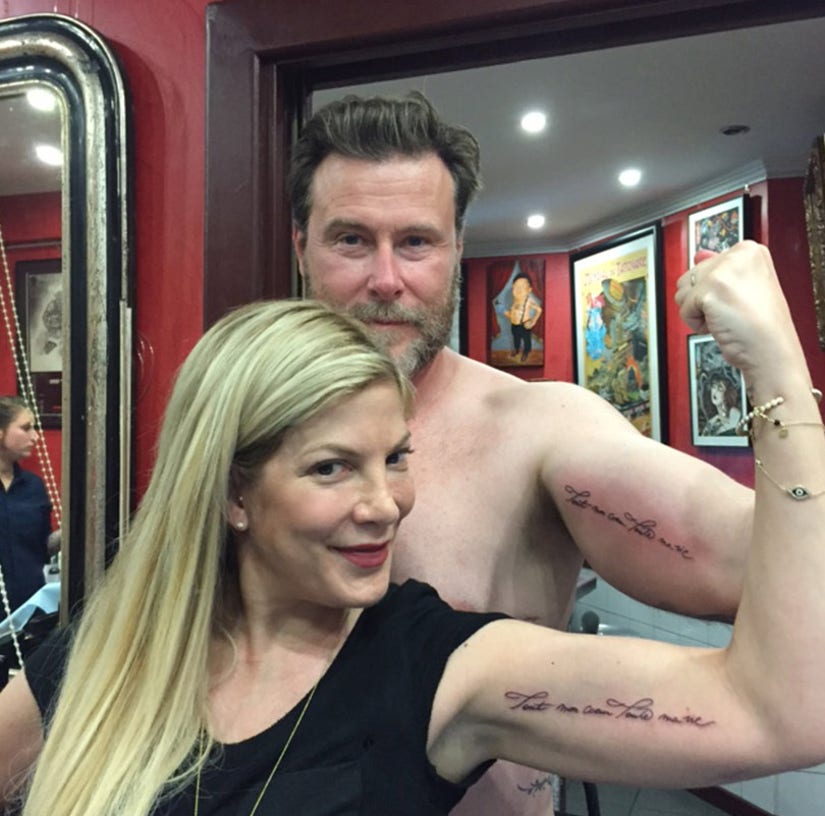 STARTRAKS
Spelling's husband, 49, popped the question to his wife of ten years at the Cafe de L'Homme, overlooking Paris' historic Trocadéro gardens with a breathtaking view of that tower across the Seine. Tori dished to Michael Simon, who photographed the proposal, that Dean arranged "to have the terrace all reserved and private for us, and told me we were going to get coffee and hot chocolates for the kids. And then surprised me when he got down on one knee and presented me with an antique engagement ring."
Despite this being the third time Dean's proposed, they have, in fact, been continuously married since May of 2006, not long after the first proposal on December 24th, 2005.
The second proposal came a year later, on December 25th, 2006.
During 2013's holiday season, Dean had an affair that quickly flared up into a public scandal - one that Tori took understandably hard. As recently as this January, she told Lena Dunham in an interview for Lenny Letter that, "Everything about me was stripped away with one magazine cover. That was it. It was that Us Weekly cover."
Things appear to be better than ever now -- and they've got the tattoos to prove it!
No word yet on when they'll tie the knot for the third time.
For more of today's hottest headlines, check out the video below: