Mads Mikkelsen is really good at being bad.
The actor really made a name for himself stateside back in 2006, when he played villain Le Chiffre in Daniel Craig's first James Bond film, "Casino Royale." He sharpened his skills (and some knives) in the bad boy department when he headlined NBC's "Hannibal," playing the notorious title cannibal made popular by Anthony Hopkins.
This weekend, he'll once again flirt with the dark side as Kaecilius in "Doctor Strange," which pits him against Benedict Cumberbatch's superhero in a sorcery-filled battle over the fate of the universe.
Keep reading to see what he tells us about the grueling shoot for the Marvel movie, gives love to the "Fannibals" out there and teases his role in the top secret "Star Wars" prequel film dropping this December, "Rogue One."
Marvel
toofab: You've played the Bond villain and now a Marvel villain, is there more pressure on one of those or do you approach them both the same way?
Mikkelsen: I think that specifically the Bond movie we did, after the other ones, it was like a reinvention or rebirth of Bond, to make it more realistic. [Le Chiffre] was not taking over the world, he was not mad/crazy, he was just basically a business man, who would leave people alone if they mind their own business. And when you corner him, he will have to react.
And this is obviously in the Marvel universe. Where Le Chiffre just wanted to be rich, this guy wants to change the world into a better place. Those are two very different goals. He's actually doing this for humanity; the human race. And what he's onto is not that crazy; sounds pretty good in my book.
toofab: There's a ton of stunt and wirework for you in this film, probably more than you've been used to in the past.
Mikkelsen: I think it's the most physical, in terms of stunts, that I've done in one film. I mean I've done a lot of stunts in my life, but this was crazy.
toofab: I saw in one interview you said this was the toughest or hardest film you've shot.
Mikkelsen: I've done other films that might have been tougher, because we were on a mountain in Scotland somewhere, kicking the s--t out of each other in minus 4 [for "Valhalla Rising"], but in terms of stunts, yes this was the most elaborate. You know, wires and a lot of choreography going on and I'm just happy it happened now and not in ten years.
toofab: You have background in dance in gymnastics, does that help?
Mikkselsen: Yeah the gymnastics helps a lot. Just to flip around and know what's upside down. Dance as well. It's an awareness in the room, that you do know it's a wall before you flip your head into it. It is quite helpful.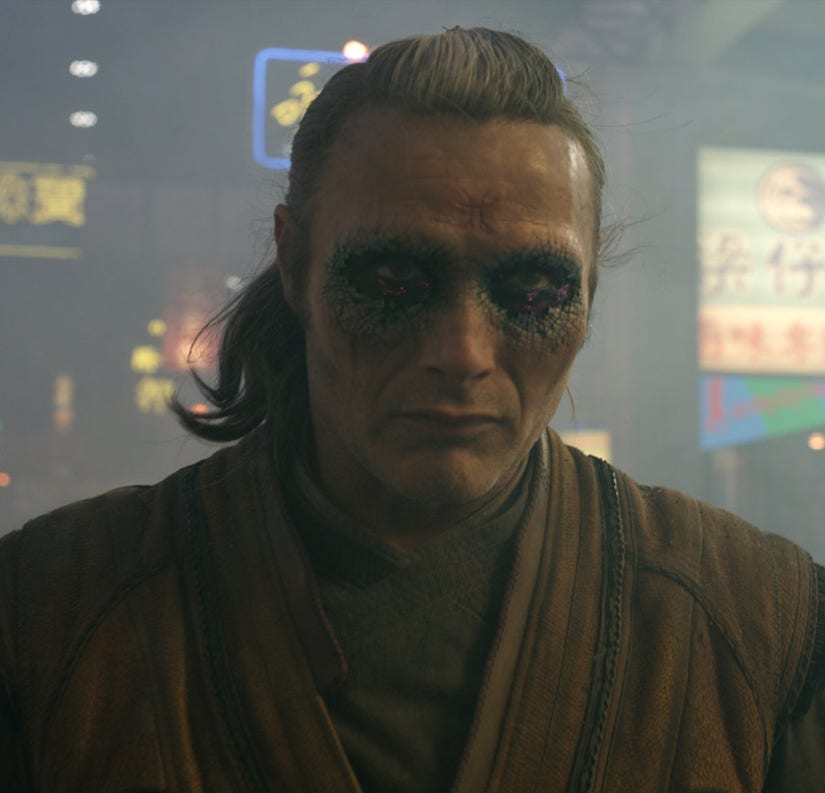 Marvel
toofab: Are your children ... well, we know they're not kids, per se ... but are they excited that you're part of both the Marvel and Star Wars cinematic universes?
Mikkelsen: I think they are, I think they are. I mean they've seen a lot of the stuff that I've done, also the stuff back home, some is more brutal to watch, the more emotional stuff, that is like realistic stuff, is quite brutal to watch for kids ... but being eaten by a giant scorpion [in "Clash of the Titans"] is okay. That's like cool, Hollywood real film. So I'm sure they're very excited to see these films.
toofab: Both you and Benedict have very vocal online followings. I know that you are not on social media, but Hannibal was obviously huge ...
Mikkelsen: I know about the Fannibals, but I'm not so much in touch with them. I know who they are and I see them occasionally when I'm doing conventions and stuff. They are the reason we got a second and third season, so I praise that completely. But I'm not on these things because I don't know how to do it and its just going to steal my time.
I mean, these are people who are full of love, so it's all good, but imagine if you always listen to those voices. When you get reviews, you get one bad one and can't remember the ten good ones. So I don't necessarily want to hear all these voices.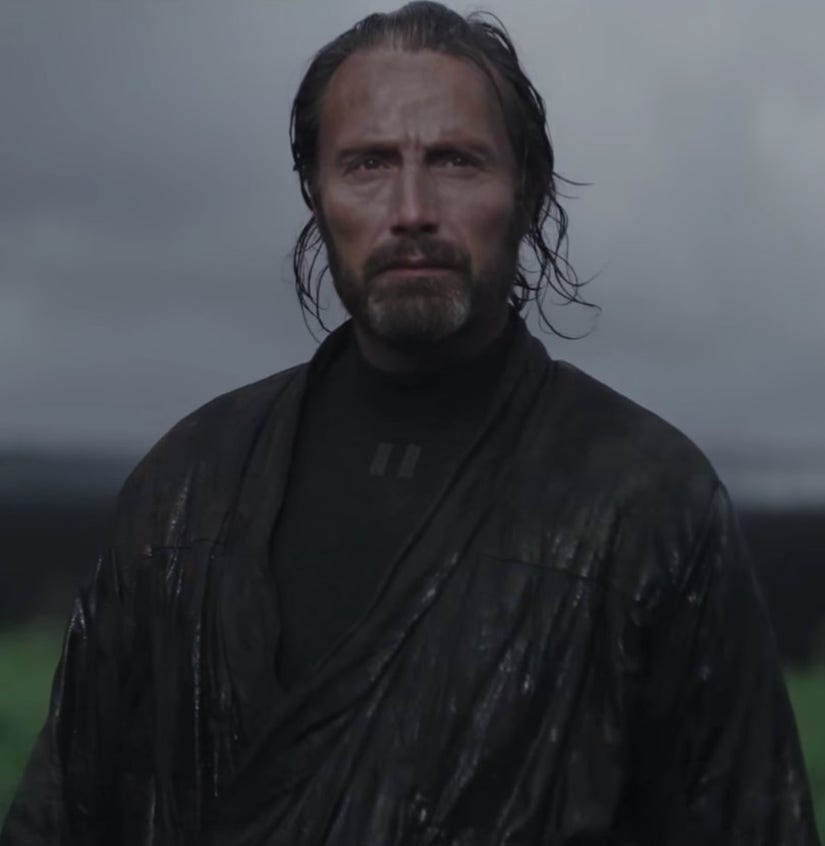 Mads in "Rogue One" trailer
toofab: With this film and "Star Wars," they're both huge movies fans are really excited about. Do you have to watch what you say more than you used to when doing interviews?
Mikkelsen: No. I mean, in terms of what I'm saying about the film, there's are certain restriction there and we have to respect that for good reason. But if I want to say something about politics, I'd probably just say it. But I rarely want to do that. I mean we can all agree that it's a funny time here in America, I haven't said too much whether you're a fan of one, the other or neither. It's just a little surreal to us right now. So that's not saying too much. I do believe that the less people know about me, my opinions, the more I can get away with lying on the big screen.
toofab: Now can we talk a little about your transformation for this role? The first time you see yourself with the full hair, makeup, eyes, the costume what's your initial reaction?
Mikkelsen: I loved it. The hair was coming slowly because we had different ideas and we had to get some extensions. But the costume itself and the makeup was just like so awesome. We had to find something that matched that in the hairstyle. Here it is a helping hand to get the look that actually allows you to do the crazy spells. It's going to be hard in Adidas, right?
toofab: What do you visualize when you're filming, because the special effects in this movie are insane?
Mikkelsen: We were told they were going to be great, but we can never know for sure and especially if you do all of these gestures and s--t. It would be a disaster, obviously, if they ran out of money. We know they're good at what they're doing and they had a little animated version on how it's going to look in the end of the day, so we understood the geography. The animated version that we got gave us a good idea of what was going on.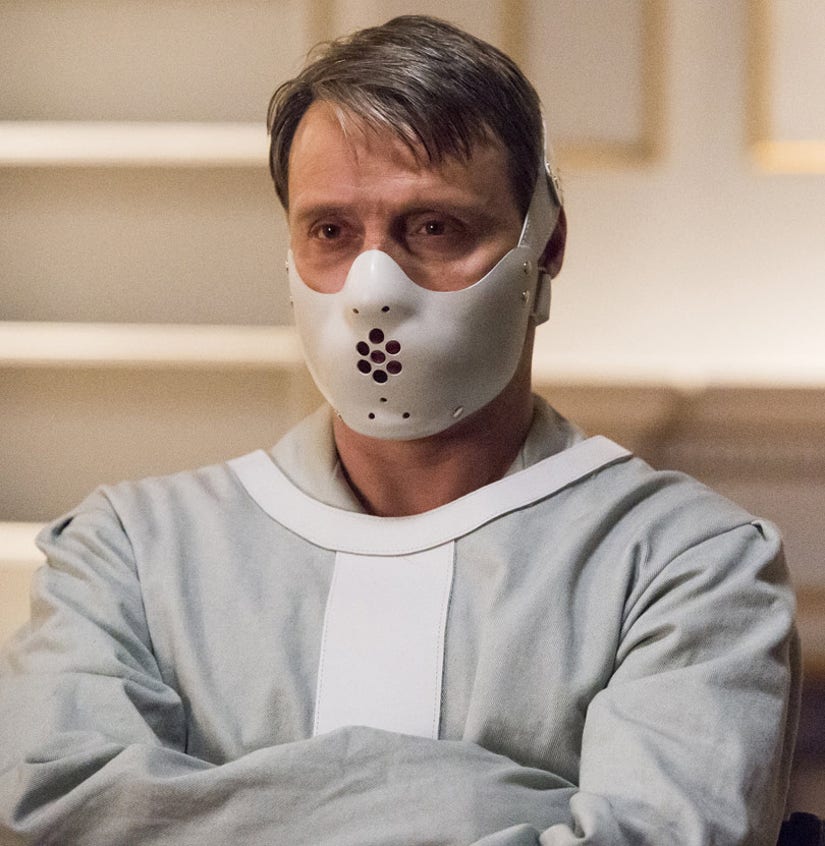 Getty
toofab: And do you have a final message for the Fannibals out there? We just got a copy of the new cook book ...
Mikkelsen: Yeah, the cookbook is coming out! We are so happy that [the Fannibals] are around and that they made it possible for us to get a second and a third season. And if they keep going, let's cross our fingers that we might see a fourth season!
See Mads in action when "Doctor Strange" hits theaters this weekend.