Anyone else have that "Easy Street" song stuck in their head after watching tonight's episode of "The Walking Dead"?
"The Cell" introduced viewers to The Sanctuary, the not-so-safe haven Negan and his cronies call home. Most of the action revolved around our boy Daryl Dixon, as he was put through the wringer in an attempt to turn him to the dark side.
But this is Daryl Motherf---ing Dixon, and he doesn't bend so easily. Let's dig in!
Negan's right hand man Dwight was in the middle of everything this week, as he was tasked with breaking down Daryl using music torture, sleep deprivation and by feeding him nasty dog food sandwiches.
"I ain't ever gonna kneel," a defiant Daryl tells his captor, referring to the Saviors' habit of taking a knee whenever Negan is around. "Yeah, I said that too," Dwight shoots back, "but you're gonna."
According to the rules of The Sanctuary, their prisoner has only one of three options if he wants out of his cage.
"Wind up on a spike" and work for Negan "as a dead man." Their compound is surrounded by walkers on chains and spikes, in what we can only assume is a way to keep outsiders from getting too close.
Work in The Sanctuary for points, which can be redeemed for food, medicine, etc. "But you're gonna wish you were dead," warns the Lucille-wielding man in charge.
Work for Negan, by enforcing "trade" agreements with surrounding communities and doing his dirty work as one of the Saviors.
None of these options sound too appealing, right? "There is no Door #4," says Negan, "This is it, this is the only way."
When the first attempts to break Daryl down fail, Dwight tries again with a more personal approach. "You got your friend killed. I got Tina killed," he tells him. "Don't pretend like you don't know the score. You should be dead. But Negan's taken a shine to you. You're lucky. Don't forget."
He then drops a Polaroid to the ground, a Polaroid of Glenn after Lucille's dirty work. Roy Orbison's "Crying" starts playing in the background, Daryl looks at the photo and starts weeping ... and so do we at home.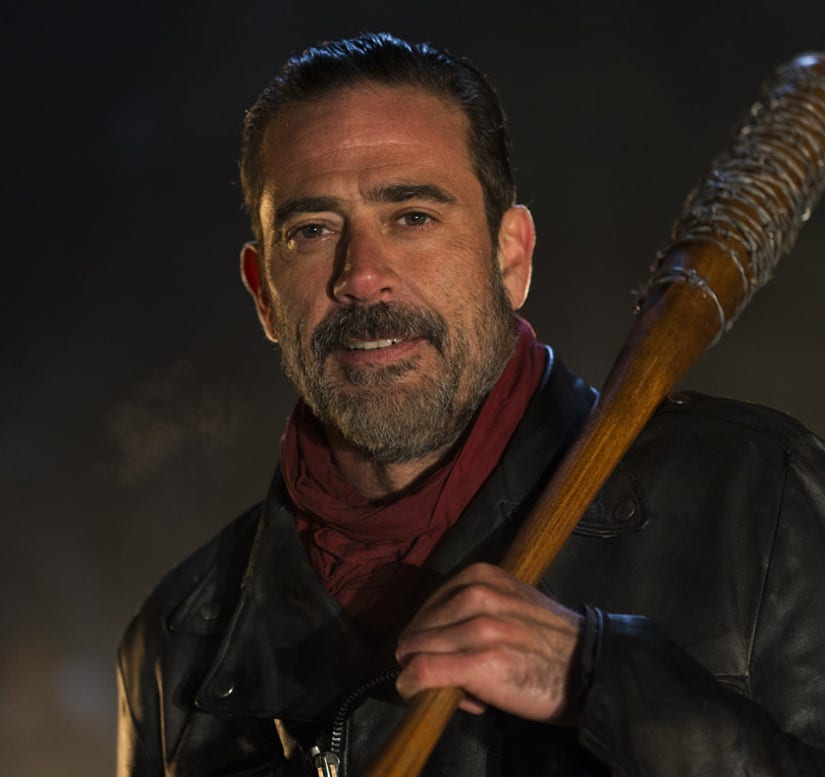 AMC
The next day, Negan asks for another pow wow with his prisoner. It's here that we learn a lot more about Dwight's tragic backstory ... and how Negan's twisted psyche works.
According to the tale, Dwight started working at The Sanctuary for points, along with his "super hot wife and her super hot sister," Sherry and Tina. Unfortunately for Tina, she had diabetes and her insulin was incredibly hard to come by in the zombie apocalypse.
To alleviate her financial burden, Negan asked her to marry him. In exchange, he'd take care of her. She wasn't feeling this arrangement though and took off with her sis and her brother-in-law.
After the events of last season's "Always Accountable" episode -- where Tina died after being bitten by a walker -- Dwight and Sherry returned to The Sanctuary and begged for forgiveness. D asked Negan to spare his wife, while Sherry agreed to marry Negan if he let Dwight live. While Negan admitted that was "a start," he still needed to punish D for his disobedience -- and took an iron to his face.
"After all that, he still got on board and look at him now ... one of my top guys and we are totally cool," Negan tells Daryl. "I think you can be that guy. I think you are ready to be that guy."
Calling his defiance a "dumb ass choice," Negan has Daryl thrown back into his cell.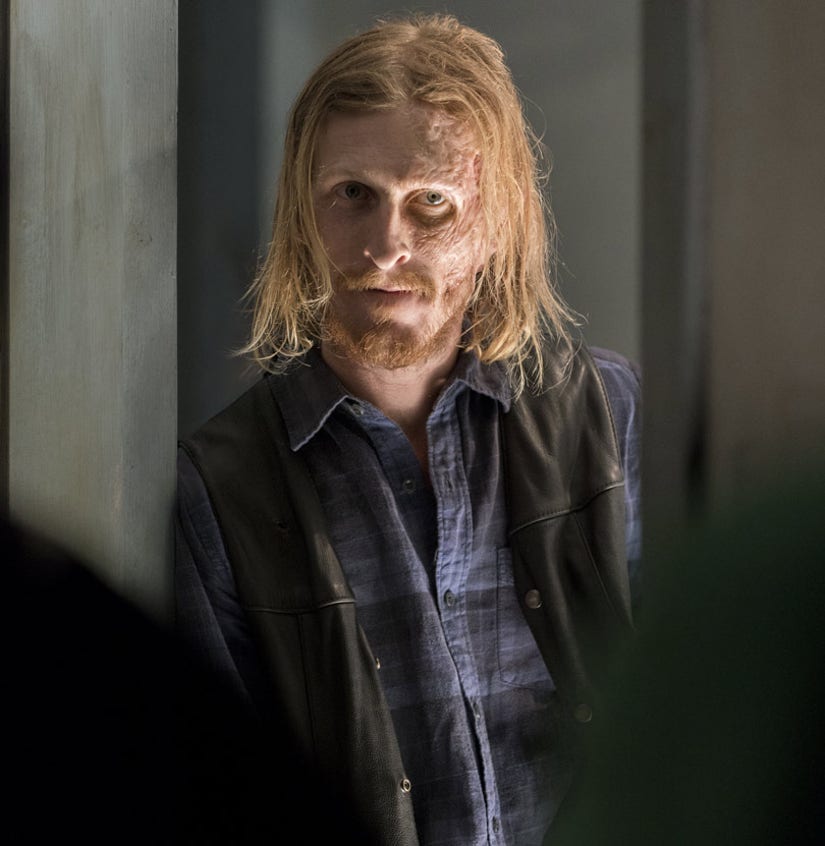 AMC
The two D-men then have a heart-to-heart, where Daryl admits he understands why Dwight made the choice he did. "You were thinking about someone else," he says, referring to Sherry. "That's why I can't," he adds, thinking about his dead friends.
Dwight made a sacrifice to save his wife, but Negan isn't holding anybody over Daryl's head right now. The same leverage just isn't there and all Daryl has is grief and anger -- two very strong emotions -- fueling his drive to not break. Do you think things would have gone differently if they had another Alexandrian captive with him, especially a woman?
Speaking of the women in The Sanctuary, let's talk about Sherry for a minute.
We see Dwight's ex sprinkled throughout the episode, first getting a pregnancy test. It's negative and it's hard to tell how she feels about that.
She also speaks to Daryl, reiterating how he should give in to Negan. "Whatever he's done to you, there's more. There's always more," she warns when he tries to escape. "You won't get away and when you're back, it'll be worse."
Sherry and Dwight have their own depressing conversation, where he says he thinks he "did the right thing" by becoming one of Negan's followers. "It's a helluva lot better than being dead," he tells her, though it sounds like neither of them really believe that.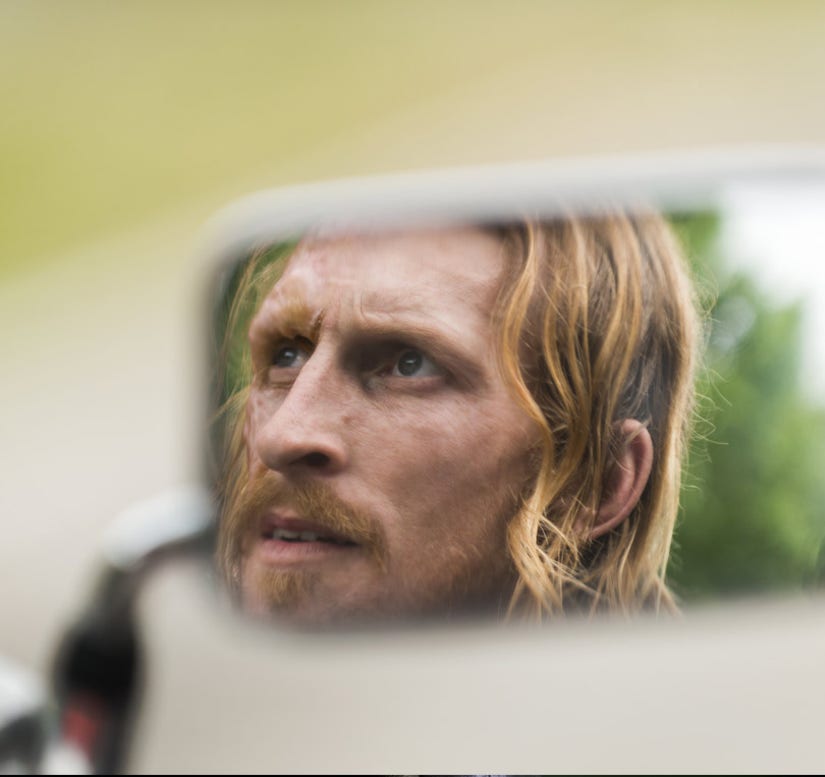 AMC
There's also a secondary subplot involving another man who flees the compound. While Dwight and Sherry compromised to stay under Negan's role, this one wants none of it anymore. He'd rather die than kneel. When Dwight tells him he'll dig up the man's dead wife and "feed her to the crows," the guy agrees to return. But, as the man starts to walk towards The Sanctuary, Dwight shoots him in the back, killing him.
Dwight is a very complicated character. Initially, we're not supposed to like him. He stole Daryl's stuff, killed Denise and brought Glenn, Michonne, Rosita and Daryl to Negan's now-infamous baseball bat buffet. But, as this episode illustrated, he became the right hand man to the devil to protect his wife and stay alive.
Dwight's interactions with Negan prove his master has no respect for him. The guy boasts about stealing his wife, mocks his manhood and openly shares his sob story with complete strangers. It's a miserable life he's living ... and there's only so much of that one man can take, right?
Also, Dwight killing the man who fled shows mercy. It's brutal mercy, but what other choice does he really have? His job depends on retrieving the guy, so putting him out of his misery and bringing back his body instead of having him endure Negan's punishment is actually some sort of compassion. Maybe?
Showrunner Scott M. Gimple previously said we'll "see a lot" of the character this season, adding that he's "very important to the overall story and the story of Alexandria and the Sanctuary, the story of the greater world."
As for his "goodness," Gimple said "It gets very complicated with him. He was an idealist and his idealism is what led to the great, great bitterness that you have now, which drives him to do some awful things."
So, just how bad is D? Sound off with your assessment below!