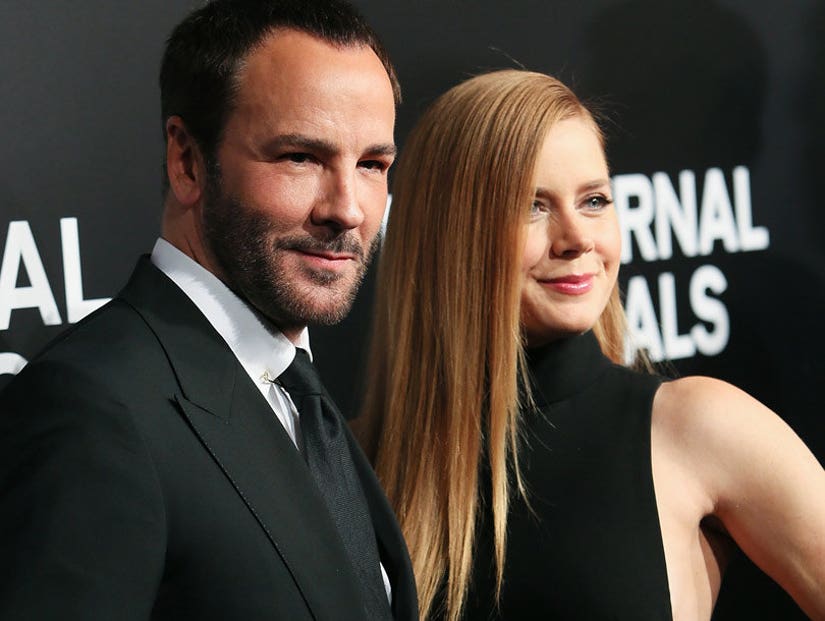 Getty
Tom Ford brings his impeccable sense of style to his second feature film, "Nocturnal Animals," starring Amy Adams, Jake Gyllenhaal and Aaron Taylor-Johnson.
The director and stars all hit the red carpet for a special screening of the flick over the weekend, where they opened up about working on the intense project, the transformations the actors went through for their roles and touched on the election results.
Describes as a "haunting romantic thriller," the movie follows an art gallery owner (Adams) whose ex-husband (Gyllenhaal) re-enters her life via a manuscript that blurs the line between fact and fiction of their shared past.
"The overall theme is about finding people in your life that you love, that you believe in and not letting them go," Ford told toofab's Candice Brock at the premiere. "Unfortunately, this woman does let this person go."
"It's the expression about the regret we have in our lives, the choices we haven't made and the choices we have and who we are because of them," added Gyllenhaal, who said he was very surprised by his experience working with the designer-turned-director.
"To my surprise he was very vulnerable and emotional with me," explained Jake. "I guess I expected him to be the Tom Ford we all see, the Tom Ford who just walked through here, perfect and put together, but there were times when we were rehearsing where he would get down on his knees and act out the scene for me, weeping and banging his hands on the ground and expressing his own heartbreak to me. He made himself vulnerable to me, I tried to him and that's the Tom Ford I know."
With Ford also comes a heightened sense of fashion. Adams' character is draped in some absolutely gorgeous looks throughout the film -- so, we had to ask, did she ever want to take anything home at the end of the night?
"I wanted to, but the glasses were the thing I really wanted," she said of her character's Celine spectacles. "I feel like smart and smart in them," Adams added with a laugh.
For Aaron Taylor-Johnson, however, the usually studly star went in a decidedly un-glamorous direction for his role as a kidnapper.
"Tom wanted me to grow my hair out, grow my finger nails out, drop weight. During that time I was watching documentaries about psychopaths and serial killers. It was all starting to mold tother," he said of his interesting prep.
When the shoot was over, Taylor-Johnson said it took another three months "shedding that dark aura" ... and "a little bit of therapy too."
The premiere went down just days after Donald Trump emerged victorious from this year's presidential election. While Ford had spoken out about Trump in the past -- saying he was "shocked" Trump was the Republican candidate -- he says it's now a time for unity.
"I am a Democrat, I voted for Hillary, I'm sad she's not our president," he told us at the event. "I think it's very important now for us to move forward and everyone needs to embrace each other and we need to make the best America that we can."