Kerry Washington dished about celebrating with the Obamas at the President's farewell bash, but the real life of the party was Usher.
Washington said when it was getting late and she and husband Nnamdi Asomugha started to leave that Usher was just not having it.
"We tried to go home around 1, and as we were leaving, Usher approached my husband and I and was like, 'Oh, no, no, you can't leave. It's just about to get started.' And like, you don't walk away from Usher when he tells you a party's about to get started," she told Ellen on Tuesday's episode of "The Ellen DeGeneres Show".
"He's a terrible influence, that Usher," she joked.
She said that it was a joy to see Barack and Michelle Obama let their hair down and dance until 3:30 in the morning, something the actress feels was well deserved after everything they've done for our country.
The "Scandal" star and DeGeneres also dished on life with baby No. 2. DeGeneres playfully gloated over predicting the gender of Washington's baby correctly the last time the actress was on her show.
"I had no idea what I was having. I said I hoped it was human!" Washington joked about her recent pregnancy with son Caleb.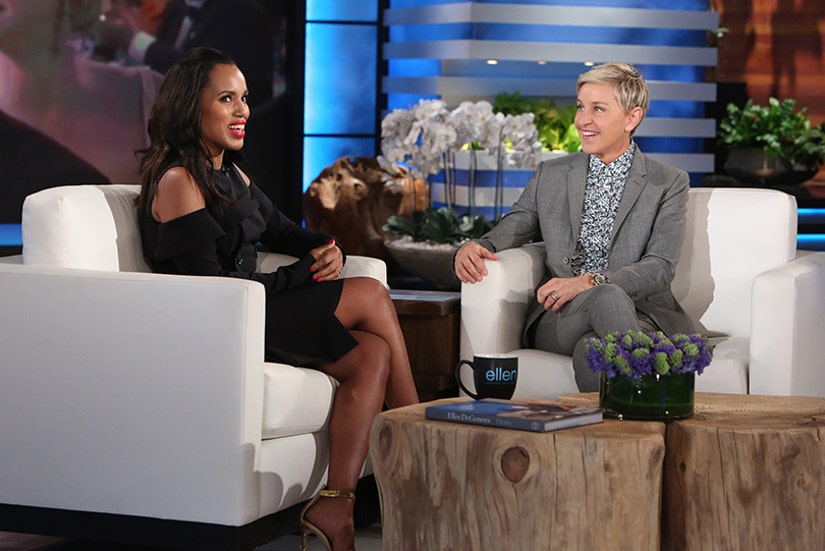 Michael Rozman/Warner Bros.
Washington then got candid about the new season of "Scandal," promising that it's worth the wait and that viewers will find out who the new president is within the first 10 minutes of the season premiere.
Of online buzz over a potential Russian hacker storyline, Kerry said: "Shonda [Rhimes] was thinking about doing a Russian hacking story toward the end of the season, which we had to scrape because it used to be that 'Scandal' was this crazy show that was outside of the realm of possibility… Not anymore!"
"It's not a drama anymore; it's a documentary," Ellen joked.
Washington then played a game of "Speak Out," where the actress had to insert a piece of plastic in her mouth and then have Ellen guess the phrases she was trying to say. Watch how Kerry handles the game like a champ in the hilarious clip below.