"In every generation there is a chosen one. She alone will stand against the vampires the demons and the forces of darkness. She is the slayer."
From 1997-2003, "Buffy the Vampire Slayer" was our everything. The series turned star Sarah Michelle Gellar's character into a feminist icon, introduced the world at large to Joss Whedon (who'd later helm Marvel masterpiece "The Avengers"), and featured some of the wittiest banter we've ever seen on television.
And today, it turns 20. Feel old?
"Buffy" was a show for the outsiders who saw themselves reflected in the scrappy Scooby Gang. The series tackled everything from losing your virginity to contemplating suicide, all presented with a side of monster. We watched as the characters lost loved ones, made new ones and fought evil on a weekly basis.
And while the apocalyptic plots kept us hooked for seven seasons, the cast's exploits after the show wrapped have continued to entertain.
In celebration of the show's 20th anniversary, check out the most surprising things its stars have done since "Buffy the Vampire Slayer" went off the air.
1. Buffy Started a Lifestyle Brand
Waiting for your permission to load the Instagram Media.
Sarah Michelle Gellar continued to act after "Buffy," but nothing seemed to catch on. "Ringer" and "The Crazy Ones" were canceled by The CW and CBS, while a "Cruel Intentions" TV pilot never got off the ground.
She did, however, find success in another, totally random field: food!
In 2015, Gellar launched FoodStirs, a cooking and lifestyle brand focusing on baking kits parents can make with their kids at home. The subscription program offers up monthly, easy-to-complete recipes and USDA organic, GMO-free, and fairly traded ingredients.
She has a cook book coming out this year as well.
2. Xander Stormed Off Dr. Phil
In 2015, Nicholas Brendon first sat down with Dr. Phil McGraw to discuss some of his addiction and mental health issues ... but during the appearance, he refused to open up about the topic and ended up walking off the set.
He returned to the show a couple months later, where he opened up about having suicidal thoughts before checking into a dual diagnosis treatment center.
Sounds like the treatment helped. In a 2016 interview he said, "If [life] were any better it would be illegal."
3. Willow Married Wesley Wyndam-Pryce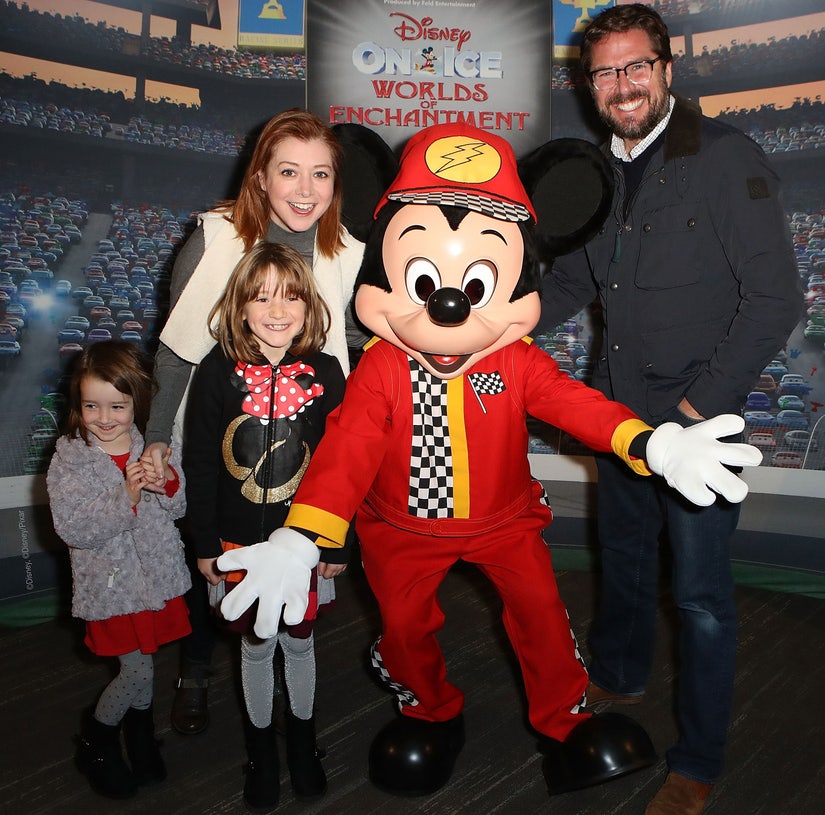 Getty
Yep, just 5 months after the series finale of "Buffy" aired, Alyson Hannigan tied the knot with former co-star Alexis Denisof.
The two are parents to daughters Satyana Marie, who turns 8 this month, and Keeva Jane, 5 in May.
4. Faith Went Back to College
Waiting for your permission to load the Instagram Media.
Eliza Dushku initially put off college to star on "Buffy," she recently re-enrolled in undergrad with a focus on sociology and those suffering with addiction.
"I'm a 34-year-old freshman — loud and proud," she told Buzzfeed. "You don't meet one person today who isn't connected to addiction in some way. It's like cancer: Every single person walking this earth now has somebody in their life that's suffering with it. … So it's about erasing the stigma of addiction. That's somewhere I think I could make a difference."
Dushku opened up about her own battle with addiction just this week at the New Hampshire Youth Summit on Opioid Awareness, adding that she's been sober for 8 years.
5. Jenny Calendar Started a Ministry
Waiting for your permission to load the Instagram Media.
According to actress Robia LaMorte's website, she "accepted Christ while working" on the show and left Hollywood shortly after. Why? "To pursue God and follow the call into full-time ministry."
Now Robia Scott, she and her husband James work at Deeper Life Church in Redondo Beach, California.
In 2016, she also released the book, "Counterfeit Comforts: Freedom from the Imposters That Keep You from True Peace, Purpose and Passion."
6. Spike Has a 20-Year-Old Son
James Marsters has a son who's just as old as "Buffy the Vampire Slayer" itself.
That's Sunnydale's favorite bad boy with son Sullivan above, as the two film one of Marsters' recent "ViDiOTS" webcasts.
As for James himself, he was just cast in a new Marvel series for ABC, "Runaways."
7. Andrew Is An Internet Star
Waiting for your permission to load the Instagram Media.
While Tom Lenk continued to act in projects like "Cabin In the Woods," "Transformers" and a recent episode of "Transparent," he became an Internet sensation with his Instagram page.
With his infamous "Lenk Lewks," the comedian re-creates celebrity red carpet outfits using only materials found around his house ... or the 99 Cent store.
"Fashion takes itself so seriously, so it's fun to say, 'Oh yeah, I made this $50,000 dress for 50 cents out of Pringles cans and doggy chew toys,'" he told the New York Times.
Getty
While he played a high school geek - and member of the villainous Trio - on the show, Danny Strong went on to become a major Hollywood player behind the scenes.
Since the show wrapped, Strong won two Emmy Awards for writing "Game Change," co-created "Empire" and wrote the two final films of "The Hunger Games" franchise.
His directorial debut, "Rebel in the Rye" with Nicholas Hoult, premiered at Sundance earlier this year.
9. Kendra Is Related to Beyonce
Waiting for your permission to load the Instagram Media.
Bianca Lawson became a member of the Knowles clan in 2015, after Beyonce's mother, Tina Knowles, married her dad, Richard Lawson.
That's Bianca in the back right of this photo Kelly Rowland shared from the wedding.