"The Bachelor" Season 21 ended Monday night as Nick Viall crowned -- er -- proposed to contestant Vanessa Grimaldi during the final rose ceremony.
But the REAL fun was going down at a "Bachelor" finale viewing party in Hollywood Park Casino where TooFab mingled with boozy Bachelor fanatics and former contestants Robby Hayes, Chris Soules and Josh Murray.
From major fan girl moments to a cringe worthy Q&A and yes, a rose ceremony, the night was full of hilarious highlights that would have been a zillion times better had I been drinking.
After I checked in and got my press credentials, I walked into the meet-and-greet areas to chat up some of the fans. I spoke to two women from Atlanta who were visiting Los Angeles for the weekend, and subsequently, decided to attend the finale party. I asked them if they read spoilers to which they said, "No Way!" and agreed that they thought runner-up Raven Gates was going to win. This seemed to be the unanimous decision among the fans in attendance. Raven had the popular vote.
There was also a menu curated for the event, which I personally think should have included Corinne's favorites: cheese pasta, cucumbers, and champagne!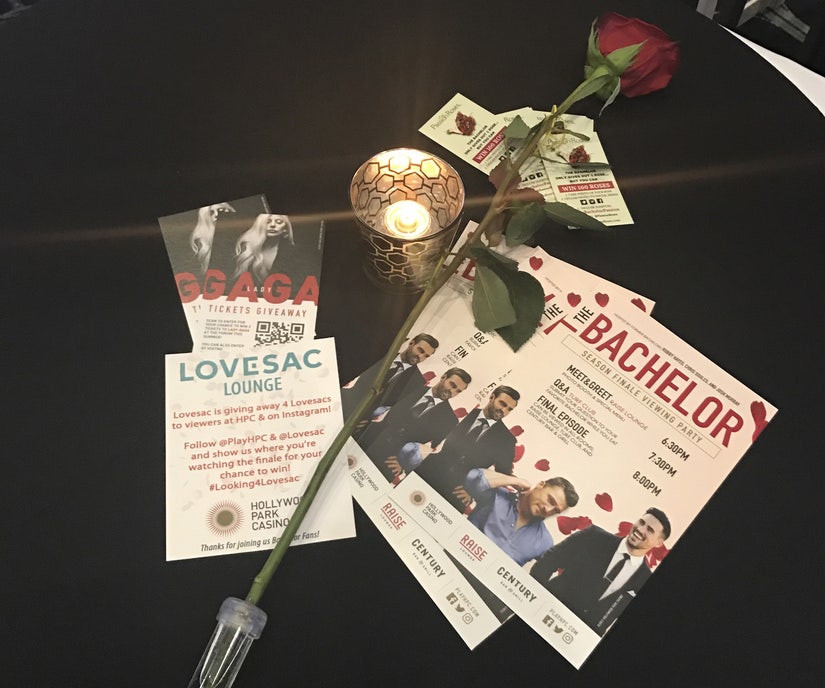 TooFab
Red carpet arrivals were slowly rotated as Hayes, Soules and Murray straddled into the event.
Soules told TooFab that he was excited for Nick and his future and Hayes agreed that he hopes Nick has finally done it right, "because everyone deserves love." The two gentlemen then walked into the "Meet & Greet" area to take photos and chat with adoring "Bachelor" fans.
And then, I talked to Josh Murray.
For those who don't know, Josh Murray and Nick Viall have never liked each other. The two men first met when they competed on Andi Dorfman's season of "The Bachelorette" wherein Nick was sent home as Andi accepted a proposal from Josh Murray. Viall and Murray never really got along and the animonsity only escalated when Dorfman's relationship with Murray ended and she wrote a tell-all book about her relationship during the season with both Nick and Josh.
Fast forward to Season 3 of "Bachelor In Paradise" where both Viall and Murray returned to the franchise as contestants. This time, the two guys bickered while vying for the attention of Amanda Stanton, who Murray ended up getting engaged and then recently called it off.
Murray told TooFab that he and Amanda are working on their relationship. The couple were spotted together again in late February sparking buzz among "Bachelor" fans. He shared his love for Amanda's two daughters, saying he just visited them last week. The couple is still technically together, but in Facebook relationship status terms "it's complicated," Murray said.
The drama between Murray, Viall and Stanton was the root for most of the tension during "Bachelor in Paradise." I asked Josh what was actually going on in that crazy love triangle.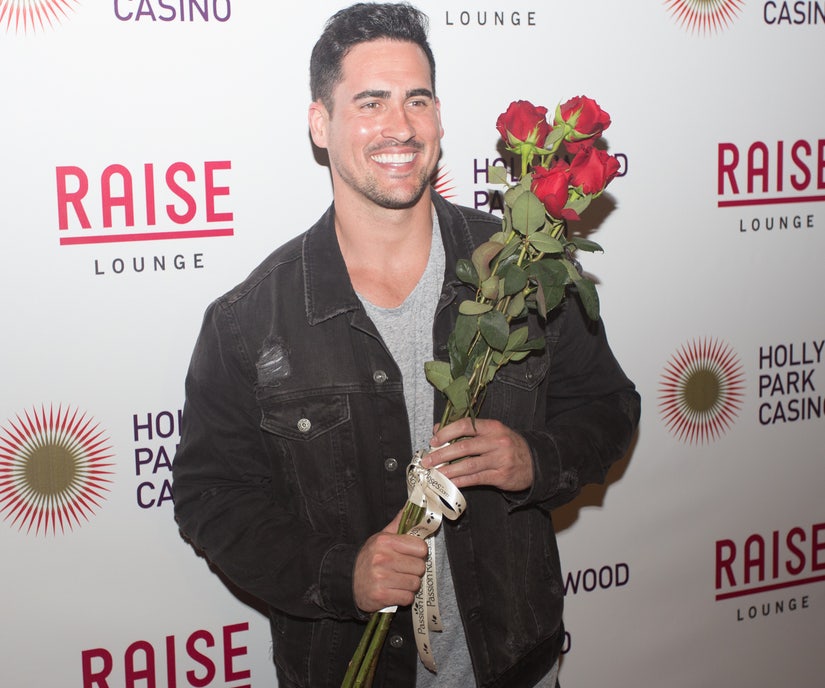 Benjamin Benoit
"What was frustrating to hear was that I was shoving my relationship with Amanda in Nick's face, which wasn't the case at all," Murray told TooFab. "I don't think people know that because it was edited in a way to make it seem like Nick and Amanda had a good date, when they didn't have a good date at all. She even told everyone they didn't."
"It made it seem like she kind of walked away from him for me, when they had a talk before I came that they wanted to see other people."
Nick had a lot to say about Murray during the "BIP" season, leading to a confrontation in the middle of the island, floral board shorts and all. I asked Josh how real his arguments with Nick are.
"What people don't understand is I'm oblivious to everything that Nick has done. As far as talking about me, or trying to raise stuff and get people against me, I'm focused the whole time on my relationship with Amanda," he said.
"Nick talks about me all the time, but never to me. So my whole thing is if you have any problem or any issue with me, come talk to me about it and we can handle it. But that never occurred. It makes good TV if you manipulate situations and scheme with people. Nick only said something back because he was told to."
When asked which of Nick's ladies this season he'd like to spend one-on-one time, Murray said he hasn't watched this season enough to even know about any of them.
"I don't care to watch Nick, because I know the kind of person he is, and I know how it will end up," Murray said. "I've never worried about Nick one second of my life."
Murray added that he doesn't think Nick and Vanessa will get married, but he wishes Vanessa the best. He was quick to remind us of Nick's celebrity driven motives as he's about to debut on the new season of "Dancing with the Stars."
Finally, we proceeded into one of the many casino bars to watch the season finale. Though the screen was projecting the show, it was on mute as all three bachelors joined the room to hand out roses (Chris Soules gave me two). The three gentlemen answered fan questions while downing shots of whiskey and simultaneously swatting off a blondetourage of twenty-something year olds asking Soules and Murray to "wake up and have breakfast" with them.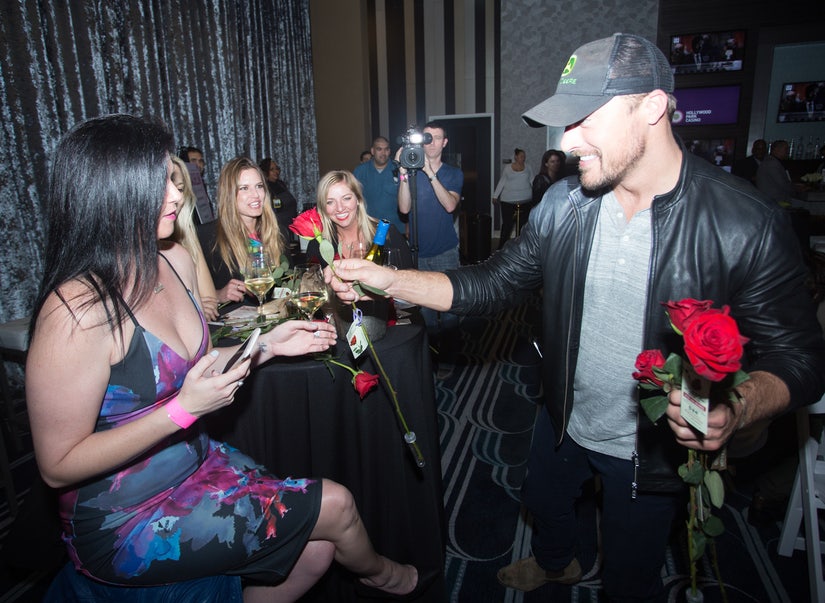 Benjamin Benoit
The evening ended as the last part of the finale aired. The crowd was not pleased with Nick's choice, but given the fact that we were at a west coast airing of the show, it shouldn't have been such a surprise.
In the end, they gave away a bean bag chair, more roses and answered more silly questions alongside rating Nick Viall on a scale of 1 to 10. Josh Murray skipped that one.