Thanks to a 5-year time jump, things will be very different in New Orleans when "The Originals" returns for its fourth season this Friday.
Unfortunately for Klaus, he's spent most of that time behind bars -- without "a change of clothes," star Joseph Morgan joked in a TooFab interview, in which he teased major changes to come.
Keep reading to see how his character's relationship with daughter Hope -- who's now a "speaking, thinking person" -- has evolved, what Cami's (Leah Pipes) return means and why co-star Charles Michael Davis wants to couch surf at his place.
How would you characterize Klaus and Marcel's relationship after the time jump? Klaus has been locked up all this time.
Morgan: Well, I think Klaus swings between slow boiling anger and probably a deep sense of despair being locked in the dungeon and all of it is directed towards Marcel. So not in a good place, but understandably so, he's been in a dungeon for 5 years. The least Marcel could have done is brought him a change of clothes or cleaned him up a little bit, offered him a sponge bath or something. But nothing. No hospitality. Just manacles and a salt circle, so that's where we are with that.
Is there a scene from the premiere or coming up that you're really excited for fans to see?
Honestly, what I'm really excited for people to see about the season is the Klaus and Hope relationship. That's been the most exciting part of the season for me, the most fun for me to play, the idea of this character meeting his daughter really for the first time, since she's a speaking, thinking person now as opposed to a baby. And also the introduction of the evil force, the Big Bad of the whole season, which happens in Episode 4, which is going to set the tone of the season. The last two minutes of Episode 4 are incredibly exciting. It'll be interesting to see what people think after so much time away.
What is Klaus like now that he is a father?
The whole season is about the evolution of that relationship between himself and his daughter, so he is constantly trying to adapt to that and to be the man he believes she deserves and set an example. At the same time, he is who he is, so he has a temper and there's that to fight against. It's a real struggle for him. He feels constantly off balance.
Fans were surprised to see Cami in the first trailer for the season. How strong of a presence will she have and what was it like having Leah back on set?
Having Leah back was just like, "Hey, we just saw you before the break." We did this whole goodbye and then she's just back, next season. It's like normal. Oh, we shouldn't have made that big fuss of you when you left, like, bye Leah, good luck in the world. Oh, you're back.
Physically, she has a presence for I believe just one episode. Her advice to Klaus about his daughter and her presence "with him" extends throughout the season.
Which character dynamic do you think has shifted the most this season?
Klaus and Hope, of course. Because she is a person. She expresses opinions and demands and expectations. That's huge for Klaus, it means the world to him. She is really his focus, more so than ever now, for the entire season. That's a dynamic that, for me, the season was centered around. It's continuously evolving. He's desperately trying to establish himself as a part of her life and to cement that relationship and to earn the love of his daughter and make up for being away for so long.
You directed another episode this season as well. Is this something you'd like to do more and more of going forward?
Directing, yeah, definitely. I worked on a project the end of last year that we're just in post for right now, called "Carousel," which was with a great actor called Robert Knepper from "Prison Break." He's a wonderful actor. I'm really excited about this passion project that we worked on together that I directed, so definitely I'm interested in pursuing that more. I've always been fascinated with everything behind the camera and in front. It's certainly intriguing for me. It presents new challenges, especially when you're on a series for quite a while, it's important to keep stimulated and keep challenging yourself. That's been very rewarding for me.
Charles Michael Davis directed an episode as well. He said you were a true professional.
I wish I could say the same for him, but I just can't. Just awful from start to finish [laughs]. I just spoke to him the other day actually, it was pretty funny. He's urging me to buy a house so he can sleep on my sofa. He said it would make great IMDB trivia.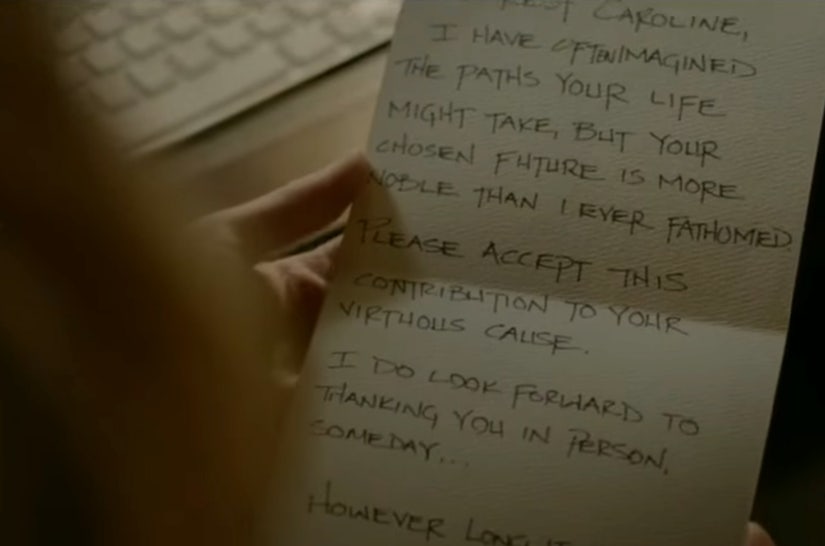 The CW
Did you see the finale of "The Vampire Diaries"? And what did you think about Klaus' letter to Caroline?
I didn't know about it before. I kind of expected they would do something, because, you know, leave no stone unturned for the finale I guess. How much was the check?
We're not going to call it prostitution, that's not what it was. It was just a gift from a man to a woman of money. They may meet again and he might expect something.
I don't know what to think about that whole thing anymore. It's kind of been speculated about so much, but I hope that he's not going to jump in and ruin everything and interfere ... although he probably will because that's in his nature.
We know Matt Davis will appear as Alaric this season -- what can you tell us about that?
He does. He appears and I filmed at least one scene with him. It was fun, it was great. I am genuinely a fan of his work. He's great and subtle and I've enjoyed that dynamic because there's that underlying thing of ... Klaus used his body when he first appeared in 'Vampire Diaries' for a couple of episodes. It was nice to have him there and for him to come and be a part of the show. It was good, enjoyable.
"The Originals" premieres Friday on The CW.