"Spider-Man: Homecoming" swings into theaters this Friday with the web-slinging wonder in a new suit, a much younger Aunt May and one killer villain in Michael Keaton. But TooFab's favorite upgrade? His new sidekick, Ned Leeds.
As Peter Parker's "Star Wars"-loving, computer hacking BFF, Jacob Batalon steals just about every scene he's in. And that's a great feat for an unknown actor whose only other acting credit is a 2016 horror film that never got a wide release.
TooFab caught up with the star-on-the-rise ahead of the film's release to talk about his character's unfortunate 'do, stressed the importance of diversity on the big screen, and the ever-so-subtle reveal he's seen Spidey sans his suit.
Critics are praising the diversity in the film. How does that make you feel and what does it mean for you as a Filipino-American?
We made it a really big deal to base this world in reality and in today's society, it's mixed. New York is such a diverse place in and of itself, it would be ridiculous to see it otherwise. We're really proud that diversity's a big thing in our film, we like to be part of that stepping stone process. The industry is very indicative of where society is going and society's moving this very forward thinking way and we're riding that stepping stone process of making the industry more open to people of color.
Was that something you knew would be so important to people watching it?
We definitely wanted to do so. Equal opportunity comes very far and few between for people of color. We love being that example of people of color are just as talented and they gave as much opportunity as everyone else.
What's Day 1 on set like?
I feel like I was so stressed and so anxious, it kind of went by so quickly. I was so overwhelmed, I don't think I processed everything the right way. I feel like the whole time we were making the movie, it was the same feeling of awestruck. That first day, it felt like we were shooting an indie school movie at first actually, because there wasn't no Spider-Man stuff, we were just in a high school shooting a science class scene.
You said the whole experience was surreal, but is there one scene that went above the rest during filming?
When I was watching Robert Downey Jr. and Tom do that scene where he takes away the suit, I was blown away. I was blown away watching them do that. I was blown away watching Michael Keaton act, because he was such a maniacal, evil person on set. He takes on a totally different life and it was so amazing to watch him work. Whenever one of the really veteran people acted, I could not handle myself.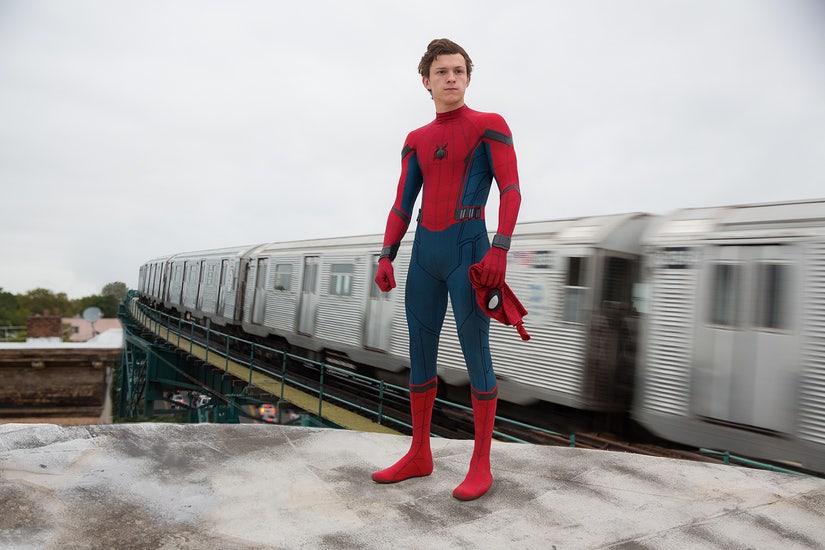 Sony Pictures
After I wrapped all my scenes, I kind of just stayed. It was this thing where I had work but it was very far and few between weeks. I basically lived with him like a month and shot like two-three scenes out of the whole month. I was kind of there to raincheck some scenes. Nothing special. We lived together and it was probably the greatest experience. Atlanta was so great to us.
Had you been there before or was that your first taste of Atlanta?
That was my first time. The humidity was incredibly ridiculous. Other than that I thought it was great. The movie's set in fall, so I'm wearing a sweater, a shirt, long sleeves, Spanx and jeans and a wig.
Oh, it's definitely a wig. If I had hair I would not do that to myself. That hairstyle is for the mamas boys, I'd say.
What was your initial reaction when you first put it on?
The wig was so much longer I looked like a surfer guy from Hawaii, stereotypical. I actually think it was a girl's wig, but we just kept cutting it and cutting it. I told them to put the split down the middle and make it look as mom made as possible and that's kind of how it came to be.
In the comics, Ned has an arc when he goes to the dark side and becomes the Hobgoblin. Is that something you'd like to explore and how would you feel about that costume?
I've been hinting and winking at [director Jon Watts], like to see if I should do some sly, devious things to Peter in the film. Like, instead of catching him when he falls, should I punch him in the face? And he's like maybe you should catch him and just be a good friend.
Look, actors usually tend to gravitate towards the evil things that stretch them. I would love to go through that whole experience of working on it and having my own costume would be pretty, pretty cool. I'm not gonna lie. I'm tired of everyone talking about a Spider-Man suit. What if it was a Ned Leeds suit? I'd love to do it, but at the same time, I love being a sidekick, I love being the guy in the chair and everyone else loves it as well.
Speaking of the costumes, Tom said he had to wear a thong underneath his suit. Did that lead to any awkward moments on set?
I mean, I've seen Tom fully nude, but not on set. That was a totally different thing [laughs]. Whenever I'm doing a stunt thing with Tom, whenever he's in the Spider suit, he's like crawling on walls, I'd touch his butt and stuff, but that's it.
I don't know if you're allowed to say, but is there a possibility Ned could pop up in "Infinity War"?
Hm, I think we should move onto the next question.
More of a hypothetical then, if you are able to share some screen time with any of the other heroes in this universe, who would you love to see Ned interact with?
[Laughing] I would love for Ned to interact with Black Widow, I just feel like he would learn a lot from her, you know? She's an amazing and wonderful woman, I think Ned would appreciate her a lot.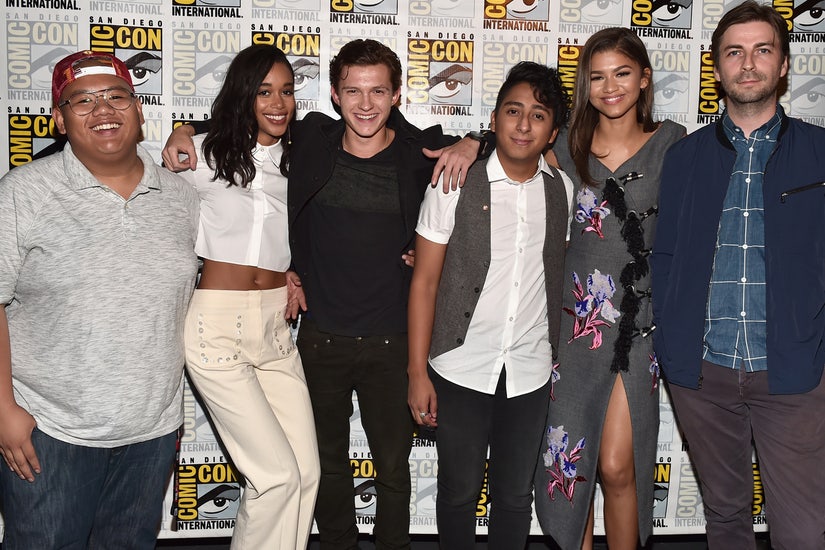 Getty
When Ned finds out his best friend is Spider-Man, he fangirls out a bit. Since you've been part of the MCU, have you had a moment like that of your own?
Yeah, last year when went to Comic-Con, Marvel did Hall H with all of the casts from all the films that were being filmed at the time. I think it was that moment of walking into that room with all those people. What was so funny, our cast was the high school table and everyone else was the cool kids. I loved it so much, it was amazing.
One moment that just got me, after the Hall H we had a dinner with all the cast members. There was a point when I saw Benedict Cumberbatch and Lupita Nyong'o just like talking casually to each other, just like two normal people talking, when in reality a fan would be crying. That was definitely a moment for me.
Where would you like to see Ned go next?
I would love for Ned to explore outside of his boundaries. He's really sweet and innocent. I would love for him to get a little more gritty. Not a lot more, just a little more grounded in reality.
"Spider-Man: Homecoming" hits theaters Friday, July 7.