The Flossy Posse knows how to party.
"I gotta tell you, my life seems really tame in comparison to this movie, I lived vicariously through this movie," Hall told TooFab. "Maybe in my 20s I had a lot of crazy stuff, but what was so great about revisiting in this movie, these girls are all women, they are adults with adult lives and they get to have a really amazing, raunchy, debaucherous yet soulful, spiritual weekend."
And while Hall wouldn't spill on some of her own personal party getaways, she and Haddish did break down the three moments from the film guaranteed to make anyone LOL.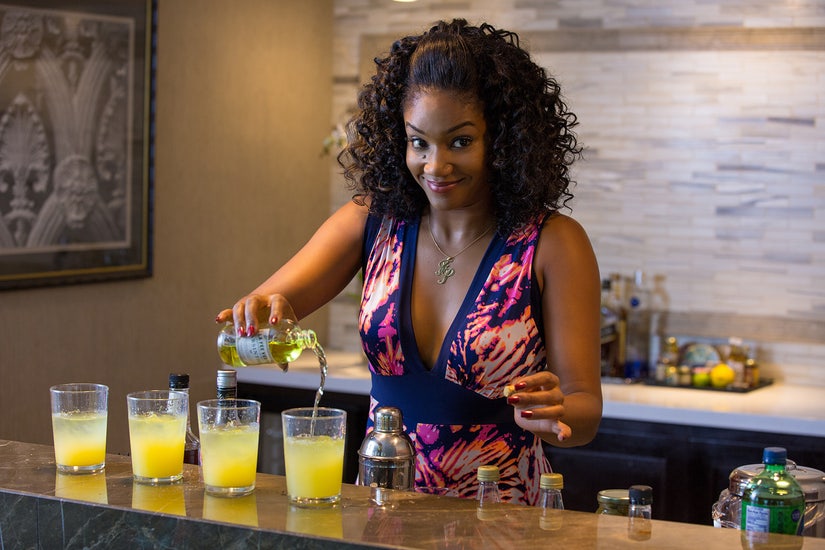 Universal
Never heard of the term "Grapefruiting" before? Don't worry, you'll be a pro by the time you leave the theater.
During one especially hilarious scene, Dina (Haddish) uses the fruit to demonstrate an unorthodox form of sexual satisfaction for men. The oral sex act was made famous by viral video star Auntie Angel back in 2014 and Haddish definitely went for it in the film.
"I was aware of it beforehand," she told TooFab. "I've been aware of the grapefruiting for quite some time, my friend. When I read the script, I was like, 'I can do that easy!'"
Haddish said the scene took about eight takes to get right, though the topic of oral sex isn't new for the standup comedian.
"It's funny because I had been talking about oral satisfying of your man onstage for years, since 2004-2003," the standup comic added, "and then when I saw her video, I was like, 'Hey, she's stealing my material!' She's actually teaching. She took it to the next level. This is not a joke, this is how you do it."
Universal
At one point in the film, the four women face off against a rival set of ladies for one amazingly over-the-top bar brawl. What begins as a dance-off quickly escalates to hair-pulling, fist-throwing fight that definitely impressed.
"The bar fight, [the director was] like, 'Stunt doubles come in' and I went, 'Uh uh, I want to fight this chick myself!'" said Haddish. "It's so funny because they kept bringing in the stunt doubles, but we all wanted to do it."
Hall said the whole sequence took a lot of choreography to learn.
"The bar fight was actually funny, I was like, 'Does my character have to get punched in the face?' and Lee was like, 'Yes,'" she added. "It's fun for girls to fight. We have girl fights on TV, with pushing and wrestling, but these girls really got into a full on bar fight. It was fun."
And no, nobody caught any stray elbows during filming.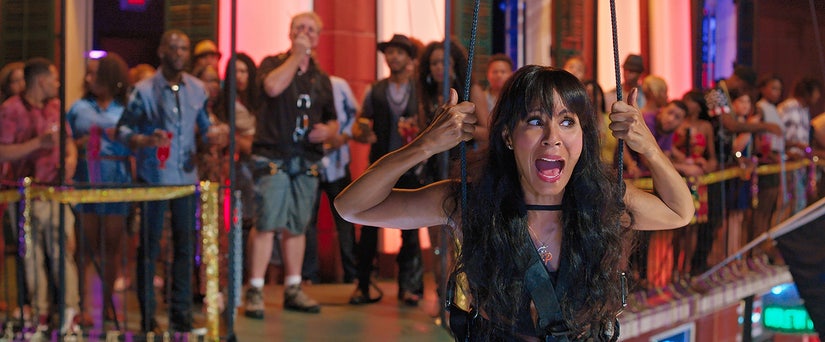 Universal
This scene has been featured heavily in trailers for the movie, showing Jada Pinkett Smith's character losing control of her bladder while hanging from a zip-line over Bourbon Street. We won't spoil what happens next, but trust us when we say that's only the beginning of the raunchy moment.
"The zip-line was actually a lot of fun," Hall explained. "We practiced, the rig was so safe, we felt so secure so we were able to really go with it. Because we had to be drunk, we had to have a loose fun. Especially for Ryan, my character, because she's so buttoned up, so polished, so that was a ball."
For Haddish, she's let loose in her own way before too.
"I mean, I have peed out the side of a car before," she said with a laugh. "I have maybe been involved in a few street brawls during maybe an event, celebration that may have been happening in the street. Might have been helping my homegirl out while somebody tried to fight her in the club."
"Girls Trip" hits theaters July 21.