Dorinda Medley was busy hailing cabs and picking up cannolis in the city that never sleeps when TooFab spoke to her Tuesday about the epic trip the "Real Housewives of New York" took to Mexico this season. She was heading to an early morning photo shoot, but that didn't keep her from fan-girling over the Bravo franchise.
At the mere mention of Mexico, Dorinda interrupted excitedly: "Oh my gosh, can I tell you something? I was part of it -- and I re-watched it because I kind of watch it when you guys watch it -- and I never laughed so hard in my life, including myself, I was laughing at myself, but when I saw Luann in the bushes, me putting the bathing suit on Sonja... It just was a terrible, wonderful time..."
"Keep going, sir," Dorinda instructed her cab driver. "Sorry, I'm looking for this place. I've got a big photo shoot with Elle, and I realized that my daughter I think took my coffee pot," she revealed. "Oh, God, it never ends."
"Oh, here it is!" she yelled to the driver. "I can get out right here, sir."
Dorinda said watching Luann de Lesseps drunkenly fall -- not once, but twice -- into the bushes of the ladies' beachfront villa was one of the highlights of her vacation.
"She fell so comfortably!" Dorinda laughed. "It looked like she never wanted to get up. I swear to God, she looked exactly like Judy Garland. There was a scene in an old movie where she falls in the bushes and she starts laughing. It was exactly Luann."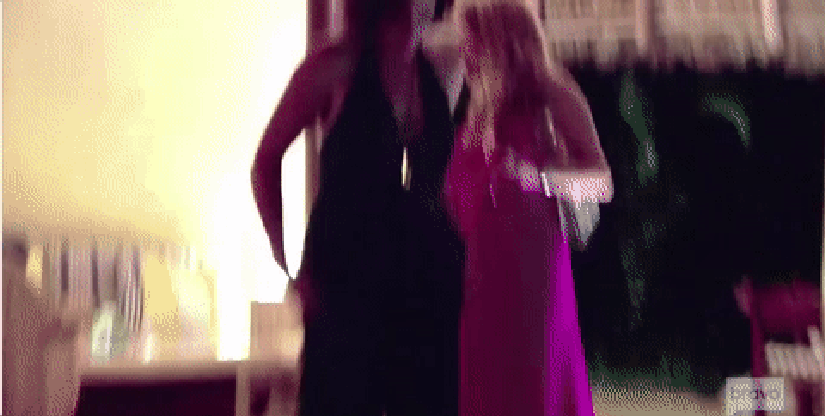 TooFab
In terms of how Mexico compared to some of the other memorable vacations the ladies have taken together, Dorinda said that this one "felt like a real trip."
"We really honestly had fun on camera and off camera," she said. "Even though you see we had these arguments and stuff, we meshed well. And it felt like a real girls' trip as opposed to sometimes where there's a lot of tension. Our house was incredible, the food was incredible, people were in great spirits, and open and honest. There was actually a lot of resolution that happened.
"Ramona and Bethenny came to terms with everything. Tinsley and Sonja had it out. I think Tinsley finally got her voice. I feel like I got closer to Carole. Bethenny and I had a little thing, but we resolved it very quickly. I came out of it just feeling good. I didn't come out of it feeling exhausted. Usually, I come home from those damn trips, and I'm like, 'I don't wanna see anybody. I don't wanna talk to anybody.' But I felt great. It felt like a proper vacation."
Dorinda said her relationship with Bethenny was not severed or even affected after she threw shade at Skinnygirl while a bit too buzzed.
"I love her, and you know what, more than that I respect her. I don't know how she does it all, but she does. She works, she's a great mom, she runs a company, she keeps a social life going... It was just the alcohol talking, I swear to God. Even when I re-watched it, I didn't remember it."
On her relationship with Ramona, Dorinda said they are "great. I think she's learned a lot from the season. She seems a lot more peaceful and settled."
Things with Sonja, however, aren't as peachy.
"I just want my relationship with Sonja to be... I want to get to a place where... For some reason, she feels competitive with me or something. I want her to know that I don't want her business. I respect her. I think she's a great person. I'd like to do a start-over..."
"Can you hold one second, 'cause I have to get some pastries and stuff for the Elle shoot," Dorinda interrupted herself.
"I'm hoping this year that we can just sort of establish... We're actually more similar than we are different," Dorinda picked right back up, "We don't need to have this conflict in our life."
"The Real Housewives of New York" Season 9 finale airs Wednesday on Bravo.