The hottest teenagers of the Upper East Side celebrated the 10 year anniversary of "Gossip Girl" by sharing some secrets from the set with Vanity Fair.
Blake Lively, Leighton Meester, Chace Crawford, Ed Westwick, Kristen Bell, Kelly Rutherford, Zuzanna Szadkowski and executive producers Joshua Schwartz, Stephanie Savage and Josh Safran all revealed some new behind-the-scenes details about working on The CW series ahead of its September 19th anniversary for the magazine's October Issue.
From casting drama to the truth about who did and didn't get along on set, see what the show's stars and creative team spilled that would make "Gossip Girl" herself proud.
XOXO ... here are the 8 most tantalizing tidbits from the feature.
Blake Lively Had Hesitations About Playing Serena
While casting the show, Lively's name was already an online favorite to play the lead role thanks to her work in "The Sisterhood of the Traveling Pants." "We didn't see a lot of other girls for Serena,' Schwartz said. "She has to be somebody that you believe would be sitting in the front row at Fashion Week eventually."
Blake said she initially turned down the offer, telling show runners, "No, I want to go to college. Thank you, though." Lively gave in after they told her she could attend Columbia "one day a week," explaining she was told they couldn't "put it in writing, but we promise you can go."
"This is advice to anyone: when they say, 'We promise, but we can't put it in writing,' there's a reason they can't put it in writing," Lively told VF with a laugh, "But no, the show didn't slow down. It just got more and more."
Chace Crawford Didn't Think Leighton Meester Would Make a Good Blair
While talking about his audition, Crawford said he thought, "I just don't see her as Blair Waldorf. I can't see it" of Meester. But once she got into character, he saw it immediately, thinking, "That girl can act. She's the perfect girl for this."
Schwartz saw a problem at first too: she was blonde. "Obviously; Serena had to be blonde. So, [Leighton] went to the sink and dyed her hair. She wanted it."
Meester said she first auditioned for Serena, but convinced producers she'd make a better Blair. "I think it was just the normal, typical pilot season audition for me. I auditioned and then I tested once and then we did a screen test with everybody. And then, that was it ... I dunno. I got it," she added.
Blake Lively and Leighton Meester Didn't Actually Hate Each Other, But ...
"When we were filming, there was, 'Leighton hates Blake, Blake hates Leighton, everyone hates Blake, everyone hates Leighton, everyone hates Chace,' and blah, blah, blah. It really wasn't," Michelle Trachtenberg said of the dynamic on set. "We were all chill. It was cool."
According to executive producer Joshua Safran, "Blake and Leighton were not friends. They were friendly, but they were not friends like Serena and Blair. Yet the second they'd be on set together, it's as if they were."
Why Ivanka Trump and Jared Kushner Appeared In an Episode
The First Daughter and her husband appeared in a club scene in Season 4. "They did it for the money," Schwartz told VF with a laugh.
"I never miss an episode of Gossip Girl. I think I'm a cross between Blair Waldorf and Lily van der Woodsen when it comes to the style. I like the uptown city style and a clean-cut, streamlined silhouette," Trump told InStyle at the time.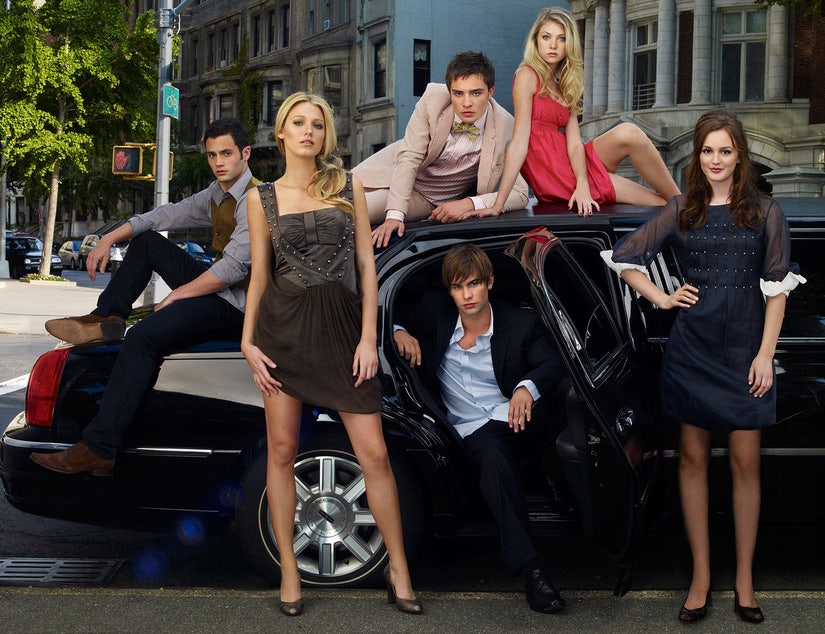 Everett Collection
Blake Lively and Penn Badgley Split Without Anyone Knowing
Lively and Badgley were a real life couple during the show's first couple seasons, but kept it a secret when they called it quits.
"The shocking thing was, I found out on the set of the Season 2 finale that Blake and Penn had broken up months before," Safran said. "They kept the breakup hidden from the crew, which you could never do now. I don't even know how they did it. They kept it from everybody which is a testament to how good they are as actors. Because they did not want their personal drama to relate to the show."
"I remember there was one point where we were just afraid of how our personal lives overlapping our work life could be perceived by our bosses. [But then] we were like, 'Oh no, that's exactly what they want,'" Lively added of the on-set hookups. "They wanted us all to date. They wanted us all to wear the same clothes that we're wearing on the show. They wanted that, because then it fed their whole narrative. People could buy into this world."
Penn Badgley Didn't Like Being on the Show.
Lonely Boy was one of the few who declined to be interviewed for the article.
"Penn didn't like being on 'Gossip Girl,' but ... he was Dan. He may not have liked it, but [his character] was the closest to who he was,' Safran said.
At a point, Penn wasn't alone. "Some of the actors were not entirely happy to be there after a certain point," Safran added. "And no matter what we did, they were never going be happy ... They were kids. They were young."
Blake's Relationship with Leonardo DiCaprio Influenced the Show
"We learned a lot from Blake," Safran said. "When I think about shooting the L.A. episodes, Blake was dating [DiCaprio] at the time, and she had this thing where she had a doll that she took photos of that she sent to Leo. Blake was way ahead of the curve. It was pre-Instagram. She was documenting her life in photographs in a way that people were not yet doing."
"Of course. I'm open to anything that's good, that's interesting, and that sort of feels necessary," Lively said of revisiting the franchise. "If everyone was into it and if the timing was right, you know?," Meester added, "I don't want to say, 'No, never ...'"
Schwartz and Savage added they "could be persuaded [to revisit the world of Gossip Girl] if there were new stories to tell."