Donald Trump pardoned two white-feathered turkeys Tuesday as part of the annual White House Thanksgiving tradition, but the president wasn't pardoned in return by late-night comedians.
"Upon being pardoned, Drumstick and his friend, Wishbone, will live out their days at Gobbler's Rest. There, they'll join Tater and Tot, the two turkeys pardoned last year by President Obama," Trump said. "As many of you know, I have been very active in overturning a number of executive actions by my predecessor; however, I have been informed by the White House Counsel's office that Tater and Tot's pardons cannot under any circumstances be revoked."
See how late-night stars feasted at Trump's expense below.
'The Late Show with Stephen Colbert'
"Today, the president pardoned some turkeys, and not just the white meat," the "Late Show" host opened his Tuesday night monologue, noting that the names of the turkeys sounded "ominous."
"Those names don't sound like you're pardoning them," he said. "That's like naming your fish Flushable."
Colbert mocked Trump for his jab at Obama and imitated POTUS saying, "If I could, I would eat Tater and make Tot watch. You're next, Tot. I'm eating Tater 'cause he talked to Mueller."
"Get out of there, Drumstick!" Colbert joked. "Don't let his waddle fool you! He's not a turkey!"
'The Late Late Show with James Corden'
"As you all know, it's two days before Thanksgiving, so of course, that means today was the annual presidential turkey pardoning at the White House," Corden said on "The Late Late Show." "The president pardoned two turkeys today and then immediately criticized them on Twitter for not being grateful enough."
"Trump tried to make a joke about overturning Obama's pardons from last year, at which point the turkeys in front of him were just like, 'You know what, just kill us. Just kill us now. It's bad enough I even got chosen to come here to meet you,'" he joked.
'Late Night with Seth Meyers'
During Tuesday's pardon, Trump said, "I'm pleased to report that unlike millions of other turkeys at this time of the year, Drumstick has a very, very bright future ahead of him."
"I bet the turkey would feel more confident about that if they would stop calling him Drumstick," Meyers joked on "Late Night."
'The Tonight Show Starring Jimmy Fallon'
"Before the ceremony, the White House tweeted out a poll asking people which turkey should be pardoned," the "Tonight Show" host said. "Leave it to Trump to turn a fun, annual tradition into 'Sophie's Choice.'"
"Trump wound up pardoning both turkeys, and they were each spotted in the White House briefing room," Fallon joked. "Even weirder, they were the only ones that got to ask any questions."
Before the pardoning, Trump and his staff released profiles of each of the birds. Fallon joked, "After they met Trump, the turkeys actually released a profile of him," and displayed the faux Trump profile pictured below.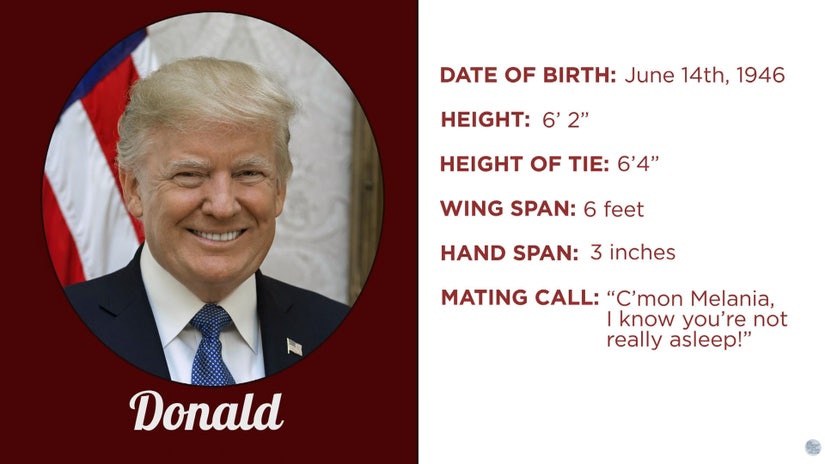 YouTube