Though there's always been some tension between the two over their politics, it really boiled over after Behar said she's "offended by Republicans" during today's show.
The women were all talking about White House chief of Staff John Kelly saying he was "shocked" about the abuse allegations levied against former White House staff secretary Rob Porter, who left the White House this week amid reports he physically abused two ex-wives. While showing photos of one of his alleged victims, Behar laughed at the idea that Kelly was "so shocked" by news.
"We shouldn't make levity of this, we're talking about the abuse of a woman, we should not be laughing," McCain interjected, prompting Behar to shoot back, "We're talking about Kelly, we're not talking about abuse right now. Don't say something like that."
"You're laughing and it is serious," said McCain, while Behar argued, "We're laughing at him being shocked."
"It's very serious and as a Republican I am offended," McCain continued, before being cut off by her cohost, who said, "As a Democrat, I'm offended by Republicans."
Sunny Hostin then attempted to get the conversation back on track and it seemed to do the trick for about a minute there. But McCain couldn't leave it at that.
"You're offended by Republicans ... offended by me sitting here because I'm a Republican," she said, looking at Behar.
"I'm offended by a party that backs a racist," Behar said, getting an "Oh my god" from McCain. "Oh come on, Meghan," Behar continued, "72 percent of the Republican party thinks he's a good role model."
FYI, this was Sunny's face as all this was going down: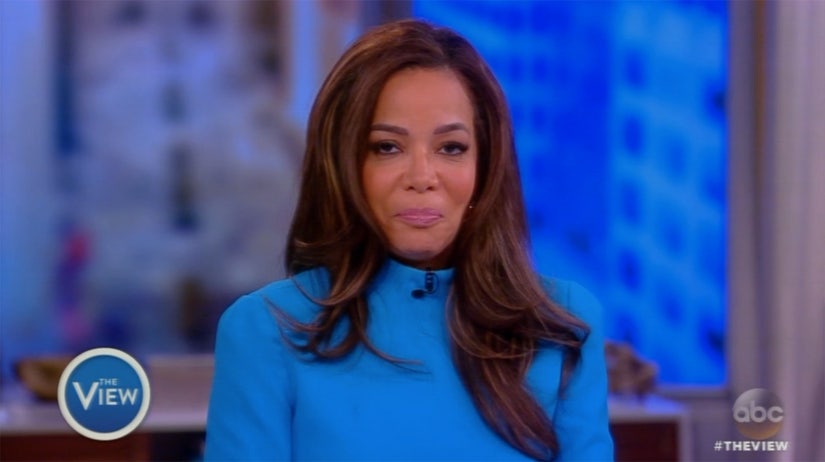 ABC
"I'm actually going on the Van Jones show on Saturday and was actually looking forward to talking about this in a way that is respectful and not being told that because I'm a Republican I'm offending you," a riled up McCain responded.
"We are not going to move the needle one way or another throwing out platitudes or hubris like that," she continued. "I would like to have a real conversation about it. I don't know why you're sitting here saying you're offended by all Republicans. I'm trying to give you my perspective."
"Because 72 percent of them are backing a racist and somebody who has abused women, that's why," Behar retorted.
When McCain said both her father and Mitt Romeny were once accused of being racist, Behar said it didn't matter, because "they are not in today's Republican party."
"I look forward to having this conversation with Van on Saturday," McCain said. Behar's response? A simple, "Good."