While most people know the Versace brand and about Gianni's horrific end, the details about his murderer's life and Cunanan's other victims were certainly less widely known before Ryan Murphy's retelling. The series was largely adapted from reporter Maureen Orth's book, "Vulgar Favors: Andrew Cunanan, Gianni Versace, and the Largest Failed Manhunt in U.S. History," with screenwriter Tom Rob Smith filling in the blanks when it came to the conversations between all the key players. Though the rest of the series worked backwards, the finale jumped to the events immediately following Gianni's assassination.
Each week, TooFab broke down the biggest moments, drawing comparisons to Orth's book, interviews with the real people involved and news reports from the time to try to understand what actually happened. Here's what could use a closer look from the series finale, "Alone."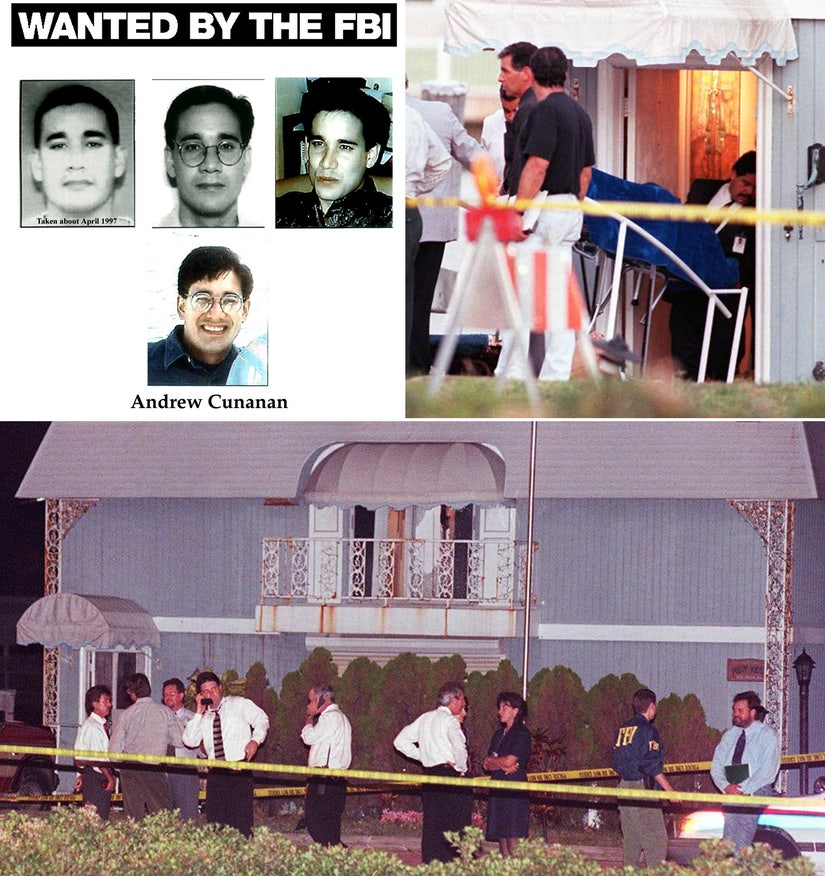 Getty
Cunanan evaded police for nine days after killing Versace, hiding out in a Miami Beach houseboat before ending his own life with Jeff Trail's gun. Of course, nobody knows what he was actually doing during all that time, though it very easily could have been watching TV coverage of his own murder spree and testing dog food before putting a bullet in his brain.
The houseboat belonged to Torsten Reineck, who Orth said lived in Las Vegas and ran a gay bathhouse there. According to one of her sources, "it had at times been a trysting place for rich gay men who did not wish to take the hustlers" to their own homes. Cunanan's hiding spot was blown when caretaker Fernando Carreira checked the place out at Reineck's request. When he noticed the door was unlocked, he investigated and found signs that someone was staying there. "I heard a boom and ran like hell. I thought the shot was for me," Carreira told WSVN-TV. "I thought it was some bum; I didn't know who it was."
The authorities swarmed, as Cunanan's mugshot and live shots from outside the houseboat covered the news. Eventually, the power was cut off and police entered. It was on the second floor they found Cunanan's body. "The subject was cold to the touch and had no pulse," read the police report. "The subject appeared to have been deceased for several hours." That means Cunanan likely killed himself when Carreira first heard a gunshot and wasn't alive for most of the siege itself.
According to an AP report that came out in the days that followed, "it looked like he shaved his head awhile ago and it was growing back" and had grown a beard. Inside the house, there were binoculars, fast food wrappers, bloody bandages and, yes, Vogue magazines.
Cunanan's cremated remains are interred at Holy Cross Catholic Cemetery in San Diego.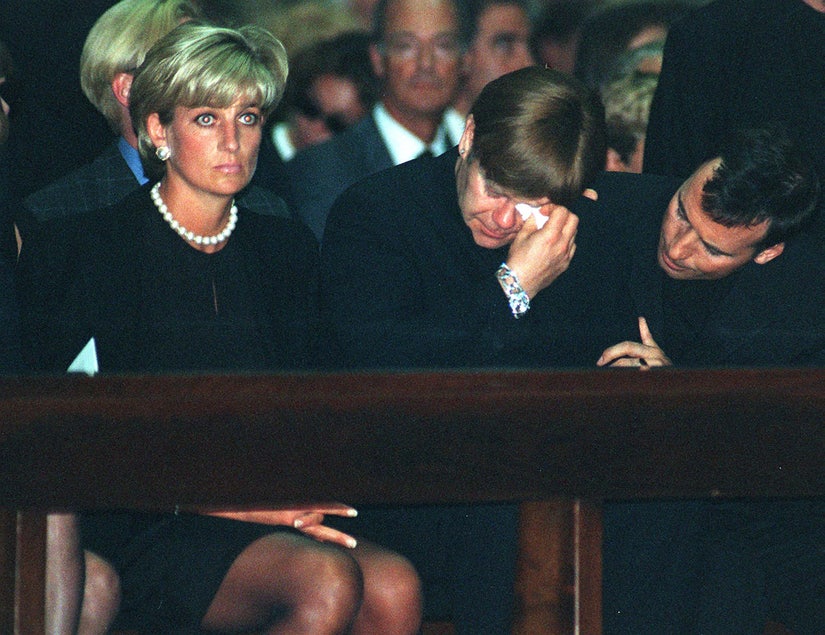 AP
On July 22, 1997, one day before Andrew Cunanan would commit suicide, there was a memorial held in Milan's Gothic Roman Catholic cathedral for Gianni Versace. Since he had already been cremated, it was not a funeral.
The real affair was a star-studded event, attended by Princess Diana, Elton John, Naomi Campbell, Giorgio Armani, Karl Largerfeld, Sting and wife Trudie Styler, and JFK Jr's wife Carolyn Bessette. Sting and Elton performed "The Lord Is My Shepherd," seen in the video below at about the :45 mark.
The Versace family, including siblings Santo and Donatella, were obviously in attendance, as well as Antonio D'Amico. As shown in the FX series, the priest presiding over the event did pull his hand away before D'Amico could kiss it. You can watch that around 1:45 in the video above.
Gianni's ashes were buried in the family's Moltrasio cemetery vault near Lake Como.
Antonio and Donatella's Drama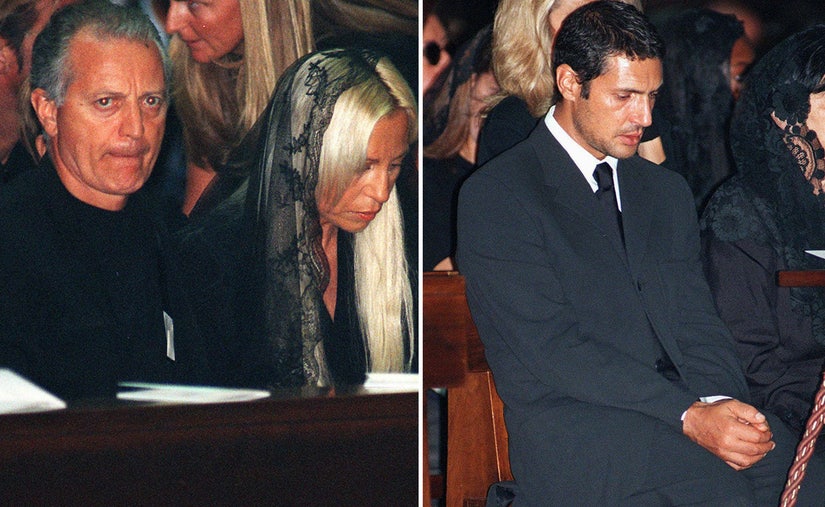 AP
After Gianni's death, the already contentious relationship between Donatella and Antonio continued. According to Orth's book, D'Amico was supposed to receive approximately $30k a month, "inflation-proof" for life and the "privilege of living in any of Versace's houses around the world." She said he later struck a deal to take one lump sum, something The Guardian noted in a later interview with D'Amico was "just a fraction of the pension" he could have received.
He told the publication he went into a downward spiral after Gianni's death. "I had never been through a depression and never saw a therapist as I was advised to: why did I need to tell someone else what had happened when I knew I was this way because Gianni's death had torn me in two?" he said. "I was in a nightmare, I felt nothing and gave no importance to anything … the house, the money … because it felt false to have expectations of life."
He currently lives with his partner in the northern Italian countryside and said he had no plans to watch the FX series.
Modesto Cunanan continued to make headlines after his son committed suicide and denied Andrew was gay or a "high-class prostitute." "He had a Catholic upbringing. He was an altar boy," he told authorities at the time.
Cunanan really was planning both a book and movie about his son, which Orth reported he wanted $500,000 for from anyone who wanted the rights. The project, which he wanted to call "A Name to Be Remembered By," never materialized.
He was also planning a documentary with Filipino film director Tikoy Aguiluz. "This was a deep cover-up," Modesto told the Los Angeles Times in 1997. "Hopefully, we'll come up with some plausible explanations when we run the movie." He said any money he would make from the film would go towards building "a church, a chapel or a temple" in memory of his son.
Neither the book, documentary or feature film happened. It's unclear whether the two communicated at all in the days before his death, though Modesto maintained they were in contact with each other.
As the season comes to a close, the finale also featured scenes with the families of both Lee Miglin and David Madson.
Though the episode made it seem like there was a lot Lee's widow, Marilyn, didn't know about him, the FBI never found any connection between him and his killer. Miglin's son reiterated that fact as recently as 2017, telling ABC Chicago, "There was no relationship whatsoever. A lot of false things were brought up and they were very hurtful, very painful, for me personally and there were attacks on me as well that I really didn't appreciate. And I still don't."
Vicim David Madson's father was also seen defending his son's innocence in the murder of Jeff Trail. Though he was initially a suspect alongside Cunanan, he would be officially cleared in June 1998.
Fernando Carreira, the man who tipped off authorities to Cunanan's location, told the Sun Sentinal in 2017 that he received over $50,000 in reward money for his role in ending the manhunt. Unfortunately, he put it all into a bad investment and lost it.
As for the Versace brand, Gianni's brother, Santo, currently runs the company, with Donatella as his VP and chief designer. In 2017, she paid homage to her late brother with a collection inspired by his designs. '90s supermodels including Cindy Crawford and Naomi Campbell were all part of the show.