Yes, "Blockers" may contain a scene where John Cena butt chugs an entire beer, but the movie's cast and director also hope the project can be a learning experience for Hollywood at large.
Director Kay Cannon's new teen sex comedy revolves around three adolescent women -- played by Kathryn Newton, Geraldine Viswanathan and Gideon Adlon -- whose parents try to stop them from losing their virginities on prom night. The parents in this scenario: Cena, Leslie Mann and Ike Barinholtz.
The film has won early praise for flipping the script on the usual "American Pie" formula, showing it from a female perspective for a change. And while it was filmed before the #MeToo and #TimesUp movements took over the industry, the director and cast all believe the movie is a positive step for women in Hollywood.
"I'm the sixth woman to ever direct an R-rated comedy that's studio-released in the history of film. Which is insane," Cannon told TooFab. "I feel like it's insane that these kind of stories haven't been told or that there's been so few female directors in this genre. But like I feel like the girls having agencies over their own bodies and making decisions for themselves and telling their stories and them being funny, like that's an underserved story that I'm excited is coming out, especially during this time."
Star Gideon Adlon, whose mother is comedian/producer/director Pamela Adlon, makes her feature film debut in the movie. For her, being able to work with a female director clearly made an impression.
"Females are dominating the industry more and more, but there's still only 8 percent female directors in this whole industry and that's worldwide, which is crazy to me," she explained. "I'm so thankful that my first film, I was able to work with a female director and it's Kay Cannon's first film, but it did not feel like it."
"Just to be able to be a part of a film and this empowering message of shared experiences and young women making their own choices about their own minds and their own bodies and having these boys in the films that were our dates be so respectful and understanding -- the whole film is just so important for people to see right now in light of the #MeToo movement, in light of the #TimesUp movement," she continued. "We filmed it before these movements came to surface and now I'm just so thankful that I'm part of this movie coming out right now. I really hope it's gonna change things."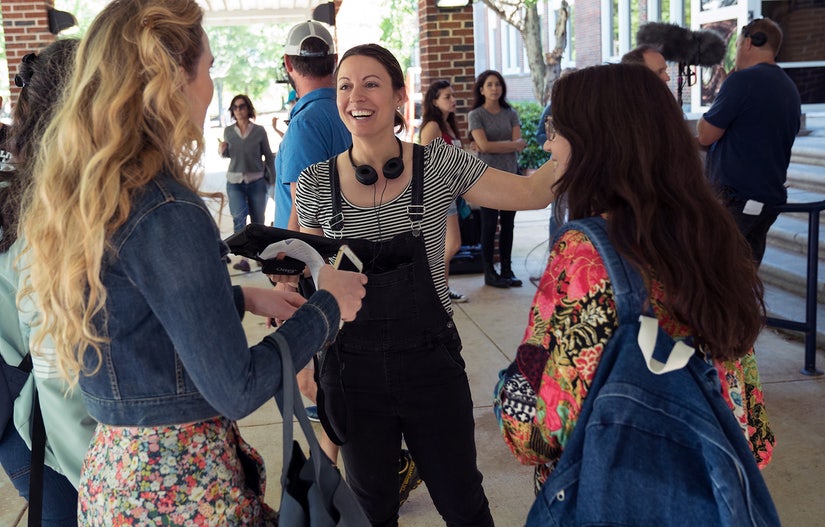 Universal Pictures
Speaking of the changes we could see in the industry, Cannon added there's definitely a "magnifying glass" being held on the studios now regarding who they hire for big projects. "They can no longer have a short-term memory," she said. "And so there was a lot of success in 2015 with like 'Spy' and 'Pitch Perfect 2' and 'Trainwreck' and you know, 'Hot Pursuit,' ... The success of 2015 is not reflective in 2017, and that's a problem. They have to have a long-term memory. We do good business. They need to start doing these kind of stories."
Newton, who also stars as Reese Witherspoon's daughter on "Big Little lies," was excited the film celebrated "three young female leads who can carry a full character and they kind of get to be a silly and unapologetic as men we've seen in previous films in our history." She added, "We get to do whatever we want, just like girls doing real life. It's kind of refreshing."
Aussie actress Viswanathan said female sexuality being a taboo topic is "quite a universal thing," but added, "There's a lot of progress being made now in America and in Australia too, kind of, I think. I hope!" Though she cited it's "crazy" it's taken so long for a film like this to drop, now is the perfect time for it. "It worked out for the best," she added.
"Blockers" roars into theaters on Friday, April 6.