James Cameron definitely lived up to his reputation while filming "Titanic" according to star Danny Nucci (AKA Fabrizio), who spilled about making the Oscar-winning film on a new podcast.
Joining comedian Paul Scheer and critic Amy Nicholson for the duo's "Unspooled" podcast -- where they revisit AFI's list of the top 100 movies of all time -- Nucci shared some intel from the set 20 years later.
The two hosts asked Nucci about what pressures they all felt during filming, as they noted there was some "subtle backlash" about the movie before it was even released.
"Yes, it permeated the set all the time. At that time, we talked about it being 'Heaven's Gate,' which was a huge flop," he said, referring to the 1980 financial disaster of a western. "People were throwing out headlines like, 'Titanic Sinks,' and it was just very tense and we knew we were spending a lot of money and everybody who had worked on films before was like, 'Wow, everything is taking so long, this has gotta be so expensive.' That was the sense of this, we're making the next biggest flop in the history of Hollywood."
When asked if the pressure "trickled down" to the cast, Nucci answered affirmatively. "Only in that the guy in charge of everything was giving back his paycheck in order to continue to film, is under a tremendous amount of pressure and that permeated on the set," he said.
When Scheer noted that Cameron is already known for being "intense," Nucci confirmed that, yes, he is "a screamer." When the host then pointed out that at least Nucci was in his late '20s when he filmed the movie, and not a child, the actor joked Cameron's outbursts would still be "frightening if you're 50."
"I mean, you have to understand the man is a bit of a genius," he continued, saying Cameron can "basically do everyone's job" on his own. "He can basically go, 'OK I don't like that makeup, give me your makeup kit' and fix it. Or if he's like, 'I don't like the way that shot is,' hold on, let me run the dolly with the timing exactly. He can do everybody's job, he's amazing that way."
He also recalled one of the few one-on-one interactions Nucci had with the director he'll never forget. "I sat in a boat with him once, it was friggin' three in the morning, we're on a little boat in the middle of the ocean and we're about to shoot a scene," he explained. "I'm sitting there and I haven't had much time alone with Jim ... 'So, Jimmy, how's it going? This is kind of amazing,' he goes, 'Ugh I cant stand it. This, something can go wrong at any moment, it's never going to go the way I viewed it, so it's just, that's all I can see is that it's probably not going to be the way I intended it.'"
The now-49-year-old actor was part of one of the most iconic scenes in movie history, as Leonardo DiCaprio's Jack Dawson screams on the bow of the boat, "I'm the king of the world!" Cameron himself even repeated the line when he picked up the Academy Award for Best Director in 1998. While a memorable moment, Nucci said it was "miserable" to shoot.
"It was one of the most miserable experiences I've ever had in my life," he said with a laugh. "There's a platform that's against a green screen. But some of the shot it towards the ocean, so we kind of had to be up in the air with the ocean in the background and it was February. It was freezing. It was absolutely freezing, the wind was blowing, it was cold and we had to take a crane up."
"It was just Leo and I, so Leo and I are up there, we're cold and miserable and hungry and we have to pee and you don't want to go, 'Hey Jim, can we stop shooting? I gotta pee,'" he continued. "'Can we get the crane back in, bring us down, pee, have everybody wait, then come back and then start shooting again?"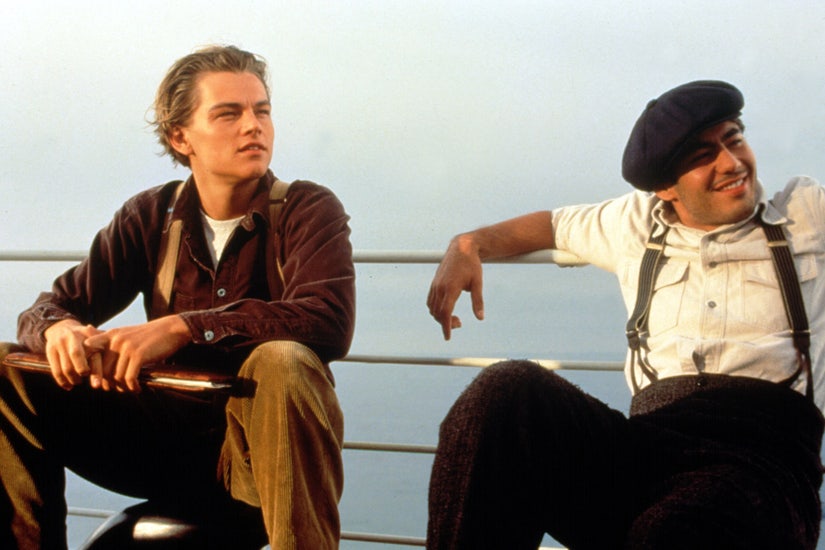 Everett Collection
He also opened up about the original ending for his character, who's last seen in the final cut of the film getting crushed by one of the ship's smokestacks as it's sinking.
"It's so funny, Jim called me and said, 'We're changing the ending too. First, you're not in the movie as much and second, we're changing the ending' --and it's this moment where I've actually survived the smokestack, I survive a bunch of other little near death experiences and I finally get to the boat where Cal is and I'm just about to climb on and he's like, 'No, get away get away get away.' I'm like, 'No, you don't understand, I have to get to America,'" Nucci said. "He takes the oar and he smashes me in the head and he goes, 'It's that way' and the last shot, which we shot, was me sort of bobbing in the water, pulling away from the lifeboat as it fades to black."
Nucci guessed maybe Cameron didn't want to make Cal, an already abhorrent character, that much worse by having him kill someone in cold blood.
When the movie wrapped, the cast and crew were given chairs as presents. But not just any chairs, "the actual deck chairs that we had in the movie," said Nucci. "It's in my house, on my deck, as it should be."
The conversation ended with the trio talking about Celine Dion's equally-famous song from the movie's soundtrack, "My Heart Will Go On." "Honestly, I can't stand that song," he admitted. ""If I never hear that song again ... I can't. If I told you how many people just started singing that to me randomly, it's hysterical. "