Every glimpse at the new "Terminator" movie only gets us more excited.
The new photo below shows Hamilton alongside franchise newbies Mackenzie Davis and Natalia Reyes, who look like they're ready to take on whatever robots from the future throw at them.
Gabriel Luna and Diego Boneta also have roles, but we have yet to see glimpses of them or Arnold on the set of the movie being directed by Tim Miller ("Deadpool").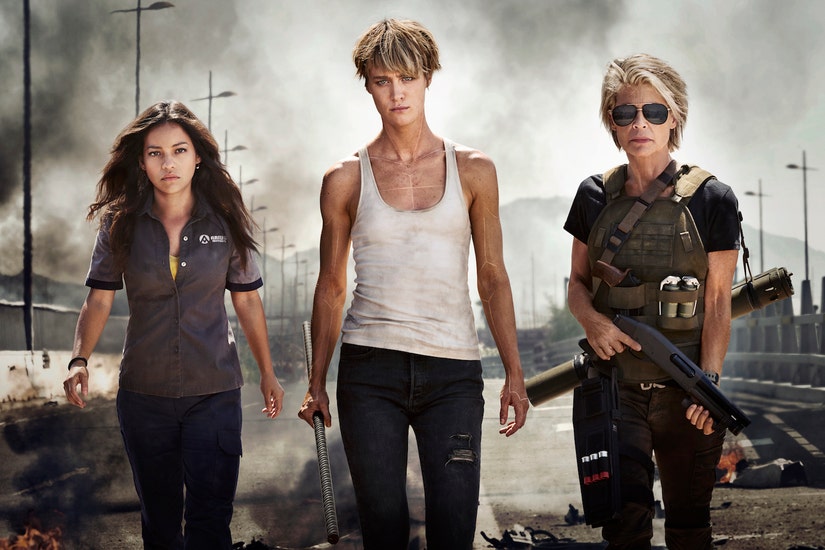 Kerry Brown/Paramount
Fans should be excited that "Terminator" and "Terminator 2: Judgment Day" director James Cameron has returned to produce, and he's already said the movie will follow the aftermath of "T2" while ignoring the sequels that came after that.
"This is a continuation of the story from 'Terminator 1' and 'Terminator 2.' And we're pretending the other films were a bad dream," Cameron told The Hollywood Reporter last year. "Or an alternate timeline, which is permissible in our multi-verse. This was really driven more by [Tim] than anybody, surprisingly, because I came in pretty agnostic about where we took it. The only thing I insisted on was that we somehow revamp it and reinvent it for the 21st century."
No idea what the plot of this one is, but we can't help notice the resemblance between Hamilton and Davis, leading us to suspect they may be related. Either way, we're confident they're both pretty dangerous.
Cameron told THR the movie "is handing off the baton to a new generation of characters," and teased a "young woman to essentially be the new centerpiece of these stories."
"And then a number of other characters around her and characters from the future," he continued.We still fold time in the story in intriguing ways. But we have Arnold's character and Linda's character to anchor it. Somewhere across there, and I won't say where, the baton gets passed, so to speak."
We're guessing Davis and Reyes will run with that baton, providing this sequel is more successful than the last one. With Cameron and Hamilton back on board, plus the director of "Deadpool," we're rooting for this one to take us back to the glory days!
The untitled "Terminator" sequel hits theaters on November 22, 2019.