During Monday night's "Behind the Screams" special of the MTV reality show, the co-stars took their sparring on social media to the next level by grappling in real life. It all started when Kailyn had texted Briana that she wanted to talk off camera about a comment the latter had made, suggesting that Kailyn's baby daddy Chris hit her and their kids.
"I wanna know why you were comfortable enough to say some shit about my kids and about Chris," Kailyn said to Briana behind closed doors. "You don't want me talking about your kids, you don't want me talking about your mom. You have no f--king right."
Briana responded that she's going to do what she "wanna do" and "that's it."
"Let me just hit her one time," Kailyn said back. "She wants to talk all this internet shit, but she can't talk shit to my face."
After that altercation, the girls seemed to calm down. But that was just the beginning. While taping the "Unseen Moments" segment later that day, the fight turned physical.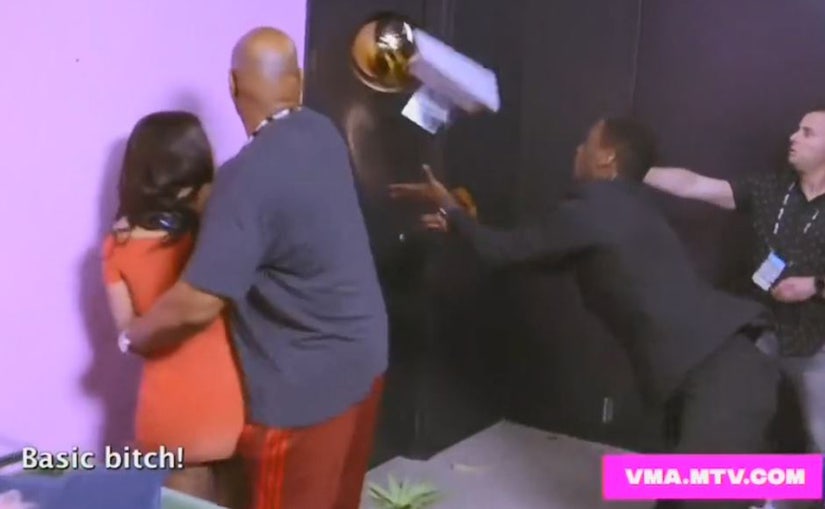 MTV
When Briana was announced, she walked onstage and straight up charged at Kailyn.
"All that shit you were talking, what the f--k bitch,"she shouted. "Now you're not going to do it in front of the cameras?"
Kailyn agreed to fight her, but security guards flooded the sound stage from all directions and ruined what could have been an epic reality wrestling match. But at the least we got a good screaming match as they struggled against the men holding them apart.
"I'll fight you," Kailyn said, as Briana continued to yell at her, "But before you was bitch?! But before you was?! What the f--k. Now you don't wanna do nothing!"
"I'm trying to get to you!" Kailyn screamed back.
And that's when Briana's sister, Brittany, came running to the rescue, but -- blast! -- the security guards held her back, too.
"Now everyone's here, you want to act all tough. You're an internet thug," Kailyn screamed in the scene straight out of an episode of "The Jerry Springer Show."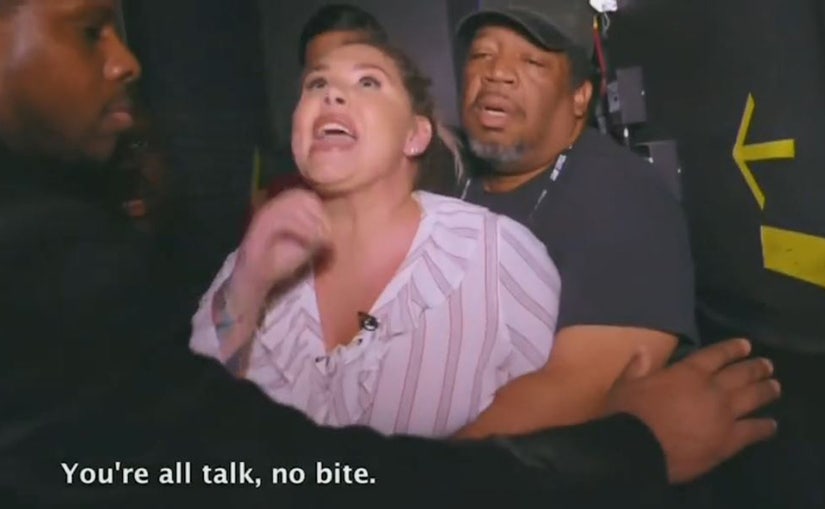 MTV
As both Briana and Brittany were pulled off the stage, Kailyn taunted, "You're all talk, no bite!"
Once the instigator was off stage, we thought the fight was over. But wait -- there's more. Briana really lost it backstage and began throwing any object she could find, even shattering a vase on the ground.
While live-tweeting the explosive episode, Briana, Kailyn, and their other costar Chelsea Houska -- who left the stage during the altercation because she's pregnant -- took to their accounts to react to the insane events while they were taking place onscreen.
In Briana's tweets, that have since been deleted, she stood by her decision to try to fight Kailyn in front of the cameras.
"This whole situation would of never happened if ppl minded their business on who I was f--king," Briana wrote. "Also I wasn't scared, I popped off in front of cameras cause I was tired of things being done secretly and ppl playing the victim. I saw plenty of msgs in Javi's phone of a certain someone talking about me and my family. U can't point fingers if ur hands are just as dirty."
Before her account was suspended, Brittany tweeted in support of her sister. She wrote that participating in the fight wasn't her "proudest moment," but defended her decision.
"Say or think what you want but at the end of the day I would do anything to defend my family and friends... point blank idc," she tweeted.
Read on to see Kailyn and Chelsea's reactions to the episode.
Defending yourself isn't talking about my kids or my parents

@KailLowry
I also texted 3 producers on set and said don't put them behind me on the couch. #teenmom2

@KailLowry
I already watched tonight's episode earlier and it made me feel so sick to my stomach that I was even around any type of physical altercation while pregnant. Unfortunately, I put too much trust into people that I thought were looking out for my best interest and safety.

@ChelseaHouska
Hey I don't even care if it IS dramatic. When it comes to anything that has to do with my babes...in or outside my belly. You're damn straight I'm gonna be dramatic AF

@ChelseaHouska
Remember, this was only Part 1 of the reunion special, which means there is much more to come.
"Teen Mom 2" airs Mondays at 9 p.m. on MTV.