If you recall, the friendship between the pair took a dip when Josh didn't invite Drake to his wedding last summer. Drake told TooFab last month that the snub still stung, even though he assured us they were still "bros" for life.
But alas, Drake didn't let that wedding snub get in the way of wishing his former bestie well.
"Congratulations!!!!" Drake commented on Josh's announcement, to which Josh replied, "Thanks, bro!" with two kissy-face emojis.
Waiting for your permission to load the Instagram Media.
And then on Friday morning, Drake took the congratulations a step further. He reposted the photo of Josh and Paige, writing, "It was hard keeping this one in!!! I could NOT be happier for these two! Congratulations to Josh and Paige!!! Ima be an uncle!!! I love you two so much and am so excited!!!! Also cutest pic EVER!!"
Many fans in Drake's comments section blasted him for sounding fake and over-the-top. Others questioned if the post was done in jest given Drake's last interview with TooFab, during which he vented about his relationship with his old pal (see full interview below).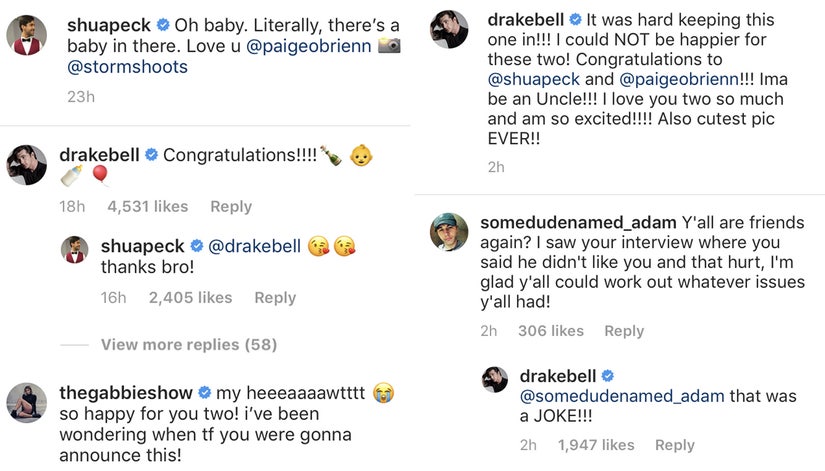 Instagram
When asked if he ever got an explanation from Josh as to why he didn't get an invite, Drake jokingly said, "He doesn't like me! And the extra chicken would have been really expensive -- like another $7.95 or something like that."
But Drake took on a slightly more serious tone when he said, "It was a small wedding -- I think there was something like 30 or 50 people there," adding that Josh told him his "wife handled it."
As of now, neither Josh nor his wife have acknowledged Drake's Instagram post.