Let's take a dive into the six moments that shocked, excited or just plain grossed us out.
Negan's reign may be over, but things are far from peaceful on "The Walking Dead." Sunday's new episode not only introduced a new, unseen threat, but also included one core cast member getting his arm cut off ... and not the character you'd expect.
Taking place about a month after the events of the season premiere, "The Bridge" proved that while all the disparate communities are finally working together towards a common goal, none of them are all that thrilled about it.
These are the moments that had us going WTF:
The episode was bookended with a chat between Rick and Negan, the latter still in the jail cell Rick promises he'll be in for the rest of his life. The purpose of this conversation: to brag about how great things are now.
"It wasn't that long ago, we were fighting just to stay alive. But it's not like that anymore. We're building, we're growing," he tells him. After laying out the horrific events of this episode -- we'll get to those in a minute -- Rick adds, "It's human nature to come together, it's just what we do."
But Negan wasn't buying the "pretty picture" Rick was painting for him. "When it finally goes to shit and it will, make sure you come back and you tell me all about that day too," the prisoner says. "The bridge, it's not a future, it's a monument to the dead. You're not saving the world, Rick, you're just getting it ready for me."
Knowing who to trust has always been the biggest question on this show and while Rick may think everything's going just great right now, the disappearing Saviors suggest otherwise.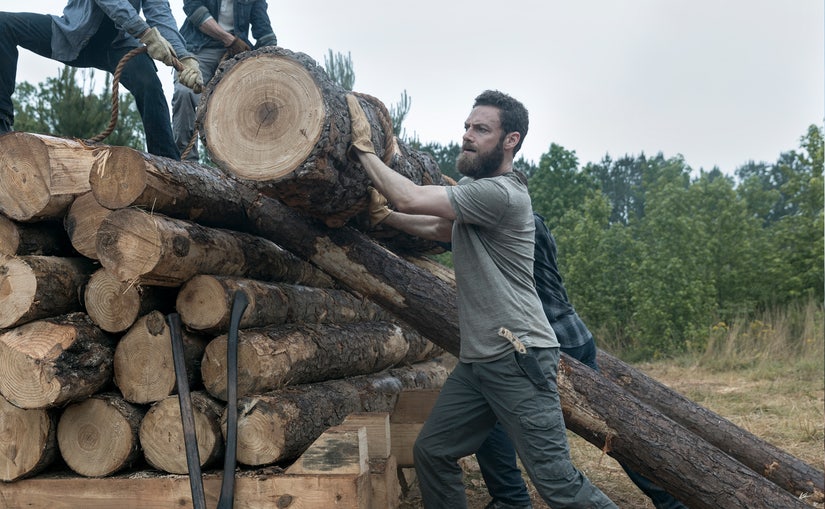 AMC
Since the show began, fans of the original comics have been wondering if and when Rick Grimes will lose his hand. Tonight, someone did ... but it wasn't Rick.
While cutting lumber for the bridge, walkers invaded a construction site being manned by Daryl, Aaron and a bunch of Saviors. The Saviors, being the generally terrible people they are, made a run for it and dropped a giant log on Aaron's arm, crushing it to smithereens.
The mangled mess left over was truly one of the nastiest sights this show has given us, made worse by what happened next. With Enid operating as the only doctor, she was forced to amputate ... without the help of any pain medication.
Thankfully, we were spared the sight of that happening.
Rick visited the amputee after surgery, apologizing for pushing everyone too hard to get the bridge built. "I put this project first and you paid the price," he told him.
But Aaron said it was all "worth it," because "it's not the end of the world anymore, it's the start of a whole new one. I'll always be glad I was here to be a part of that."
Damn, this guy really is the nicest survivor left, isn't he? Jesus, get on that.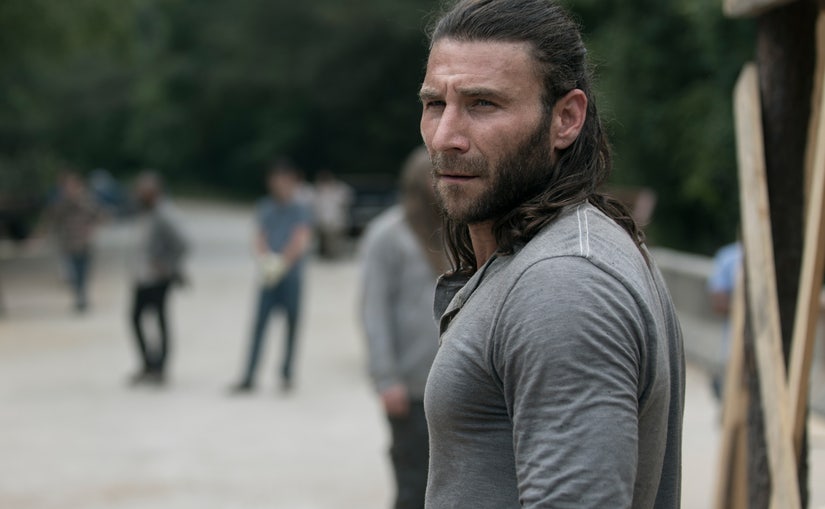 AMC
Since we all pretty much agree every Savior except Alden is terrible, is it any wonder someone's trying to kill them off?
Throughout the episode, everyone keeps mentioning how they keep disappearing. Some assume they simply left on their own, walking away from the greater group, while others -- mainly those at the Sanctuary -- were scared something more sinister was afoot.
After Daryl and Justin got into two massive fights -- one over how the latter treated Henry, another over his role in Aaron's accident -- Rick told him to ship out. When he does, however, he's attacked by someone he most definitely knows.
So, who's attacking the Saviors? The options are endless, as nearly every character has a reason to take one of these guys out.
Maggie's Softer Side Returns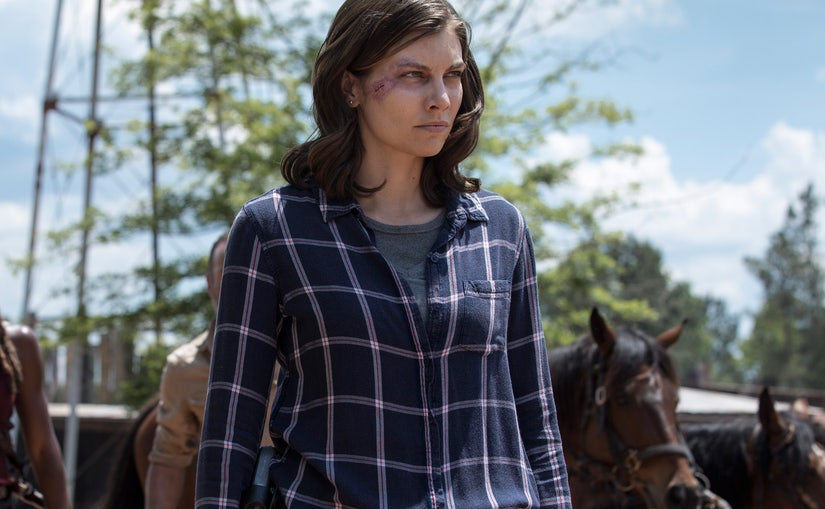 AMC
It wasn't all bad news tonight though, as Maggie loosened up a little in her role as leader of The Hilltop.
Michonne made a trip there to ask for food to bring to the Sanctuary, despite the promised ethanol for the trade disappearing with the missing Saviors. While there, she learned Earl was still locked up for his part in Gregory's attempt on Maggie's life.
Though Maggie initially wanted no part in the one-sided trade or letting Earl out of his prison, she eventually gave in.
Her change of heart with Earl came after she talked to him about his alcoholism, something she later revealed Herschel struggled with as well. "He was a good man and if he hadn't have been given a second chance, a lot of people would have been worse off for it," she later explained to Michonne.
She said she didn't regret having Gregory hanged though, saying "some people can be redeemed, but others can't." The question now: who gets to make that decision?
Though Maggie was not fully on board with a charter or set of laws Michonne proposed just yet, she is becoming more hospitable and ended up sending food back to the Sanctuary.
One final note here: Speaking with Maggie, Jesus revealed Georgie's been begging her to join her on the road. Maggie told him she wasn't ready for something like that yet, but could it be her plan when Lauren Cohan exits the show this season?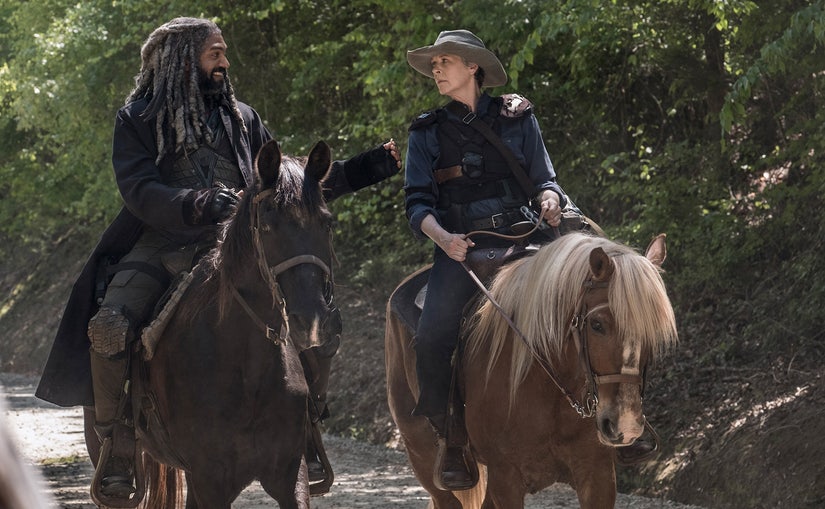 AMC
Our final two shockers are in the love department and one development will leave Caryl fans crushed.
After Ezekiel proposed in the season premiere, Carol told him to hold onto the ring. Tonight, she asked for him to place it on her finger so she could "wear it a while."
Though she shut down his plan to get on one knee and pop the question, it was a sweet moment, one made sweeter knowing they're also raising Henry together.
After so much heartbreak, it's wonderful to see Carol have a second shot at having a husband and kids.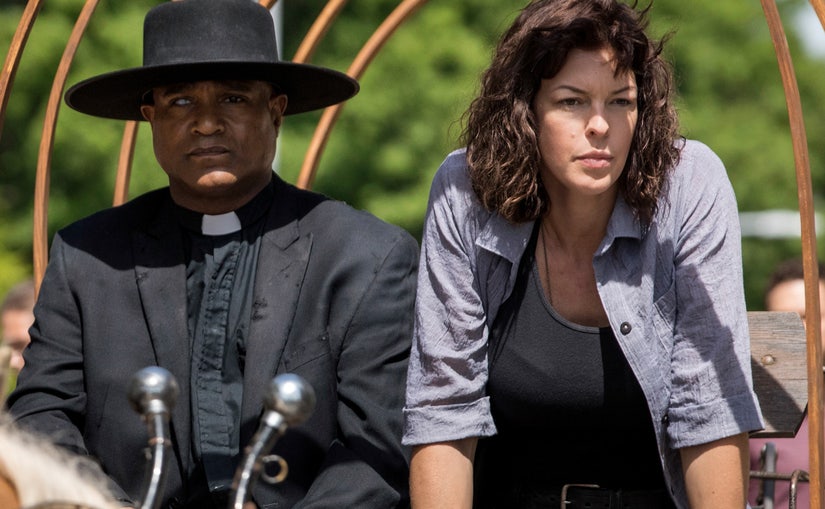 AMC
And in the hookups we never saw coming department, we've got Anne and Gabriel!
The two first bonded over being outcasts, joining Rick & Co. after doing some unsavory things in their lives beforehand.
Later, they listened to frog mating calls together during lookout duty, where Gabriel confessed his love for his former church organist. When the priest then revealed he's Episcopalian, not Catholic, and has taken no vows of celibacy, she went for it and he kissed back.
While we're happy they're both getting some, we still have one major question about Anne: what's up with that helicopter?! We better get an answer about that soon.
"The Walking Dead" airs Sundays on AMC.