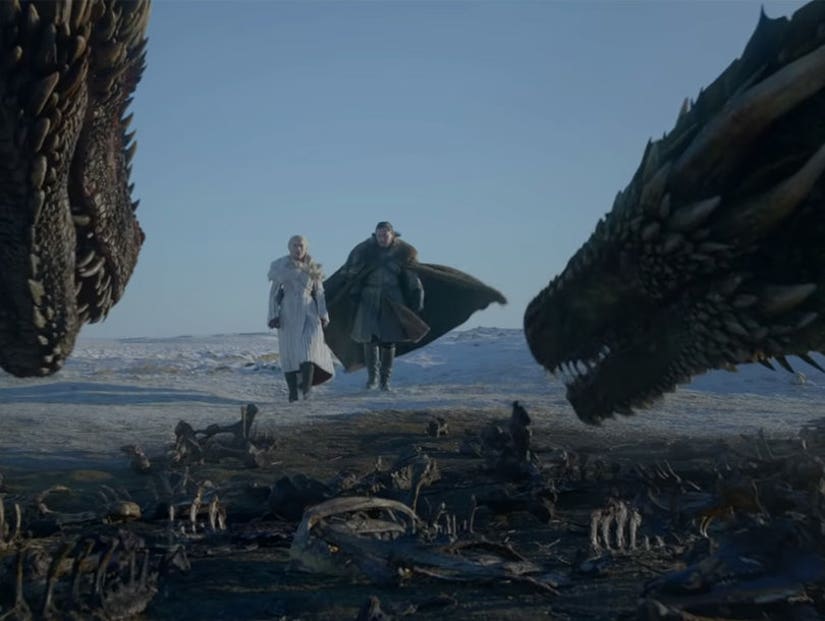 HBO
The final season kicks off on HBO on April 14.
The "Game of Thrones" Season 8 trailer finally arrived on Tuesday, teasing the final battle for Westeros and the Iron Throne.
The spine-tingling two-minute clip assembled all the major players ahead of the last ever episodes of the HBO fantasy epic.
The trailer opens with a bloodied and sweating Arya Stark (Maisie Williams) running for her life, as she is pursued through the dark by an unseen menace.
Davos Seaworth (Liam Cunningham) can be seen tensely stalking the Winterfell ramparts, while Varys (Conleth Hill) cowers below in the Stark crypts with women and children.
"I know death... he's got many faces," Arya says in a separate scene, brandishing a dragonglass blade. "I look forward to seeing this one."
A flotilla of ships belonging to Euron Greyjoy, lead by his flagship Silence, are seen bearing thousands of armored troops, likely the Golden Company of Braavos enlisted by Cersei Lannister (Lena Headey).
Aboard one of the ships appears to be her brother Jaime (Nikolaj Coster Waldau), even though he was last seen in the season seven finale apparently deserting her.
Dolorous Edd, Tormund Giantsbane and Beric Dondarion with his sword aflame are seen cautiously walking a stone hallway together, confirming they survived the Night King's destruction of the Wall.
"Everything you did brought you where you are now," Bran Stark (Isaac Hempstead Wright) AKA the Three-Eyed Raven tells Samwell Tarley (John Bradley), "where you belong."
A very confident-looking Cersei is then seen at a heavily guarded King's Landing, flanked by her Hand Qyburn, while the giant menacing figure of The Mountain Who Rides looms silently behind.
Meanwhile back in Winterfell, aunt-nephew / lovers Daenerys Targaryen (Emilia Clarke) and Jon Snow AKA Aegon Targaryen (Kit Harington) ride side by side amid their army of marching Unsullied; while Sansa Stark (Sophie Turner) stares in wonder as Dany's remaining two dragons Drogon and Rhaegal soar above the ramparts.
"They're coming," Jon announces, as he is seen meeting Dany in the crypts. "Our enemy doesn't tire. Doesn't stop. Doesn't feel."
Gendry and Jorah Mormont are spied at Winterfell preparing for battle, as Grey Worm and Missandei share a kiss. Jaime screams in anguish amid a fiery battle, while Cersei sips a glass of wine with a self-satisfied smirk from the safe confines of the Red Keep.
"I promised to fight for the living," Jamie tells someone off screen, as the two dragons soar majestically over the snow-covered North. "I intend to keep that promise."
Jon and Dany are then seen fearlessly striding over to her now-colossal children standing guard over a few dozen scorched animal carcasses they've presumably just roasted and eaten, before a quick flash of Arya kicking butt with a staff, amid a background that looks tantalizingly similar to the one Jaime is battling in.
The unbearably tense final scene sees the armies of the North, including Gendry, Brienne of Tarth, Podrick Payne and Jorah silently amassed on an icy field in the dead of night, while far in the distance, the hooves of the Night King's undead steed step into view.
The final six episodes of Game Of Thrones kick off on HBO on April 14.