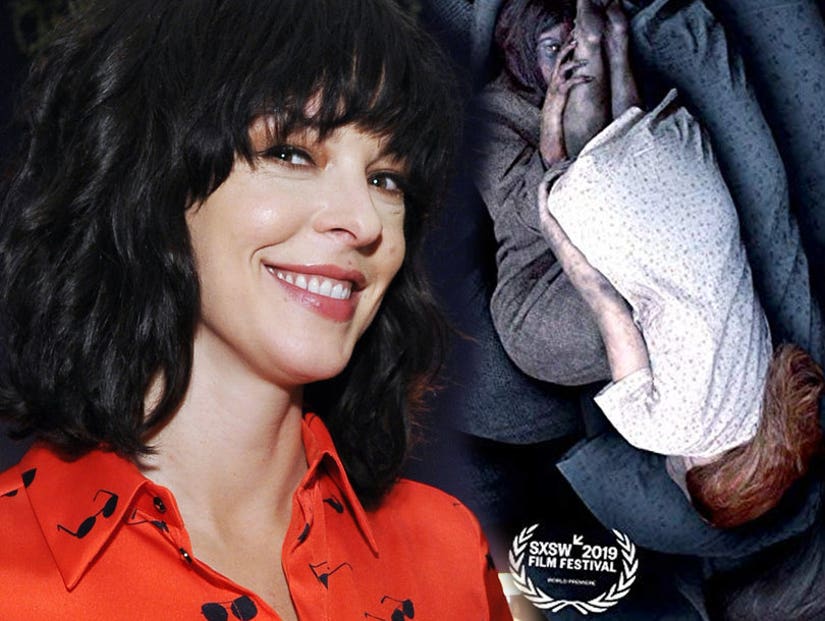 Sara Jaye Weiss/REX/Shutterstock
The "Walking Dead" alum premiered her new horror film at SXSW -- here's how she reached a new career milestone.
Pollyanna McIntosh was a triple threat on her new film, acting in, writing and directing the horror flick "Darlin'".
The movie, which premiered last week at SXSW, is a sequel to both "Offspring" and "The Woman," in which she starred as the titular, no-name character. While "Darlin'" marks her third outing in the role, the project is also McIntosh's debut as a feature film director.
"Found at a Catholic hospital filthy and ferocious, feral teenager Darlin' is whisked off to a care home run by The Bishop and his obedient nuns where she is to be tamed into a 'good girl,'" explains the film's synopsis. "However, Darlin' holds a secret darker than the 'sins' she is threatened with, and she is not traveling alone. The Woman, equally fierce and feral, who raised her is ever present and is determined to come for her no matter who tries to step in her way."
We caught up with the "Walking Dead" alum after the movie's premiere -- which she called simply "magical" -- to chat about her transition into tho the director's chair and the challenges that come along with it.
The movie is screening in NYC as part of IFC's What the Fest on Thursday, March 20, followed by a Q&A with McIntosh herself.
Congrats on the film. First off, how does it feel to have your baby out in the world after the SXSW premiere?
It was so magical to be where I've been looking to be for so long, which is having a screening where the cast and crew can come to and see the work that they have done on the big screen with that great sound that we now have on it and be with an audience as well that I could really feel going with the film. I heard the laughs, I heard the gasps, I felt that they were on the journey with us and it was really, really cool and exciting.
Of course, you starred in the "The Woman," while on this one, you're starring in, writing and directing -- how did that progression happen?
Basically, Andrew van den Houten, who produced "The Woman," I worked with him before as as an actor in "Offspring" as well, where I played the character the first time and she was actually supposed to die in that story but they kept her alive because Andrew saw the capacity for in a female anti-hero in horror that could perhaps become a franchise or trilogy of some kind, it was ripe for a sequel.
["The Woman"] was left open for a sequel and 8 years later he came to me and said how would you feel about directing a sequel, because I had been on set with him so much, he knows my head and where my interests lay. So he said "Do you want to direct a sequel?" and I was kind of amazed at the idea and I said, well, as long as I can write it because I really want to make it personal and make it my own and as my feature debut I want to make sure it's coming from a perspective that I can be with for the next two years or however long it takes to make a movie and bring it to full fruition.
So thats how that happened and you can't make a sequel to "The Woman" without The Woman in it. So I did try to write her a little more on the sidelines, because I wanted to focus on the character of Darlin' and I found she was the heart of "The Woman." I wanted to see how she'd be years later in the woods with The Woman, because Darlin' has that great mix of the feral life she's been living these last 10 years but before that, she was raised in a "Normal" household which was quite conservative but where the morals were expected of her but not shown by the parents.
When you are taking on so much, what are the biggest challenges -- and, on the flip side, the biggest rewards?
Well, the rewards are just huge. Having cast and crew to share one vision with is magic and something I'll continue to do again again and again. I completely love directing. Being the writer meant that one of the things that made it easier is, of course, it's been in my head for so long, I have such a clear way of how I wanted it to look and move. And being an actor already means that working with cast as a director, I have a clear understanding of their position and that collaboration is great and useful.
The challenges, like on any film, are obviously budget, time, but the rewards of doing an indie film which is low budget is that you have to come from a problem solving perspective. Things can change on the fly and when people step up and achieve what they can achieve with the kind of money we've had, you're all the more thrilled of their talent and capacity and their good humor and good spirit. The rewards were immense with the cast and crew and just a real sense of, man, we did and it feels great.
Since this one does shift the focus to Darlin', how hard was it to find that balance between her and The Woman?
In the editing process I did a little experiment. I got to a point where I loved the cut and then I just took everything out except Darlin's storyline and just looked at that on its own and then some little pieces that were niggling at me that, the flow wasn't so great.
It is a character piece about Darlin', but of course you've got so much going on [from the previous films] and that, I guess, is one of the challenges to writing a sequel to something. You don't come from just baseline of blank, you come with the understanding you need to make sure that there is enough of The Woman in there and there's enough of the horror in there and you're doing justice to the fan base. You want to homage that film a little bit and show respect to what brings them to the table. For the non-Woman fans as well, you have to be a standalone sequel, so those are the challenges in there.
As far as Lauryn Canny's performance as Darlin', it was just so incredibly nuanced and raw and and she's such a hypnotizing person to watch on screen. There was really no question, we wanted to get as much of her on screen as possible. Also, in the writing of it, I was conscious, I didn't want to have The Woman in there so much that I couldn't be the director I want to be on the set and yet, give The Woman enough of her that they would feel satisfied.
For more from our chat with Pollyanna, see what she said about her time on "The Walking Dead" at the link below.