Lisa Vanderpump also tweets about claims she sells "stories about dogs" to the media.
Dorit Kemsley wants to shut down claims she mistreated Lucy Lucy Apple Juice, the dog at the center of PuppyGate.
On Friday, the reality star shared multiple throwback photos and videos to her Instagram Stories showing the tiny pup spending time with Dorit and her kids, following the accusations that she locked Lucy in a basement and in a cage before giving her to another owner.
In the first clip, Dorit's son Jagger, 5, pets Lucy in the backseat of a car. "Do you love her Jaggy?" Dorit asks her son in the video. "She's our baby isn't she?" He replies, "Yes." The Bravo star wrote over the clip, "Locked in a cage? Unloved? Mistreated?"
Dorit shared multiple videos of Jagger and her daughter Phoenix, 3, dancing and having fun, as the puppy happily ran around them. "Lucy didn't partake in any family fun," she wrote over one of the clips. "She was locked away in a cage, in our 'basement' which we don't have," she continued in another, "If only we loved Lucy."
"So sorry to those sad individuals trying to serve their own agenda," Dorit added over another video. In another clip, Dorit's husband Paul Kemsley (P.K.) showers Lucy with kisses. "Someone is pleased to see me," he says. The "RHOBH" star also additional photos (below), writing "She looks really tortured and unhappy in the basement."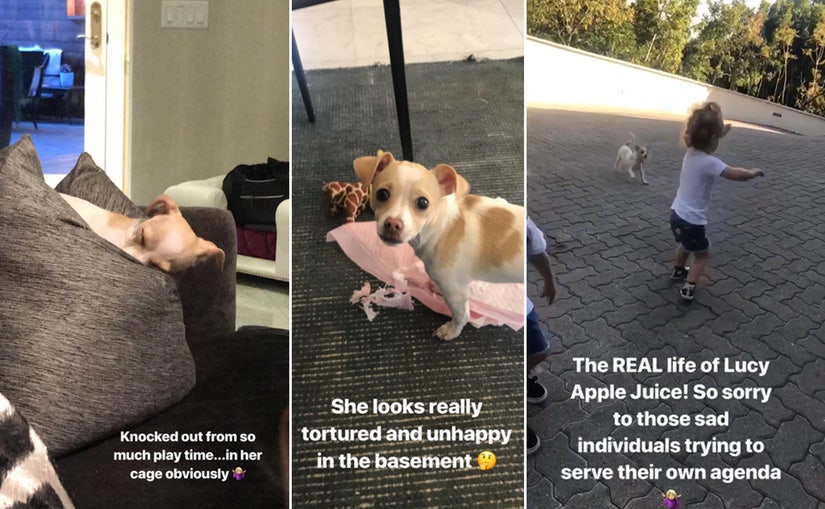 Instagram
The #PuppyGate drama, which has taken over Season 9 of "The Real Housewives of Beverly Hills," all began when Dorit adopted Lucy from Vanderpump Dogs. According to Dorit, the dog bit her children and husband and was therefore not a good fit for her family, so she gave her to someone she believed would provide a better home. Dorit says she told Lisa Vanderpump "immediately" after, and LVP was seemingly fine with it. But a few days later, Lucy ended up at a shelter. The director of the facility, John Sessa, claims it was a kill shelter in Orange County; Dorit says it was not.
As the season has progressed, many of the other Housewives, particularly Teddi Mellencamp and Lisa Rinna, have become involved in this convoluted plot line. Two of LVP's employees, Sessa and John Blizzard, as well as Lisa's husband Ken Todd, also became key players in the ongoing drama.
It was Sessa who alleged the dog "was locked in a cage for months," while Teddi said on the show she was told Dorit "had locked that dog in her basement and it hadn't seen the light of day in months." To read more background on this wild story, click here.
However, the drama seems far from over. In a tweet about her restaurant TomTom, LVP seemingly threw shade at everyone claiming she orchestrated the entire storyline to make Dorit look bad. Her latest venture been a hot spot for A-listers, including Chrissy Teigen and John Legend, Lady Gaga, Selena Gomez and most recently, Miley Cyrus, who was there last night.
"A famous face every day will walk thru the door of r restaurants, but no stories in the press or paps called," Lisa tweeted. "But I sell stories about dogs."
A famous face every day will walk thru the door of r restaurants,but no stories in the press or paps called.
But I sell stories about dogs 😂

@LisaVanderpump
Lisa also posted a video to Instagram showing her and Miley playing with a furry friend at the bar. "Doggy style @tomtom with @mileycyrus tonight 😂😍" she captioned the clip.
Waiting for your permission to load the Instagram Media.
"The Real Housewives of Beverly Hills" airs Tuesdays at 9 p.m. on Bravo.